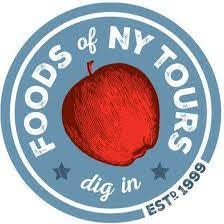 Our Newest Culinary Tour brings economic growth & exposure to the Hudson Valley through an eating adventure
Hudson Valley, NY–  Hudson Valley resident Amy Bandolik is thrilled to announce the launch of Hudson Valley Food & Farm Tour's NEWEST FOOD TOUR: Gourmet Beacon. Amy put her 14+ years of experience in curating culinary tours, via her position as Creative Director for Foods of NY Tours, to good use in creating a Food Tour that would share the bounty of the Hudson Valley with the world and increase the bottom line for a bevy of businesses. Her Food Tasting & Cultural Tours invite locals and visitors to taste their way through the wealth of farms, orchards, cideries, breweries, creameries and other small businesses creating artisanal, world-class food and beverages. While tasting, we tell stories that center around the significance of the region; from its role as the birthplace of the modern environmental movement to its significance in building The Big Apple, brick by brick, to its function as the breadbasket of NYC, to its place in the art scene– modern, contemporary and landscape. And the reviews are all raves, from customers, shopkeepers and farmers.
The newest tour product, Gourmet Beacon, is a 3 hour (12:00 - 3:30PM) walking tour in Beacon, NY that includes food, drinks and storytelling ($125/PP). Also included is a carefully-curated guidebook of the best foods, B&B's, farms, Farm-to-Table restaurants, cideries, distilleries, and experiences in the Hudson Valley for a lifetime of ideas and adventures. Gourmet Beacon operates on Saturdays (and weekdays for corporate groups / based on demand) and explores (and tastes from) the historic Hudson River Valley town of Beacon, NY. On Dec 17 a Friends & Family Only test tour was held (images here) and on JAN 28, 2023 the tour officially meets the public. Gourmet Beacon runs on Saturdays in all seasons. Tickets: www.foodsofny.com
Voted the "#1 Coolest Small Town in America" by Budget Travel, Beacon features a picturesque, walkable main street with no shortage of delicious culinary options. Explore the Hudson Valley's Best Specialty Foods. Think Cheese. Bread. Wine. Olive Oil. Chocolate.
GOURMET BEACON FOOD TOUR VISITS: Bank Square Coffee, Kitchen Sink, Beacon Bread Company, Paul Brady Wine, Hakan Chocolates, Scarborough Fare Olive Oils, Beacon Pantry, Miss Tea & more!
Why You'll Love It:
• 8 specialty food tastings: cheese, wine, bread, chocolate & more
• Meet the cheesemonger, the sommelier, the olive oil purveyor, the chocolatier & beyond
• Behind-the-scenes access 
• Wow-worthy Hudson Valley cheeses straight from the farm
• Forget what you think you know about NY State wine
• Experience olive oils & balsamics on a new level
• Taste at Beacon's hottest no-menu secret supper club
• Discover the secrets of this former manufacturing town
• Learn how Beacon built The Big Apple
• See Seinfeld film sites
• Shop your heart out, today & beyond
Available on Saturdays! • $125 • All Food & Drink Included! Tickets & Gift Certificates: www.foodsofny.com
###
Contact: Amy Bandolik, Founder/Owner, Hudson Valley Food & Farm Tours • 917-575-4967 • amy@foodsofny.com
FOOD & FARM TOUR: https://www.foodsofny.com/foods-ny-tours-2/in-the-hudson-valley/
GOURMET BEACON FOOD TOUR: https://www.foodsofny.com/foods-ny-tours-2/gourmetbeacon/