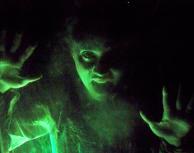 Orange County Toursim Warns: Don't Do this Unless You are Really Brave! 
Orange County, N.Y. - We're not talking about run-of-the-mill witches here. We're talking about Halloween attractions that will have your heart beating out of your chest. Some folks like to feel the hair stand up on the back of their neck. Others want to see just how much horror they can handle. Well, these frightful Orange County attractions will scare the pants off you! Blood-curdling sound effects and gory scenes on their web sites deliver just a glimpse of the terror that awaits. Scaredy cats, be forewarned! Brave hearts, get going and have fun! If you're coming from out of town, reservations at a local hotel are highly recommended. Most likely, you'll be too traumatized to drive home in the dark and want to seek safe refuge as soon as possible.
These sites are not listed in any particular order. Pick any one to start.  If you survive, try another. Try them all if you dare and compare. Get your tickets and suggested age guidelines on-line.  The Forest of Fear Ghosts, ghouls, and fiendish freaks lurk in the shadows of one of the most terrifying haunted houses around! Take the Coffin Ride, see the Slaughterhouse Sideshow, and then witness the Monster Smash battle. Friday, Saturday and Sunday nights through October 28th. Route 17A, Tuxedo/Sterling Forest, NY 10987. (845) 351-5174, http://www.google.com/url?q=http%3A%2F%2Fwww.renfair.com%2Fforestoffear&ust=1349814789203000&usg=AFQjCNHxQrcot49udH0NRQkrUFg_RPeT5Q
Pure Terror Screampark Visit the House of Terror, the Butcher's Revenge, and Terror under the Big Top at your own risk. Are you brave enough to enter all three? 7-11pm, Thursday through Sunday through October 28th. The Castle Fun Center, 109 Brookside Avenue, Chester, NY 10918. (845) 469-2116, http://www.google.com/url?q=http%3A%2F%2Fwww.pureterror.com&ust=1349814829445000&usg=AFQjCNFnfmMBuhkfu9R0A2fRmCCJsIF_1Q
The Terror Dome Barn of Terror, Dr. Mangle's Medical Clinic, and Lost in the Dark will have you screaming in fright. 7-11pm, Friday and Saturday through October 27th. 84 Lakeside Road, Newburgh, NY  12550. e-mail: Scream@TerrorDome.com; http://www.terrordome.com/
Fright Nights at Pierson's Farm The Haunted Barn, Ghastly Cemetery and Corn Maze are bloodier, creepier and bigger than ever before. Bring your flashlight for the maze or you may never find your way out.  7-11pm, October 20th, 26th & 27th. 1448 Route 211 West, Middletown, NY 10940. (845) 386-1882, https://www.piersonsfarm.com/
What's not scary is the drive to Orange County, located just an hour from New York City. The New York State Thruway, I-84, and Route 17 are all direct routes. Find a complete list of attractions and events at http://www.orangetourism.org/. For a free copy of the Orange County Travel Guide call 800-762-8687, or email tourism@orangecountygov.com. Orange County Tourism is headquarters for tourism in the county and is part of the I LOVE NEW YORK program.
###
Contact: Mary Ann McCarthy (845) 615-3860 mmccarthy@orangecountygov.com