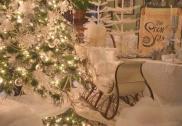 The region sparkles with seasonal events in the month of December
Hudson Valley, N.Y.
- The ribbon of river that flows through some of New York's most spectacular scenery becomes the backdrop for festivities that catch the spirit of the season. The Hudson Valley glimmers with twinkling lights, fragrant greenery, and colorful decorations to welcome visitors from near and far. Our gorgeously decorated destinations will have you "Fa la la la la-ing" all through the holidays. The rich and famous have owned homes in the Hudson Valley for hundreds of years. Decadently decorated, the eye catching ornaments of these mansions can be viewed on December weekends before Christmas to inspire home decorators everywhere. Lyndhurst, a stately mansion on the Hudson River, hosts a Fairy Tale Holiday on weekends before Christmas. Live music plays amid the lavishly decorated rooms, each representing a different fairy tale. This is such a popular event, reservations are a must, and you can always visit the gift shop for one-of-a-kind gifts. Upriver, Frederic Church's Olana is richly ornamented beyond the woodwork and furnishings of this unusual home. All done up in 19th century holiday style, the mansion is open for special tours that reflect how the Church family spent their Christmases. The early 1800's produced "Hudson River Houses," grand homes for the local gentry that overlooked the region's ribbon of blue. One of the best collections can be seen Sunday, December 11th at the Candlelight Tour of Homes. The opulent 1830's Crawford House opens its doors for the start of the tour, decorated in the period when the house was built. From there, an illustrated booklet directs you to nine private homes and four public spaces rarely opened to visitors. Further north, the Hart-Cluett House in Troy is resplendent in fresh trees, greens and flowers to create beautiful history-inspired displays. All twelve rooms of this 1827 Federal-style mansion are transformed by a theme of "My Favorite Things" from The Sound of Music. Equally decked out is Wilderstein, a charming Queen Anne Victorian home with its array of Christmas trees, poinsettias, garlands, holly, and sparkling decorations. Each room is transformed by florists, artists and designers into a magical yuletide wonderland ranging from traditional to modern. Warm up after the tour with complimentary hot mulled cider and cookies. Travel from the warm glow of candlelight to the diamond twinkle of Albany's Holiday Lights in the Park. It's an annual event that has new themes each year. Drive through Washington Park with your radio specifically programmed to over 125 displays and scenes of Toyland, Santa on Vacation, and Victorian Holiday all lit up. The spectacular continues through January 2nd. In the mid-Hudson, the Festival of Holiday Lights in Ulster Park brightens up the winter skies to amaze children of all ages. Snuggle up on Frosty's Hayride, or drive through the amazing displays in the comfort of your car. Computer animatronics, live actors, and holiday music fill all of your senses with the magic of the holidays on December weekends and the 23rd. Traditionalists won't want to miss a showing of "It's a Wonderful Life" on Saturday, December 17 at the historic Lafayette Theatre in Suffern. A classic starring Jimmy Stewart, this is the holiday film people watch again and again. Just as traditional, there's a pre-show Wurlitzer organ concert with holiday songs and more. Continue the jolliness of the season on December 18th by donning your Santa suit and heading to Windham Mountain's annual Dashing through the Snow Weekend. The ski resort invites all skiing and riding Santas to spend a day on the mountain. A free ski pass and two additional midweek non-holiday vouchers will be given to anyone dressed in head-to-toe Santa costumes for the day. Bring out even more of your inner Santa by visiting the Annual Craft Sale at Belle Levine Art Center in Mahopac through December 17th. You'll find something for everyone on your list from the many regionally designed and created items including jewelry, pottery, wear-ables, art and more. Spending December in the Hudson Valley makes you feel like you're home for the holidays no matter where you're from. A warm welcome waits for you throughout the region in restaurants, wineries, museums, gift shops, and on our ski slopes. Come share the season in our river villages and charming Hudson River towns. We make memories for everyone who visits us. Hudson Valley Tourism, Inc. is the 10-county region designated by
I LOVE NEW YORK
to promote tourism for the area. Counties include Albany, Columbia, Dutchess, Greene, Orange, Putnam, Rensselaer, Rockland, Ulster and Westchester.  The Valley welcomes over 20 million visitors a year who spend $3 billion annually. Regional information can be obtained from any of the county tourism offices, the Hudson Valley Tourism website, www.travelhudsonvalley.com, or by calling 845-615-3860.  
RESOURCES
Lyndhurst, Tarrytown. 914-631-4481,
http://www.lyndhurst.org/
  Olana State Historic Site, Hudson. 518-828-0135,
http://www.olana.org/
Crawford House, Newburgh. 845-561-2585,
http://www.newburghhistoricalsociety.com/
Hart-Cluett House, Troy. 518-244-6846,
http://www.rchsonline.org/
Wilderstein, Rhinebeck. 845-876-4818,
http://www.wilderstein.org/
  Holiday Lights in the Park, Albany. 518-435-0392,
http://www.albanycapitalholidaylights.com/
   Frost Fest, Ulster Park. 845-339-2666,
http://www.afrostyfest.com/
Historic Lafayette Theatre, Suffern. 845-369-8234,
http://www.bigscreenclassics.com/
Dashing through the Snow, Windham. 518-734-4730,
http://www.windhammountain.com/
   Annual Craft Sale, Mahopac. 845-803-8622,
http://www.putnamartscouncil.com/
###
Contact:
Susan Hawvermale Hudson Valley Tourism
shawvermale@orangecountygov.com
  845-615-3863