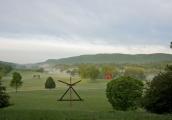 Orange County, NY's seasonal attractions are back in action
Orange County, N.Y. - Here's the pitch! Just 50 miles north of New York City, Orange County's popular attractions are batting 1000 for a great season. Score big with friends and family when you come to stay and play. The bases are loaded with food, wine, art, history, outdoor adventure, and family fun. Get out of the dugout and into the swing with April visits to exciting Orange County venues and events. Hit a homerun with every visit to these Hudson Valley sweet spots and you'll become a loyal fan.
Arrive at a "Field of Dreams" when you pay a visit to Storm King Art Center in Mountainville.  It's one of the sites specifically named by
National Geographic
in their designation of the Hudson Valley as one of the top 20 must-see places in the world for 2013. Nature is a star player at this 500-acre world-renowned park where the changing light and colors create a dramatic backdrop for the spectacular outdoor sculpture. With their season expanded from April 1
st
to December 1
st
, there's more opportunity than ever to steal magical moments that will send your imagination flying over the fence. This season's special exhibitions, the first U.S. Monographic Museum of works by Thomas Houseago and site specific installations by sculptor David Brooks, will debut on May 4
th
.  Forget the peanuts and popcorn, handcrafted Hudson Valley wines and delicious pasta dishes are taking the field at the Shawangunk Wine Trail's first major event of the season "Pasta PrimoVino." On April 13th and 14
th
 thirteen participating wineries will present a special pasta dish that pairs well with their wines. It's a great time to team up with friends! Reduced price tickets are available for designated drivers who chauffeur their friends and family around the scenic countryside. Before you come, scout out charming B&Bs and great hotels on
http://www.orangetourism.org/
and reserve the perfect accommodations for your grand slam wine weekend. Museum Village's grand opening is also on deck the weekend of April 13th and 14
th
. A brilliant fluorescent mineral display is the latest edition to this popular living history museum's 19
th
century village. Of course, you can still browse the 130-year-old general store, see the most complete Mastodon skeleton in New York State, dip a candle, step inside a 200-year-old log cabin, sit in a one-room schoolhouse or watch a broom or coverlet being made, just like the old timers did it. There's something for everyone on your home team at this eclectic favorite. Don't be surprised if you get a   Bronx cheer when you announce that it's time to go home.  There's a double-play happening at Washington's Headquarters State Historic Site. They've already delighted everyone with winter hours for the launch of the amazing "Unpacked & Rediscovered" exhibit of over 1300 artifacts in the newly renovated museum building. They'll still celebrate "Opening Day" on April 17
th
as they resume their Wednesday through Sunday hours. Everyone knows that George Washington was a major league player in U.S. history, but get more of his stats when you tour the fieldstone farmhouse overlooking the Hudson River, his residence and headquarters during the last months of the Revolutionary War. It's the place where the Badge of Military Merit was created (now known as the Purple Heart). On a warm day, take a time-out for a picnic on the expansive lawn here at the nation's first public historic site and enjoy the same beautiful views of the Hudson Highlands as George and Martha did. Take a seventh inning stretch at the beautiful rooftop Zulu Time Lounge and enjoy all-star views of the Hudson River. Live music, great food and drink specials usher in the warm weather at their grand re-opening celebration at 4pm on Thursday, April 18
th
.  This beautiful outdoor venue sitting atop the Historic Thayer Hotel at West Point is an ace, perfect for fun and romance.   Looking for a moonshot? The Pine Bush UFO Fair 2013 happening on Saturday, April 27
th
, will take you farther than that! It's out-of-this-world fun when this quaint village celebrates its distinction as the "UFO Capitol of the Northeast." Warm up at the 5K race, meet local authors of books on UFO sightings, and enjoy music, entertainment, a car show, crafts, and lots of children's activities including the "Eye Spy an Alien" scavenger hunt. The real crackerjack of the day is the themed costume and float parade. You won't believe your eyes! This year's event is a doubleheader. Following the day's activities, catch a presentation of "War of the Worlds, Pirate Style" by the Air Pirates Radio Theater troupe at Village Center. The audience follows cue cards and provides all the sound effects for the live show which can be heard later on the radio. Talk about a bang-bang play.  Motorcycle enthusiasts can pepper the field at Motorcyclepedia Museum's Spring Kick-off Swap Meet on April 28
th
from 11 to 5. Reserve a table to sell or browse for things you need for the upcoming riding season. Allow plenty of time to view the rare bikes and fascinating galleries at this 85,000 square foot world-class museum. With over 450 rare and collectible motorcycles on display, it's like a trip to the Hall of Fame. You'll be batting a thousand anytime you head to Orange County's season openers. Find a complete list of attractions, lodging, and events at
http://www.orangetourism.org/
. For a free copy of the Orange County Travel Guide, email
tourism@orangecountygov.com
or call 800-762-8687. Orange County Tourism is headquarters for tourism in the county and is part of the
I LOVE NEW YORK
program.
RESOURCES:
###
Contact
: Mary Ann McCarthy (845) 615-3860
mmccarthy@orangecountygov.com