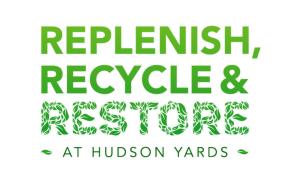 From April 19-24th, The Shops at Hudson Yards will host "Replenish, Recycle & Restore" celebrating sustainability and wellness with curated panels, workshops and more in partnership with Earth Day Initiative
New York, N.Y. - "Replenish, Recycle & Restore" at The Shops at Hudson Yards will feature daily programming from April 19-24th that explores how to tune into yourself, your surroundings and make a positive environmental impact, including: panel discussions about non-toxic lifestyle and clean beauty, sound bath meditations, free fitness classes, aura readings and aura photography sessions. The week will culminate with the three-day 'Earth Day 2022 at Hudson Yards' event from April 22-24. The event, featuring a partnership with The Shops at Hudson Yards, Earth Day Initiative and Volkswagen of America, will showcase sustainable solutions and expert and activist voices that will help shape our path toward climate action.
Earth Day Initiative promotes environmental awareness and aims to offer solutions for how the public can tackle the climate crisis. Earth Day 2022 at Hudson Yards will include exhibitors by environmental nonprofits and sustainable businesses in the transportation, energy, and fashion sectors, located on Level 1. Exhibitors will feature a range of activations, including the Earth Day Initiative reading list and an at-home window solar panel for charging your devices purely off the power of the sun. In the Public Square & Gardens, on display for the first time to the general public in NYC will be Volkswagen's ID. Buzz, the automaker's upcoming all-electric van, which will support Volkswagen's goal of being a leader in e-mobility and a carbon-neutral business by 2050.
On April 22nd and 23rd, Weaving Hand, a woman-run weaving studio will be onsite to teach a zero-waste kid-friendly weaving activity on Level 1. On April 24th, there will be a Clothing Swap Shop by Global Fashion Exchange where guests can bring an item from their own closet to swap with others on Level 1. 
Programming on The Stage on Level 4 curated by the Earth Day Initiative from April 22nd-24th will include performances like "A New Generation Sings for Sustainability: Young Singers Lift Their Voices in Solidarity with Our Earth," coordinated by Cassie Okenka (School of Rock, Wicked) and discussions of the latest trends in sustainable fashion and the latest technology in green building design. There will also be a stream of the Earth Day 2022 Virtual Stage on April 21st, which features conversations with people like actor Joseph Gordon-Levitt, Representatives Adam Schiff and Pramila Jayapal, 350.org founder Bill McKibben, and the former President of Ireland and climate activist Mary Robinson.
Additionally, throughout the week, from April 19-24th, a number of artists and fitness experts will also be leading specialty panels, workshops, and one-on-one sessions on The Stage. Visual artist Allison Strickland explores where art and the spirit meet and will be discussing how tapping into creative energy honors the Earth, as well as providing personalized meditation sessions. Xenia Marie Ross Viray is holding an interactive workshop on Human Design, which delves into the use of one's birth chart to determine how to attune an individual's energetic signature to learn how to best work with others and navigate decision making processes. Other programming includes aura photography and reading sessions.
FREE programming by retailers includes:
●Non-toxic Living Panel Discussion focused on the elimination of toxins from everyday life. The discussion will be moderated by non-toxic lifestyle expert and author Sophia Gushee of Practical Nontoxic Living with panelists Kara Ladd, founder of KL Consulting and a mindful entrepreneur, Amy Ling Lin, the founder of Sunday's Nail Salon, and Sylwia Wiesenberg, Founder and CEO of Bawdy, a clean beauty brand.
●Kiehl's Clean Beauty workshop centered around sustainable beauty processes, products and packaging
● Uniqlo's Sustainable Clothing Recycling program
●  Cardio fitness and yoga classes by Rhone and Athleta
Guests can also visit ANA Bar & Eatery, a new farm-to-table restaurant located on Level 2, to provide seamless continuity between Earth Week programming and dining at Hudson Yards. Wild Ink on Level 5 has a specialty Earth Day themed cocktail called "Down To Earth" with shiitake infused vodka, sake, lillet, orange bitters, and pickled shiitake. Ana Wine & Spirits on Level 1 offers organic wines.
A full schedule of events and ticket registration can be found here: https://www.hudsonyardsnewyork.com/events/replenish-recycle-restore