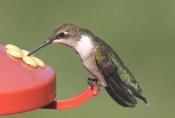 Cornwall, N.Y.
- On Saturday, July 24, at 10 a.m., the Hudson Highlands Nature Museum will be hosting:
Hummingbirds!
   Come join Environmental Educator, Pam Golben, at the Museum's Outdoor Discovery Center, entrance on Muser Drive, across from 174 Angola Road, Cornwall, to learn about those little "flying jewels", the Hummingbirds.  Ms. Golben will discuss how to make nectar that will attract hummingbirds to a feeder and basic hummingbird anatomy and adaptations. After the program, take a walk with Pam through the fields and forest at the Outdoor Discovery Center. Recommended for adults with or without children and children ages 7 and up. Cost: $5. Members: $3. For information, call (845) 534-5506, ext 204.Visit the museum's website at
http://www.hhnaturemuseum.org/
.                                                                         ### Photo Caption: The Hummingbird sips from a feeder. Learn about Hummingbirds on Saturday, July 24 10 a.m. at the Hudson Highlands Nature Museum. Photo provided.
Contact:
Marian Goldin, Marketing Manager
Hudson Highlands Nature Museum
845-534-5506, ext. 215