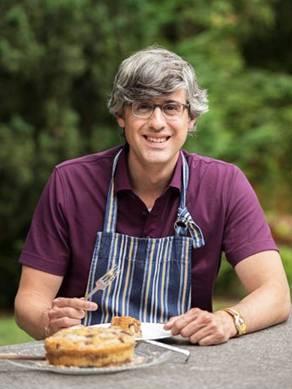 Star of Cooking Channel's "My Grandmother's Ravioli" & CBS Sunday Morning Correspondent to Bring Signature Satire to Epicurean Fest
Celebrity Chef Zak Pelaccio Brings Farm-to-Fork Flair to Festival
Saratoga Springs, N.Y.
- Nationally known humorist, actor and writer Mo Rocca will headline the popular Saratoga Wine & Food Festival, Sept 6 - 8 in Saratoga Springs.  Rocca, a correspondent for the Emmy-winning
CBS Sunday Morning
and star of the Cooking Channel series
My Grandmother's Ravioli
, which he created and launched in 2012, will be featured in events throughout the weekend, including the Live Auction with Master Wine Connoisseur Kevin Zraly and a special "Learning to Cook with Mamma Theresa" demonstration. "Mo Rocca's offbeat commentary and satire have established him as one of the wittiest and most insightful personalities in news and entertainment today," said Marcia J. White, SPAC's President and Executive Director. "From his beginnings on
The Daily Show
to his current role as a commentator for
CBS Sunday Morning
, his wry observations on subjects ranging from politics to pop-culture have given him a unique celebrity."   "More recently, he has captured the hearts of foodies as the host of the TV series,
My Grandmother's Ravioli
and
Food(ography)
," said White. "He is a complete original; his participation is a coup for us and another reason why this year's festival is a 'can't miss' for people who love exceptional wine, food and experiences." Commenting on his participation in the festival, Mo Rocca said: "If I were invited to the Saratoga Food Festival, I'm not sure I would go. But the Saratoga
Wine
and Food Festival? Hell yeah, I'm there!" In addition to serving as correspondent on
CBS Sunday Morning
and hosting
My Grandmother's Ravioli,
Mo Rocca
is also a regular panelist on NPR's hit weekly news quiz show
Wait, Wait...Don't Tell Me
. He previously hosted the Cooking Channel's
Food(ography),
which explored the cultural origins of food, and has made regular appearances as a judge on the Food Network's
Iron Chef America
.
Zak Pelaccio, Chef & Co-Founder of the Hudson Valley's Hottest New Restaurant Fish & Game
Adding culinary expertise to the festival will be celebrity chef Zak Pelaccio, chef and cofounder of Fish & Game, the Hudson Valley's newest upscale dining destination. Emerging on New York City's dining scene in 2003, Zak Pelaccio quickly earned recognition among New York's foodie insiders as one of the city's most innovative chefs. The founder of Brooklyn's Chickenbone Cafe and the Malaysian-inspired Fatty Crab in Manhattan and Fatty 'Cue in Brooklyn has recently made national culinary news with his latest restaurant which opened in May. Characterized by an emphasis on locally grown food and locally raised livestock, the restaurant makes nearly everything in-house, including its vinegars, vermouth, butters and sauces. In concert with the local growing season, the menu changes almost daily and a nose-to-tail ethos means that the restaurant orders only whole animals locally sourced, and then uses every possible piece from each one. A graduate of the French Culinary Institute, Pelaccio was also the Executive Chef at Manhattan's
5 Ninth
where he earned critical praise from New York food critics including
New York
magazine that praised the restaurant as "an exercise in authentic, simple excellence." Pelaccio is also the author of
Eat with Your Hands
, recognized by both Gourmand and Eater.com as one of the best cookbooks of 2012. Pelaccio will lead Culinary Tent events at Saturday's Grand Tasting including a Heritage Pig Butchering demonstration sponsored by the Flying Pigs Farm in Shushan, NY followed by a Chef's Demonstration.
Kevin Zraly, Master Wine Connoisseur
Famed wine connoisseur, educator and best-selling author Kevin Zraly who has been described as "America's most famous and entertaining wine teacher," will be highlighted at events throughout the festival weekend. He'll play a prominent role in Saturday's Grand Tasting events leading two wine tasting seminars including a World Exploration Master Wine Seminar and a new Connoisseur Tent experience highlighted by exclusive tastings of upscale wines, food and spirits. Zraly, winner of the 2011 James Beard Lifetime Achievement Award, is the author of
Windows on the World Complete Wine Course
, the best-selling wine book in US history. He also leads the Windows on the World Wine School, which has been recognized as one of the top wine schools in the country, by
Food and Wine
magazine.
The 2013 Saratoga Wine & Food Festival & Concours D'Elegance
The three-day Saratoga Wine & Food Festival and Concours D'Elegance in Saratoga Springs, September 6 - 8, brings the epicurean lifestyle to the forefront with three days of gourmet events showcasing fine international wines, innovative chef-prepared menus, cooking demonstrations and wine seminars, expansive tastings, upscale auctions and a concours d'elegance of luxury automobiles. Attendees will enjoy opportunities to get up close and personal with expert chefs, wine connoisseurs and winemakers, automobile experts and celebrity host Mo Rocca.
New
features of this year's festival include the following Saturday, Sept 7 events
:  
CULINARY TENT COOKING SHOWS
Ø Learning to Cook with Mo Rocca & Mamma Theresa from DZ Restaurants: Inspired by Mo Rocca's hit Cooking Channel show, "My Grandmother's Ravioli," this session pairs the celebrity host with DZ Restaurant's beloved Mamma Theresa, as she shows him how to make select family recipes and traditional Italian specialties.
Ø Heritage Pig Butcher Demo Led by Chef Zak Pelaccio: From Aspen Wine & Food Festival, to LA Food and Wine Festival, Melbourne Wine & Food Festival and beyond, the top wine and food festivals in the world have been featuring pig butchering demos as part of a commitment to sustainable, ethical farming and locally sourced food. Chef Zak Pelaccio of Hudson's acclaimed Fish & Game restaurant will offer a rare heritage pig demo generously underwritten by Flying Pigs Farm and then follow-up with a chef's demo utilizing the meat in a variety of savory dishes.
Ø Zak Pelaccio Chef's Demo: Chef Zak Pelaccio prepares creative dishes using heritage pork and locally sourced produce from the Capital Region and Hudson Valley.
Ø Big Green Egg Grill Games sponsored by the Times Union: TU food writer Steve Barnes judges the final round of competition among Capital Region amateur chefs who will each be given a basket of ingredients and asked to create a unique recipe using Big Green Egg Grills.
THE CONNOISSEUR TENT
- Master Wine Connoisseur Kevin Zraly hosts this one-of-a-kind culinary and wine adventure for aficionados at Saturday's Grand Tasting. This separate tasting experience will feature artisan food, wine and spirits including tastings of rare wines from Kevin Zraly's private wine cellar. This event will be offered in a luxurious, lounge-style space and feature music from a jazz trio.
THE AFTER PARTY BURGER BASH presented by Certified Angus Beef and Stella Artois -
A competition style burger bash featuring chefs from regional hot-spots like The Brook Tavern, The Local Pub and Tea Room, Druthers, Henry-Street Taproom, 677 Prime at Saratoga National and more. Event also features a milk shake bar, French fries bar, live music and dancing, outdoor fire pits and lounge environments.
Returning
to the festival are favorite epicurean events including:
ADIRONDACK ROAD TOUR & GOURMET LUNCHEON | Friday, Sept 6 -
A spirited 1 ½ hour road rally for auto collectors winding through the beautiful Adirondack roads to finish at the historic Lake George Club. Gourmet lunch includes library-quality wines, imported fine foods and tours on wooden and Italian Comitti speed boats.
LIVE ON STAGE GALA | Friday, Sept 6 -
A European inspired menu created by Executive Chef Mark Delos of Mazzone Hospitality will feature gourmet wine and food stations, sushi bar, Mixology station, and the celebrated Confectionary Room all with live music by The New York Players Band, Body & Soul and a luxurious silent auction. Celebrity personality Mo Rocca hosts the special evening which takes place on SPAC's historic amphitheatre stage.  
GRAND TASTING & CONCOURS D'ELEGANCE
| Saturday, Sept 7 -
The centerpiece of the festival, the Grand Tasting takes place under large, elegant tents on SPAC's lawn, and features hundreds of fine international wines, delicacies prepared by the region's top chefs, wine seminars and extensive silent and live auctions of luxuries featuring opportunities to bid on rare wines, couture fashion, exotic travel, original artwork and more. The festival partners again with The Saratoga Automobile Museum to present a show of luxury
collector cars at Saturday's Grand Tasting including invited classes of Shelby Cobras, Alfa Romeo, Porsche, Lancia, Maserati, Ferrari, Lamborghini, Fiat-Abarth and more judged by Pebble Beach marquee auto specialists.
SOUTHERN STYLE BRUNCH | Sunday, Sept 8
-
Southern style comfort food meets gourmet inspiration in a sumptuous Sunday Brunch at Saratoga National Golf Course. Live music and the Best in Show Auto Awards highlight the event which will also serve as the launching point for over 20 Shelby Cobra's departing for an East Coast tour. Tickets to the Saratoga Wine & Food Festival are available at
spac.org
, by calling 518-584-9330 or at the Route 50 Box Office. ###