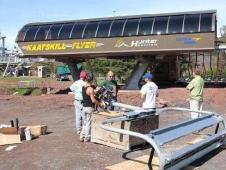 "Kaatskill Flyer" named via customer submissions
Hunter, N.Y.
- Hunter Mountain will start the 2010/11 winter season with the completion of one of the ski industry's largest capital improvements this year: New York State's first six-passenger detachable chairlift. Designed by Leitner-Poma, the lift has undergone installation throughout the summer, aided by helicopters to install the new towers (video of installation available at YouTube.com/huntermountain). The lift is 5400 feet long and has a vertical rise of 1477 feet. The new lift, named the Kaatskill Flyer, holds 82 chairs and can travel at speeds of 1000 feet per minute, over the previous AA Quad's speed of 840 feet per minute; it is capable of shuttling 2600 riders per hour to the summit, increasing the rides per hour by 200 over Hunter's previous lift. The ride will also only take 5.5 minutes, compared to the previous lift's 6.5 minutes. Hunter's Snowlite Express (AA) Quad, which was installed in 1987, has been moved over to Hunter West and will undergo extensive upgrading; it will be operational as a new West Side lift in winter of 2011/12. "This new lift will change everything for us, from wait times to the overall guest experience at Hunter," explains Brian Czarnecki, Hunter's Director of Marketing & Sales. "Our guests asked us for a new lift, and we've delivered: the new Kaatskill Flyer is one of the many brand new things we're unveiling for the coming season." The Kaatskill Flyer was named via customer submission: the winner of the naming contest, Tom Herishko, is the owner of Polar Peak, a small family-owned ski hill in Ancram, NY. The new lift will follow the same path the previous lift took up to the summit. The installation includes a redesigned queue system that will add efficiency to the boarding process. The lift will be operational for the 2010/11 opening, tentatively scheduled for November 20. For further information on the lift, its installation, statistics, or for photos, please e-mail
jpezak@huntermtn.com
.
###