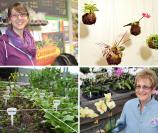 Hudson Valley, N.Y.
- Hudson Valley Garden Association has announced details for the organization's first educational program, Winter Lecture Series 2013. One Sunday each month, January through March, area gardeners can use winter down time to expand their gardening knowledge. Each lecture date features two complementary topics and attendees are welcome to register for one or both classes. Speakers have been selected to spotlight a variety of local garden experts including Jesica Clark from South Pine Street City Farm, Lauren Tamraz from Crossroads Hydroponics, Margaret Bridge from Black Meadow Flora, garden designer and horticulturist Lisa Cady, Paula Kucera from White Barn Sheep & Wool and Rebecca Glembocki, Hudson Valley Garden Association Co-founder. January 20, 2013 at Black Meadow Flora, Chester, NY Primer on Orchid Culture: An informative session that will inspire confidence in the novice interested in growing orchids. Class will cover general culture of numerous genera. Attendees can bring their troubled orchids for diagnosis! 11am. Kokedama Workshop: Learn Kokedama, the Japanese method of planting in a moss sphere. This hands-on workshop will provide materials and instruction needed to create your own string garden and will explain the easy, long-term care techniques. 1pm. February 10, 2013 at Art Society of Kingston, Kingston, NY Intro to Square Foot Gardening: Think you don't have space to grow your own food & flowers? This lecture will teach you to grow a lot of stuff in a small space and get you on your way towards starting and maintaining your own garden. We will discuss a range of topics from soil, to sun, to planning, to maintenance, to harvest. 11am. Hydroponic Herbs & Seedlings: Discover how to grow an indoor herb garden and propagate seedlings using hydroponic methods. Learn what herbs grow well indoors, how to maximize space and about proper lighting techniques/uses. Receive a basic primer on hydroponic propagation of tomatoes, herbs and flowers. 1pm. March 10, 2013 at White Barn Farm Sheep & Wool, New Paltz, NY Plants To Dye For: An overview of dye plants growing right outside your door, as well as others you may already grow in your garden. Learn how to prepare plant materials to create natural dyes that can be used on many types of fiber. Great class for fiber crafters and gardeners alike! 11am. Once & Future Herb Garden: Learn about traditional herbs once essential to daily life - like costmary, samphire and woad - whose status as staples of the herb garden are now a mystery. Rediscover these plants, many that could stand on ornamental value alone, and be inspired to infuse your garden with a touch of myth, magic and mystery. 1pm "As a gardener, winter for me is about three things: growing indoors, planning for next season and reading up on the nerdier side of gardening like design, history and science. We selected classes that stemmed from those categories and would be interesting to gardeners of varying expertise," said Hudson Valley Garden Association Co-founder, Laura Wilson. Classes are $15 each (Kokedama Workshop has additional $10 materials fee) and registration is required. You can register and read full class descriptions on the Hudson Valley Garden Association website at
http://www.hvga.org/
. New regional garden organization, Hudson Valley Garden Association, was founded in October 2012 by local gardeners Laura Wilson and Rebecca Glembocki of Wallkill, NY. Hudson Valley Garden Association's mission is to stimulate passion for gardening; to encourage and inspire gardeners through educational gardening programs and special events. They are committed to assisting in the success and growth of public gardens, and garden organizations and businesses of the Mid-Hudson Valley. Hudson Valley Garden Association meets on the second Thursday of each month at 7pm in the Community Room at Shawangunk Town Hall, 14 Central Ave, Wallkill, NY 12589. All are welcome. For more information sign up for the free monthly Hudson Valley Garden Association e-newsletter at
http://www.hvga.org/
and follow on Facebook at
facebook.com/hvgarden
.
###
PHOTO ATTACHED. See file: HVGA.WinterLectureSeriesPR.jpg Photo caption (Clockwise, from top left): Lauren Tamraz, Crossroads Hydroponics; Kokedama, japanese string gardens; Margaret Bridge, Black Meadow Flora; square foot gardening. For more information regarding the contents of this press release or to schedule an interview contact: Laura Wilson Hudson Valley Garden Association, Co-founder Phone: (845)238-8690 Email:
laura@hvga.org
Web:
http://hvga.org/