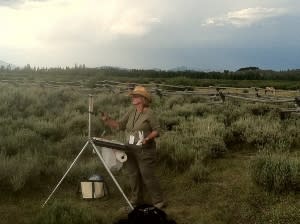 Glens Falls, N.Y. — Ann Larsen has worked as a professional artist for more than thirty-five years. In that time, she has seen a lot of changes, but one thing has changed the landscape of her career more than anything else.

"Until the Internet, I don't think I realized the opportunities," she said. "Before the Internet, you just didn't know where to turn for the opportunity to be in a gallery or to be in a show."

Larsen, a Great Sacandaga Lake-based plein air artist, is juror for The Hyde Collection's Plein Air Festival, which runs Thursday, August 9, through Sunday, August 12, and is offered in conjunction with Plein Air Adirondack. The three-day festival starts with a lecture by Larsen and culminates with the Museum's annual Community Day.

Deadline for artists who want to participate in the Plein Air Festival is Monday, April 30. Application forms can be found by clicking here. A Best in Show will be selected by Larsen, OPA, AWAM, AIS. Additional awards will be presented to distinguished works in the following categories: Nocturne; Waterway; Streetscape; Historic Buildings; and Outdoor Still Life.

"We are honored to have such an accomplished artist involved in the Plein Air Festival," said Jenny Hutchinson, The Hyde's educator. "She is a well-respected plein air artist with incredible experience."

Larsen has earned the Award of Excellence at Oil Painters of America, Eastern Regional 2016; the Masters Signature Silver Medal at the American Women Artists National Competition in 2016; Best Landscape, American Women Artists National Competition in 2017; and the Award of Excellence given by Quang Ho at the Paso Robles Invitational in 2014; among many others.

She has painted plein air from Maine to California, and was invited to participate in the Artists for the New Century Exhibition at Bennington Center for the Arts; Sedona Plein Air Festival; Grand Canyon Plein Air on the Rim; Rocky Mountain Plein Air Painters' Plein Air for the Park; Grand Teton Paint Out and Exhibit; and the Paso Robles, California, Signature Invitational. 

She is a signature member of Oil Painters of America, and has juried several shows online and in person. "There are incredible artists out there," she said.

Selected artists will register beginning Thursday, August 9, and are invited to a presentation by Larsen at The Hyde Collection. Artists will be issued canvases to paint outdoors Friday and Saturday, including a nocturne painting invitation Friday, August 10, in downtown Glens Falls.
 
The Plein Air Festival will conclude with an art show and award ceremony on August 12 during The Hyde's Community Day celebration. Community Day is an annual summer event in which The Hyde opens its doors and encourages the community to come together for a free day of fun with themed art activities to explore the Museum. The Hyde Collection is featuring exhibitions Jane Peterson: At Home and Abroad and Women Impressionists from the Thomas Clark Collection.

Deadline for Plein Air Festival participant registration is April 30. The application requires interested artists to submit three to five works representative of plein air art. A $25 entry fee must be submitted with online application. Those interested can learn more or register at The Hyde's website.
What is The Hyde?
The Hyde Collection is one of the Northeast's exceptional small art museums with distinguished collections of European, American, Modern, and Contemporary art. Its permanent collection of nearly 4,000 works spans centuries and consists of paintings, drawings, graphics, sculpture, furniture, and decorative arts. The core collection, amassed by Museum founders Louis and Charlotte Hyde, includes works by such European masters as Sandro Botticelli, El Greco, Rembrandt, Peter Paul Rubens, Edgar Degas, Georges Seurat, Pablo Picasso, and Pierre-Auguste Renoir, and Americans Thomas Eakins, Childe Hassam, Winslow Homer, and James McNeill Whistler. The Museum's collection of Modern and Contemporary art features works by Josef Albers, Dorothy Dehner, Sam Gilliam, Adolph Gottlieb, Grace Hartigan, Ellsworth Kelly, Sol LeWitt, George McNeil, Robert Motherwell, Ben Nicholson, Robert Rauschenberg, and Bridget Riley. The Hyde Collection presents changing exhibitions in its five galleries, as well as lectures, cultural events, family activities, and school programming in its modern museum complex and historic house at 161 Warren St., Glens Falls.
Also at The Hyde
The Hyde Collection is exhibiting the works of Rockwell Kent in The Prints of Rockwell Kent: Selections from the Ralf C. Nemec Collection and A Life and Art of His Own: The Paintings of Rockwell Kent from North Country Collections. Rockwell Kent was an acclaimed painter, printmaker, traveler, author, and political activist. In complementary exhibitions, the Museum examines the breadth of the artist's talents, with fifty-two prints, a selection of ceramics, and thirty-seven paintings. Kent (1882 - 1971) traveled extensively to Greenland, Tierra del Fuego, Newfoundland, Alaska, and other remote locations, transporting viewers to the rugged extremes of wilderness. Many of his works were centered on the inherent good of man and nature, and the relationship between them. The print exhibition is organized by Landau Traveling Exhibitions, Los Angeles, California. The paintings exhibition is drawn from Plattsburgh State Art Museum, Adirondack Experience, and private collections.
 
The Feibes & Schmitt Gallery has a new installation of works from the Museum's permanent collection of Modern art. The exhibition includes works by Josef Albers, Jean Arp, Adolph Gottlieb, Grace Hartigan, Barbara Hepworth, Ellsworth Kelly, Robert Motherwell, Robert Rauschenberg, David Smith, and Andy Warhol, among others.
For more information, please visit www.hydecollection.org or call 518-792-1761.
For More Information:    
Rhonda Triller
Communications Associate
The Hyde Collection
518.792.1761 ext. 320
rtriller@hydecollection.org
Photo Caption: Plein air artist Ann Larsen is seen working in Jackson Hole, Wyoming. The well-known artist is juror of The Hyde Collection's Plein Air Festival, which runs August 9 to 12, in downtown Glens Falls. The deadline for artists interested in applying to participate is Monday, April 30.