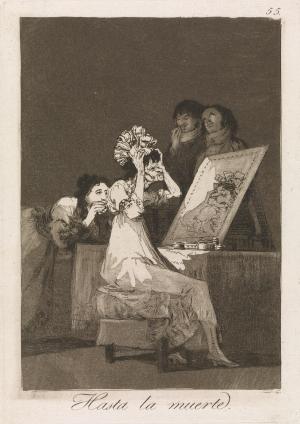 Glens Falls, NY — With great excitement, The Hyde Collection announces its exhibition lineup for 2020. A diverse schedule celebrates tradition and innovation in equal measure, beginning with the world's first modern artist and a trend-setting African American printmaker, then moving on to paintings that capture a historic period in a nation's evolution; two regional artists from different eras that chronicle the area's past and its enduring beauty; and a textile exhibition that speaks of tradition, history, and a shared past.
Francisco Goya: The Caprichos Etchings and Aquatints
Wood and Whitney-Renz Galleries
Sunday, January 19, through Sunday, April 26, 2020
Francisco Goya (1746–1828) used the privilege provided him as portraitist of the monarchy and aristocracy to create a series of etchings critiquing Spanish life at the end of the eighteenth century. With them, Goya took aim at what he saw as backward thinking: a church that hunted heretics, peasant superstitions, and the upper class's brutal treatment of the poor.

Goya is considered the first Modern artists, for his innovative painting techniques and social commentary. Using allegory, he introduced a world of witches, monsters, and fantastical creatures that symbolize what he believed to be a society of disillusion and deceit. 

Organized by the Contemporary and Modern Print Exhibitions.
Dox Thrash, Black Life, and the Carborundum Mezzotint
Wood and Hoopes Galleries
Sunday, January 19, through Sunday, March 22, 2020
Years before the Civil Rights Movement forced white Americans to see the disparities between white and black America, Dox Thrash (1893–1965) brought to the nation an inside look at the plight of African Americans living in a country divided by segregation.

This exhibition examines the artist's portrayals of life in rural Georgia, urban Philadelphia, and World War II, and those chronicling the development of black artists and society as the walls of segregation began to crumble.

Thrash was born in Georgia, fought in World War I, then studied at the Art Institute of Chicago. He settled in Philadelphia, where among a burgeoning black middle class he was the first African American artist to work at the Work Projects Administration's Fine Print Workshop, the only WPA community center focused exclusively on printmaking.

His exploration of printmaking led to development of Opheliagraphy, or carborundum mezzaprint, which allows for creating darker skin tones. In most printmaking, the artist starts with a light surface and creates dark layers. But Thrash did the opposite, starting with a black plate, abrading the surface, and rubbing it down to create lighter grays and whites.

"Carborundum printing gave Thrash the ability to create captivating scenes from his Georgia childhood and his swinging metropolitan Philadelphia adulthood," Canning said. "He was the black voice in a segregated country. We must celebrate his art so that he does not remain the black voice in a segregated American art history."

Organized by Dolan/Maxwell
Images of the People: Russian Lacquer Painting
March 28 to June 14, 2020
Hoopes Gallery
After the Bolshevik Revolution, Russian icon painters were out of jobs. In villages outside Moscow, Soviet authorities set up collectives of painters who used their skills to decorate boxes with scenes of Russian folk tales and Soviet heroes. Exquisite miniaturist painting reached its peak as Communism started to crumble in the 1990s.

A resident of nearby Washington County traveled in the USSR in the 1990s and purchased more than thirty of these works from artists there.

Russian lacquer miniaturists are once again free to paint religious works. These boxes, therefore, represent a particular moment in history, when tradition provided the wellspring for artists in a world upended by revolution.
High School Juried Show
May 8 to June 7, 2020
Wood Gallery
The Hyde's annual High School Juried Show, celebrating its twenty-ninth year, has developed prestige and become a pinnacle of high school achievement for many young artists.
This year, The Hyde again invites students in grades 9 to 12 from the surrounding Warren, Washington, Saratoga, Hamilton, and Essex counties to apply. One hundred works will be selected as finalists from an average of 650 entries.
Transformations: The Art of John Van Alstine
June 20 to September 13, 2020
Wood and Feibes & Schmitt Galleries
Adirondacks-based artist John Van Alstine (b. 1952) combines found twentieth-century industrial steel with natural elements to examine the relationship between man and environment.

A graduate of St. Lawrence University, his sculptures explore the relationship of the artist and their work, drawing parallels to Sisyphean mythology. Van Alstine's works have been exhibited throughout the United States, Asia, and Europe, and are included in major institutions, including The Smithsonian's Hirshhorn Museum and Sculpture Garden.

Curated by Caroline Welsh, art historian and director emerita of Adirondack Experience.
J.S. Wooley, Adirondack Photographer
June 20 to September 13, 2020
Whitney-Renz, Hoopes, and Rotunda Galleries
J.S. Wooley (1867–1943) lived and worked in the Adirondack foothills throughout his life. From 1908 to 1923, he served as the official photographer of Silver Bay, during which time he created iconic images of Lake George and the surrounding Adirondack mountains. This exhibition offers a glimpse into the region's past and its sustaining beauty.

Curated by Richard Timberlake and Caroline Welsh. Timberlake is owner and operator of Timberlake Photos in Saratoga Springs and professor emeritus of American culture studies and environmental studies at Bowling Green State University. He is the author of Contested Terrain: A New History of Nature and People in the Adirondacks.
Handstitched Worlds: The Cartography of Quilts
Sunday, October 11, 2020, to Sunday, January 3, 2021
Wood Gallery
Drawn from the extraordinary national collection of the American Museum of Folk Art, this exhibition will present more than two dozen American quilts. The intricate works are a testament to the handiwork of generations of textile artists, and tell stories from a lasting legacy of resourcefulness and creativity.

"Infused with history and memory, quilts are living records of our traditions, experiences, relationships, beliefs, and future aspirations. In the same way that a map is a pocket-sized abstraction of the world beyond what can be seen a quiltmaker's choice of fabric and design reveals insights into the topography of her world and her place within it," says Sarah Margoles-Pineo, the exhibition's curator.

This exhibition has been organized by the American Folk Art Museum, New York.
What is The Hyde?
The Hyde Collection is one of the Northeast's exceptional small art museums with distinguished collections of European, American, Modern, and Contemporary art. Its permanent collection of more than 5,000 works spans centuries and consists of paintings, drawings, prints, sculpture, furniture, and decorative arts. The core collection, amassed by Museum founders Louis and Charlotte Hyde, includes works by such European masters as Sandro Botticelli, Domenikos Theotokopoulos (El Greco), Rembrandt van Rijn, Peter Paul Rubens, Edgar Degas, Georges Seurat, Pablo Picasso, and Pierre-Auguste Renoir, and Americans Thomas Eakins, Childe Hassam, Winslow Homer, and James McNeill Whistler. The Museum's collection of Modern and Contemporary art features works by Josef Albers, Dorothy Dehner, Sam Gilliam, Adolph Gottlieb, Grace Hartigan, Ellsworth Kelly, Sol LeWitt, George McNeil, Robert Motherwell, Ben Nicholson, Robert Rauschenberg, and Bridget Riley. The Hyde Collection presents changing exhibitions in its five galleries, as well as lectures, cultural events, family activities, and school programming in its modern museum complex and historic house at 161 Warren St., Glens Falls.
Also at The Hyde
Picasso, Braque & Léger
Wood Gallery
Through January 5, 2020
Picasso, Braque, & Léger: Twentieth Century Modern Masters explores the three Modern masters' shared love of the printed word. An exhibition of more than eighty prints by Pablo Picasso, Georges Braque, and Fernand Léger examines their relationships with Contemporary writers, playwrights, and poets, and the artists' dedication to creating imagery that interpreted modern texts. Organized by Contemporary and Modern Print Exhibitions, and sponsored by Marvin & Company, P.C.; Mr. and Mrs. Karl E. Seitz; Silverwood Home & Galleries; and Dr. Shirley Ann Jackson.
Contact:
Rhonda Triller
Director of Communications 
The Hyde Collection
518-792-1761, ext. 320
rtriller@hydecollection.org