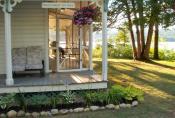 Glens Falls, N.Y.
- The Hyde Collection is offering a weekend of intensive painting classes with artist Anne Diggory. Taking place at Wiawaka Holiday House from Friday, August 2 through Sunday, August 4, 2013, the focus will be on the role of abstraction in landscaping painting and will include demonstrations, discussions, and individual critiques - along with plenty of time to paint. The work will be based on close observation but will range from fairly abstract to more detailed realism, depending on personal ambition.  Participants will be enjoying the same views rendered by Georgia O'Keeffe during the summer of 1908, when she stayed at the Wakonda Lodge at Wiawaka. Anne Diggory frequently paints on location in Saratoga Springs, the Adirondacks, the Hudson River Valley, and Alaska. Her oil painting
Renovation
is part of The Hyde's permanent collection. Diggory's work has been featured in
Adirondack Life
and her solo show at Blue Mountain Gallery in New York City was featured in
American Artist.
  She lives in Saratoga Springs, New York. For more information about Ms. Diggory go to
http://www.diggory.com/
The cost is $180 plus room and board at Wiawaka. Residency is for women only. The total weekend package is $430. To register for the class, contact Wiawaka director Christine Dixon at
director@wiawaka.org
or go to
http://www.wiawaka.org/
.  This class is part of The Hyde's "My Summer Place" programming which are collaborative events and programs between The Hyde, Adirondack Theatre Festival, Lake George Association and Wiawaka in support of the exhibition
Modern Nature: Georgia O'Keeffe and Lake George.
                                                                                              For more information about this and other "My Summer Place" programming contact June Leary at 518-792-176, ext. 327 or visit our website at
http://www.hydecollection.org/
.
Image provided by Wiawaka Holiday House
The Hyde Collection is an historic house and art museum complex with a distinguished collection consisting of works by American and European artists such as Botticelli, Rubens, Rembrandt, Picasso, Homer and Eakins, as well as important decorative arts and antique furnishings. The Museum provides changing exhibitions in two gallery spaces, lectures, concerts, family activities and school programming. For information, visit
www.hydecollection.org
or call 518-792-1761.
Alice Grether Director of Marketing, Communication & Visitor Services The Hyde Collection 161 Warren Street Glens Falls  NY  12801
/wp-admin/www.hydecollection.org
               p   518  792  1761 ext  328 f    518  792  9197