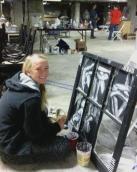 Glens Falls, NY
- On Saturday, October 12, 2013, The Hyde Collection's
Window Project
opens to the public. This exhibition, located in Hoopes Gallery, is an installation consisting of eleven windows transformed into painted and assembled works of art by area youth, ages 16-21, who were invited through their teachers or counselors to participate in this twelve week studio art program. Working with teaching artist Gabi Moore and Hyde staff, the participants viewed art made by a variety of assemblage artists and used antique discarded windows as the foundation for their mixed media works. A reception for the artists will be held at The Hyde Collection on Saturday, October 19, 2013 from 2 pm to 4pm. Admission for the reception is free of charge. The exhibition runs through Tuesday, December 31, 2013. For more information, please contact Hyde curator of education June Leary at 518-792-1761 ext. 327 or
jleary@hydecollection.org
.
###
Photo:
Window Project
participant Kaitlyn works on her piece titled
Trapped.
Image credit:  June Leary
The Hyde Collection is a historic house and art museum complex with a distinguished collection consisting of works by American and European artists such as Botticelli, Rubens, Rembrandt, Picasso, Homer and Eakins, as well as important decorative arts and antique furnishings. The Museum provides changing exhibitions in two gallery spaces, lectures, concerts, family activities and school programming. For information, visit
www.hydecollection.org
or call 518-792-1761.
Contact
: Alice Grether Director of Marketing, Communication & Visitor Services The Hyde Collection 161 Warren Street Glens Falls  NY  12801
http://www.hydecollection.org
               p   518  792  1761 ext  328 f    518  792  9197