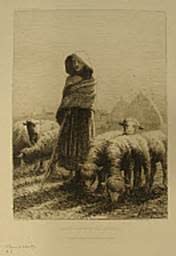 Glens Falls, N.Y.—The Hyde Collection is exhibiting a collection of French prints from the Museum's permanent collection to accompany the Adirondack Film Festival screening of Mrs. Hyde, a French film about an ornery teacher who is transformed by a powerful jolt. 
A Century of French Printing, 1838 – 1938 includes twelve prints chronicling how technological advances steered the course of the medium's evolution. As the country faced social, political, and economic changes, and rose to the height of western culture, printing allowed for the broad dissemination of art among homes of all economic classes.

Prints decorated the homes of the burgeoning middle class, they illustrated newspapers, books, and magazines, and they advertised products and forms of entertainment of the age. Commercial printing was a new avenue for artists such as Alphonse Mucha (1860–1939) and Henri de Toulouse-Lautrec (1864–1901) to fund their artistic endeavors, freeing them of the burden of securing a patron like artists of the past. 

The examples presented in this exhibition are drawn from the Museum's permanent collection and span this century of French printmaking and the variety of processes employed by both commercial and independent artists. The exhibition will run through November 11.

Mrs. Hyde will be screened in The Hyde's Froehlich Auditorium at 10:45 am and 2:30 pm Saturday, October 20. Following the morning showing, there will be a discussion with Delphine Selles-Alvarez, film curator of French Institute Alliance Française (FIAF), about French cinematography.

"Each year, with help from The Hyde, we're going to take a trip to a new country to explore their art and their unique film-making process," said Chad Rabinovitz, director of Adirondack Film Festival. 

Before joining FIAF in May 2013, Selles-Alvarez was the film program officer at the Cultural Services of the French Embassy in New York. There, she worked with U.S. film institutions, museums, micro-cinemas, and universities to bring French and Francophone films to their audience. She oversaw the touring retrospectives of such filmmakers as Jacques Rivette, Alain Resnais, and Robert Bresson, and organized the U.S. visits of Olivier Assayas, Arnaud Desplechin, and Claire Denis, among others.

Selles-Alvarez served on the jury of the Mercorel Prize at the 2010 Cinéma du Réel, one of France's most important documentary festivals. She is a member of the film selection committee of the Tournées Festival, a grant program that supports the screenings of French films on university campuses. She also serves on the board of the film distribution company Big World Pictures (Stop the Pounding Heart, Curling, A Summer's Tale, and Aferim) and is the co-curator of Animation First, New York's new festival of French Animation.
 
"We're thrilled to again be part of Adirondack Film Festival," said Anne Saile, interim director of The Hyde Collection. "This gives us an opportunity to engage a new audience, to help visitors explore art in a new way, and to exhibit works from the Museum's incredible permanent collection."
 
Adirondack Film Festival, which this year will screen more than 100 films, is in its third year. Tickets are available at Wood Theater Box Office or by clicking here. A one-day pass is $30; a festival pass is $55; VIP passes — which include a ticket for the Thursday screening of Radium Girls, priority seating for all films, unlimited popcorn/soda where permitted (excluding The Hyde), and entrance into Virtual Reality Experience — are $75.

Those viewing Mrs. Hyde at The Hyde Collection will be admitted to the Museum free of charge.
What is The Hyde?
The Hyde Collection is one of the Northeast's exceptional small art museums with distinguished collections of European, American, Modern, and Contemporary art. Its permanent collection of nearly 4,000 works spans centuries and consists of paintings, drawings, graphics, sculpture, furniture, and decorative arts. The core collection, amassed by Museum founders Louis and Charlotte Hyde, includes works by such European masters as Sandro Botticelli, El Greco, Rembrandt, Peter Paul Rubens, Edgar Degas, Georges Seurat, Pablo Picasso, and Pierre-Auguste Renoir, and Americans Thomas Eakins, Childe Hassam, Winslow Homer, and James McNeill Whistler. The Museum's collection of Modern and Contemporary art features works by Josef Albers, Dorothy Dehner, Sam Gilliam, Adolph Gottlieb, Grace Hartigan, Ellsworth Kelly, Sol LeWitt, George McNeil, Robert Motherwell, Ben Nicholson, Robert Rauschenberg, and Bridget Riley. The Hyde Collection presents changing exhibitions in its five galleries, as well as lectures, cultural events, family activities, and school programming in its modern museum complex and historic house at 161 Warren St., Glens Falls.
Also at The Hyde
In the early part of the twentieth century, art gave American women opportunities they hadn't known before. Focusing on landscapes, Changing the Landscape: Women Impressionists from the Thomas Clark Collection, includes works from artists trained in Boston, New York City, Philadelphia, and Europe. The exhibition sheds light on the works of twenty-one lesser-known turn-of-the-century female artists. Changing the Landscape is in Whitney-Renz and Hoopes Galleries through October 21, 2018.
For more information, please visit www.hydecollection.org or call 518-792-1761.
###
For More Information:    
Rhonda Triller
Director of Communications 
The Hyde Collection
518-792-1761, ext. 320
rtriller@hydecollection.org