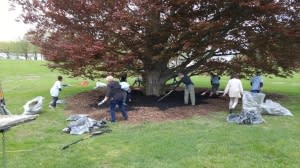 Show Your Park and Historic Site Some Love
Staatsburg, N.Y. – On Saturday, May 5th, from 10am to 3pm, Staatsburgh State Historic Site is presenting an I Love My Park Day volunteer project to clean up and rehabilitate areas of the mansion's historic landscape within the park.  The site is hoping to attract new and current volunteers, who enjoy working outdoors, to improve and enhance the landscape in this state park and historic site which offer New Yorkers, and visitors to the region, a spectacular view and access to the Hudson River as well as a mansion full of Hudson Valley history. The event is appropriate for people ages 13 and older, and volunteers can come for any portion of the day. To learn more or register for the event, please visit www.ptny.org/ilovemypark.
Volunteers will be clearing growth near historic structures in the woodland, near hiking trails, to prepare for a new interpretive trail program to be offered in the summer and fall, "History Hidden in the Woods," focusing on the history of the 19th-century; estates adjacent to Staatsburgh, and their relationship to the river and the landscape. There will also be some cleanup of the landscape around the mansion, cleaning up from recent storms.
"We know that the local community, and many other people in the region, care deeply about the importance of this site and park, and will want to join together to help us make them more accessible and beautiful as we launch into our busy season," says Pam Malcolm, Site Manager at Staatsburgh. "We expect the event to be a fun outdoor activity and a chance to meet other friendly, civic-minded people in the community."
Volunteers will use rakes, shovels and hand tools to assist site staff with these activities. Volunteers can bring work gloves and tools they prefer, but equipment will also be provided. Volunteers are encouraged to wear tick-proof clothing and sun protection. Water, snacks, and a pizza lunch break will be provided by event sponsors, including Stop & Shop supermarket in Hyde Park, and the Friends of Mills Mansion. Each volunteer will receive a free event T shirt (while supplies last).
I Love My Park Day is an exciting statewide event to improve and enhance New York's state parks and historic sites and bring visibility to the entire state park system and its needs. Volunteers from across the state will participate in cleanup, improvement, and beautification events at New York State parks and historic sites. Volunteers will celebrate New York's state park system by cleaning up park lands and beaches, planting trees and gardens, restoring trails and wildlife habitat, removing invasive species, and working on various site improvements. 
The legacy of New York's park system is unparalleled. New York is home to a valuable collection of natural and recreational assets that contribute significant benefits to New York State's economy, health, environment and history. Volunteer participation in a cleanup day will help enhance these important places during lean budget times and prove that there is a strong public support for our park system.
Those interested in volunteering in the project at Staatsburgh State Historic Site can register by visiting www.ptny.org/ilovemypark.
Staatsburgh State Historic Site and Ogden Mills & Ruth Livingston Mills Memorial State Park are located on Old Post Road in Staatsburg, off Route 9 between Rhinebeck and Hyde Park. The historic site is one of 6 sites and 15 parks administered by the New York State Office of Parks, Recreation and Historic Preservation – Taconic Region.  For more information please call 845-889-8851 or visit our websites at www.nysparks.com/historic-sites/25/details.aspx and www.facebook.com/StaatsburghSHS.
About PTNY: Parks & Trails New York is the leading statewide organization working to preserve and enhance a network of parks, trails and greenways for all New Yorkers for generations to come. Since 1985, our influential reports and advocacy efforts have been to keeping parks and historic sites open and protecting New York's natural, recreational, cultural and historical resources. For more information, visit www.ptny.org.
###
Contact:
Pam Malcolm
(845) 889-8851