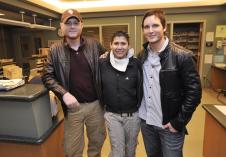 New York, N.Y.
- Arkansas resident Marcela Tapia's visit to the Empire State (
http://www.iloveny.com/
) included red carpet treatment from her favorite celebrity, Twilight Saga star Peter Facinelli. On December 15, Facinelli, who was on-set shooting an episode of Showtime series Nurse Jackie, welcomed Tapia and her husband, at the Queens-based studio, providing them with a set tour and introductions to other big-name Nurse Jackie actors, including New York native Edie Falco, before taping a playful one-on-one mock interview with Tapia about why Facinelli loves his home state of New York. The meet-and-greet resulted after Tapia won the Grand Prize in I LOVE NEW YORK'S Twitter sweepstakes featuring round trip tickets to New York via JetBlue Airlines (www.jetblue.com), luxurious hotel accommodations for two nights at The Sherry Netherland (www.sherrynetherland.com), two tickets to the set of the Showtime series Nurse Jackie to visit Facinelli, and a gift basket from I LOVE NEW YORK and EscapeMaker.com. "Peter has been great to support I LOVE NEW YORK and was instrumental in helping us achieve our goal of becoming the number one most followed state tourism page on Twitter," said Thomas Ranese, Chief Marketing Officer of Empire State Development. "We hope Marcela and her husband had a fantastic time meeting Peter and experiencing New York. We'll continue to create Twitter-only contests and Facebook promotions and maximize our I LOVE NEW YORK brand for social media." Since the October launch of the @I_LOVE_NY Twitter handle, I LOVE NEW YORK is on the top-ten list of state tourism sites and has the most followers on Twitter. Empire State officials continue to encourage all New York fans to sign-up to follow its @I_LOVE_NY Twitter handle (www.twitter.com/I_LOVE_NY ). Also, visit I LOVE NEW YORK'S new Facebook page at http://www.facebook.com/pages/I-LOVE-NEW-YORK/118914714168.
About New York State
New York State features 11 beautiful vacation regions.  New York's attractions span from landmarks such as Niagara Falls, to the wine trails of Hudson Valley and treasures like the Baseball Hall of Fame in Cooperstown.  Whether it's wide-ranging outdoor activities for the whole family like fishing, hiking and boating, culinary wonders and farm-to-table fresh foods, or the rich history and culture of one of the 13 original colonies, New York State offers diverse activities for all travelers.  For more information visit www.iloveny.com.  Media can find press releases and more at thebeat.iloveny.com.
# # #
Contact:
Michelle Horn/Terence Gallagher Lou Hammond & Associates (212) 308-8880; Fax: (212) 891-0200
michelleh@lhammond.com
/
terryg@lhammond.com
Lisa Willner Empire State Development Corporation (212) 803-3740
lwillner@empire.state.ny.us