New York, NY
- First, actor Peter Facinelli expressed his love for his home state of New York and helped the Empire State's tourism promotion agency (
www.iloveny.com
) launch its new Twitter handle @I_LOVE_NY.   Now, starting Friday, October 23, Peter will provide his Twitter followers with details to meet the star in his hometown. The Grand Prize sweepstakes winner and their guest will receive round trip tickets to NY, NY via JetBlue, luxurious hotel accommodations for two nights at The Sherry Netherland (
www.sherrynetherland.com
), two tickets to the set of the Showtime series Nurse Jackie for a meet-and-greet with Facinelli, ground transportation, and an I LOVE NEW YORK and
EscapeMaker.com
gift basket. "Peter has been great to support I LOVE NEW YORK and by launching the sweepstakes is helping us achieve our goal of becoming the number one most followed state tourism page on Twitter," said Thomas Ranese, Chief Marketing Officer of Empire State Development. "We hope the sweepstakes serves as a tool to increase followers and expose new people to the latest happenings, events, special offers and getaway opportunities throughout New York State."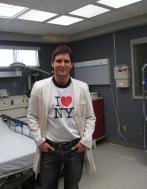 All Twitter users must follow @I_LOVE_NY to enter the I LOVE NEW YORK sweepstakes trip giveaway starting on Friday, October 23. For a complete list of rules and entry registration form visit EscapeMaker.com (
www.escapemaker.com/peterfacinelli
) The Grand Prize winner will be chosen at random one week from Friday with the winner announcement on November 6. Since the launch of the Twitter handle last week, I LOVE NEW YORK has gained nearly 4,000 followers, putting it on the top-ten list of state tourism sites with the most followers on Twitter.
About New York State
New York State features 11 beautiful vacation regions.  New York's attractions span from landmarks such as Niagara Falls, to the wine trails of Hudson Valley and treasures like the Baseball Hall of Fame in Cooperstown.  Whether it's wide-ranging outdoor activities for the whole family like fishing, hiking and boating, culinary wonders and farm-to-table fresh foods, or the rich history and culture of one of the 13 original colonies, New York State offers diverse activities for all travelers.  For more information visit
www.iloveny.com
.  Media can find press releases and more at
thebeat.iloveny.com
. EscapeMaker.com is an online guide to local hotels, B&B's and vacation rentals, events and festivals, and weekend getaway and day trip destinations within a day's drive or train ride of New York City
# # #
Contact:
Michelle Horn/Terence Gallagher                                                                      Lou Hammond & Associates (212) 308-8880; Fax: (212) 891-0200
michelleh@lhammond.com
/
terryg@lhammond.com
Lisa Willner Empire State Development Corporation (212) 803-3740
lwillner@empire.state.ny.us