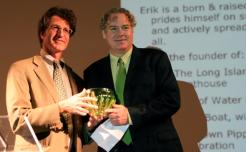 The Grand Prize winner of the Greenest NYer contest is Erik Baard
The Greenest NYer will visit I LOVE NEW YORK's Green destinations and promote sustainability across New York State
New York, N.Y.
- New York City resident Erik Baard has been named the 2011 "Greenest NYer" by
I LOVE NEW YORK
, New York State's tourism promotion agency. For the second year, New York State along with EscapeMaker.com, held the contest to celebrate those individuals who are doing their part in keeping the Empire State green and making earnest efforts to preserve the environment. The presentation was made at EscapeMaker.com's Green Getaways Local Food & Travel Expo in Brooklyn, at a special press conference held by I LOVE NEW YORK. "Erik's strong dedication to the preservation of the environment, as well as his extensive work in spreading the message about the benefits of going green has made him an inspiration, leader and guide for those seeking to live an ecologically-sound lifestyle," said Peter Davidson, Executive Director of Empire State Development, which administers the I LOVE NEW YORK campaign. "We are proud and honored to present him with this year's Greenest NYer award." A native New Yorker, Baard is the founder of the Long Island City Community Boathouse and to promote local eco-tourism and water travel around New York City, he conceived the MetroBoat, a folding kayak manufactured by Folbot that is the only kayak in the world which has the eye-catching iconic New York City subway map infused into its deck. He is also the founding member of the Queens Volunteer Committee of Transportation Alternatives and advocates for New York's environment through his Nature Calendar blog, professional articles, and pro bono contributions. As the official I LOVE NEW YORK Greenest NYer, Baard will get to spend one year traveling New York State (in his free time) and experience some of its finest green/eco-tourism offerings, while using the title in his networking and work in the promotion of sustainability. In addition, EscapeMaker.com will donate $500 to the green organization of his choice. (Organization must be a 501(c)3 and is subject to approval). Baard will also blog about his adventures as the Greenest NYer, and make occasional public appearances, schedule permitting. "We're delighted to participate again this year in the Greenest NYer contest and support the winner with a $500 donation to his or her green charity of choice," said Caylin Sanders, President and Founder of EscapeMaker.com. "I LOVE NY has a strong commitment to promoting eco-destinations and that's why we are so excited and honored that the winner of the Greenest NYer Award was announced today at our Green Travel Expo." In 2010, Empire State Development, which administers the I LOVE NEW YORK program, unveiled a new "green heart" in its famous I LOVE NEW YORK logo as part of an initiative that promotes green-certified restaurants and hotels, as well as the State's parks, beaches, waterways and mountains. I LOVE NEW YORK also chose ten must-see iconic green travel destinations spanning the State's 11 tourism regions. The destinations include national icons such as Niagara Falls State Park, the Catskill Scenic Trail, Adirondack Park's high peaks, and the Empire State Building.  The list also includes scenic State Parks such as Taughannock Falls and Letchworth, as well as diverse locales such as the Fire Island National Seashore, Storm King Arts Center, Waterways of the Thousand Islands, and Roosevelt Baths and Spa. Information about I LOVE NEW YORK's Green destinations can be found on the Green Heart NY Web site at
www.iloveny.com/greenheart
.   Public voting for the Greenest NYer took place online, ending on April 17.  The top three vote getters were then judged by a panel of expert judges including Matt Weingarten, Executive Chef, Inside Park at St. Bart's; Peter Lindabury, LEED AP Consultant for the Conference Center at Lake Placid; Kate Sinding, senior attorney and Deputy Director of the New York urban program at the National Resource Defense Council; Valarie D'Elia, travel correspondent for NY1 News; and Kaity Tsui, Greenest NYer 2010. This year's award is a green vase made by gaffers at The Corning Museum of Glass in Corning. It was created at the Hot Glass Show, one of several live glass demos presented daily at the Museum. "The Corning Museum of Glass supports green initiatives in many ways," said Sheila Guidice of The Corning Museum of Glass. "We are thrilled to have the opportunity to partner with Empire State Development and I LOVE NEW YORK to promote Green Travel throughout New York State. We encourage travelers to visit our museum and the enchanting vineyards, cascading waterfalls, deep gorges and glacial lakes in New York's Finger Lakes region." Located in the heart of Finger Lakes Wine Country in New York State, the Museum features the world's most comprehensive collection of glass art and history, spanning 35 centuries; hands-on science exhibits; and Make Your Own Glass experiences for all ages. The Museum is open 9 a.m. to 5 p.m. daily and until 8 p.m. in the summer.  For more information about the museum, call (800) 732-6845 or visit
http://www.cmog.org/
.
###
About EscapeMaker.com
EscapeMaker.com is an online guide to local hotels, B&B's, vacation rentals, events and festivals, weekend getaways and day trip destinations within a day's drive or train ride of New York City. For more information and for tickets to EscapeMaker.com's Green Getaways, Local Food & Travel Expo, on April 30th at Skylight One Hanson in Brooklyn, NY, visit http://www.escapemaker.com/travelexpo
About New York State
New York State features 11 beautiful vacation regions.  New York's attractions span from landmarks such as Niagara Falls, to the wine trails of Hudson Valley and treasures like the Baseball Hall of Fame in Cooperstown.  Whether it's wide-ranging outdoor activities for the whole family like fishing, hiking and boating, culinary wonders and farm-to-table fresh foods, or the rich history and culture of one of the 13 original colonies, New York State offers diverse activities for all travelers. For more information visit
http://www.iloveny.com/
/.  Media can find press releases and more at
http://www.thebeat.iloveny.com/
.  Photo:   New York City resident Erik Baard (right) has been named the 2011 "Greenest NYer" by I LOVE NEW YORK, New York State's tourism promotion agency. Baard is shown accepting his award in Brooklyn April 30 from Peter Davidson, Executive Director of Empire State Development.
Sidebar 1
Did you know? New York's Natural Wonders
The Adirondack Park alone makes up 85% of all wilderness land in the eastern United States.
o It is larger than Yellowstone, Yosemite, Grand Canyon, Great Smoky and Everglades National Parks combined.
There are 19 waterfalls in Watkins Glen State Park alone
You can try a bubbling mineral bath at Saratoga Spa State Park
There are over 2000 islands in the 1000 Islands-Seaway region
New York has more than
o 4,000 freshwater lakes and ponds, including two of the five Great Lakes
o 70,000 miles of rivers and streams
Forests cover 62% of the state
23 State & National Scenic Byways run through New York
Local Food & Drink
Starting in the Finger Lakes 175 years ago, NYS now has over 200 wineries statewide. Over 40 of those are in Long Island, 90 in the Finger Lakes, 33 in the Hudson Valley & Catskills
There are nearly 70 breweries statewide!
New York has
o Over 36,000 farms producing fresh fruits, vegetables, meats and dairy products
o More than 300 farmers markets
New York is
o 2nd in the U.S. for apple production, growing more than 3 billion a year
o 2nd largest grower of cabbage in the US - producing 58 Million heads every year!
o 2nd in the nation in Maple syrup production (after Vermont! Who we can beat!)
New York grows more Concord grapes than any other state. Over 3/4 of them are used for juice, making New York the #1 producer of grape juice in the U.S.
We are 3rd in milk production
Similarly, New York is in the top 5 for production of cauliflower, winter squash, green beans, and sweet corn... we are a farming state!
Informally, we count over 50 artisanal cheese makers according to Pride of NY's website
Sustainable Business Practices
New York has 43 Green Leaf properties certified by Audubon International.
o 30 of these properties have received 3-Leaf certification or higher
There are nearly 100 Green Certified Restaurants© in NYC and statewide
There are a multitude of communities working to be eco-friendly and sustainable, including Ithaca in the Finger Lakes and Lake Placid in the Adirondacks.
New York is ranked 3rd lowest in total carbon emissions released per capita
New York was one of the first states offering tax incentives for green building
New York has the one of the largest percentages of state-managed land in the United States.

More than 90% of this state land is managed by the Department of Environmental Conservation.
These lands are held in trust by DEC for the people of New York State and represent a legacy of more than 100 years of land acquisition and stewardship.

New York was the first state to take action to reduce emissions that cause acid rain with the 1984 State Acid Deposition Control Act.
The State's alternative fueled vehicle fleet has grown from 383 vehicles acquired in 1998 to 8,529 vehicles as of September, 2008, which represents 57% of the State's light duty vehicle fleet
###
Sidebar 2
Top 10 Green Destinations in New York State
1.      Niagara Falls State Park, Niagara Falls, Greater Niagara
It's the oldest state park in the United States and one of the natural wonders of the world ... and now it's going green! Niagara Falls State Park has awed generations with its majestic beauty and humbling power. The sparkling scenery of the falls has made it a perfect spot for families and has also draws writers, artists and prominent figures who come to feel the spark of creativity that only the park's panoramic views can create. Experience Niagara Falls State Park's rushing torrents, spectacular scenery and one-of-a-kind attractions while letting your excitement flow as freely as the waters. The American Falls feature a variety of adventures to help you make the most of your trip. Dine at the Top of the Falls Restaurant, walk right up to the base of Niagara Falls during the Cave of the Winds tour, or let the water fall all around you during the Maid of the Mist® boat ride. In 2010 the park celebrated its 125
th
anniversary ... and in keeping with the times went green! Some of the green modifications made at the park include a trolley fleet that runs on compressed natural gas (CNG), all other vehicles running on alternate fuels, solar lighting at Cave of the Winds, low energy lighting at the rapids and throughout the park, and using river water for the sprinkler systems.
2.   Letchworth State Park, Castile, Greater Niagara
Treat yourself to a visit to one of the most scenically magnificent areas in the eastern U.S. - Letch worth State Park. Its gorge is renowned as the "Grand Canyon of the East," as the Genesee River roars through it over three major waterfalls between cliffs (as high as 600 feet) surrounded by lush forests. There are 66 miles of hiking trails, along with trails for horseback riding, biking, snowmobiling and cross-country skiing. Letchworth offers nature, history and performing arts programs, guided walks and tours, a summer lecture series, whitewater rafting, kayaking, hot air ballooning and a pool for swimming.
3. Taughannock Falls
With an incredible drop of 215 feet (66 meters), Taughannock Falls is one of the highest falls east of the Rocky Mountains. Taughannock Falls is located in the town of Ulysses and is part of Taughannock State Park located between the Village of Trumansburg and the city of Ithaca. At Taughannock State Park you can hike along nature trails, and take advantage of tent and trailer sites, cabins, picnic areas, beach swimming, fishing, playground areas, a marina launching site, ice-skating, sledding, cross-country skiing and an annual summer concert series. Other interesting area attractions from ten minutes to an hour's drive include: Buttermilk Falls, Robert Treman State Park, Cornell University, Watkins Glen, the Finger Lakes, Corning Glass Museum, Ithaca College and over 50 local wineries.
4.   Adirondack Park, Adirondacks
The largest publicly protected area in the contiguous United States - greater in size than Yellowstone, Everglades, Glacier, and Grand Canyon national parks combined - the 6 million-acre Adirondack Park was created in 1892 by the State of New York amid concerns for the water and timber resources of the Adirondacks region. Nearly half of the park's land belongs to the people of New York State and is constitutionally protected to remain "forever wild" forest preserve. It's a perfect blend of quaint, friendly villages surrounded by millions of acres of forests filled with hundreds of pristine lakes and ponds, endless miles of rivers and streams, and the famous Adirondack Mountains. Take advantage of picturesque hiking and walking trails, wilderness paddling opportunities, and unparalleled winter recreation.
5.   Empire State Building/NYC, New York City
Rising 1,250 ft. above the intersection of Fifth Avenue and West 34th Street, the Empire State Building is an Art Deco marvel. At 102 stories, it's the tallest building in New York City, an icon in film and history, and has been named one of the Seven Wonders of the Modern World by the American Society of Civil Engineers. From the 86th-floor observation deck, you have an amazing 360-degree view of the city, and can even access a smaller deck on the 102nd floor. It's been a tradition on St Patrick's Day for years, but now the Empire State Building is green year round!  But it's not only about green lighting. In April 2009, Mayor Bloomberg announced an innovative plan to cut energy expenses at the 102-story structure. The results will be a more environmentally-friendly building and an expected savings of $4.4 million in annual energy costs for its owners. Even better, renovations will reduce its carbon dioxide emissions by 105,000 metric tons during the next 15 years - equal to the annual emissions of 17,500 cars. The list of upgrades includes replacing all of the skyscraper's 6,514 windows with a type of insulated glass that reduces summer heat load and winter heat loss. Other changes are planned for the building's insulation, ventilation, chilled water and lighting systems. Work has begun, with upgrades to the building systems expected to be completed in 2010. All of the building's green projects are expected to be finished by 2013.
6.   Fire Island National Seashore, Long Island
Rhythmic waves, high dunes, ancient maritime forests, historic landmarks and glimpses of wildlife-Fire Island has been a special place for diverse plants, animals and people for centuries. Far from the sounds and pressures of nearby big-city life, Fire Island National Seashore's dynamic barrier island beaches offer solitude and camaraderie, and spiritual renewal to civilization-weary people. While you're here, check out the Fire Island Light, located near the western end of the seashore near Robert Moses State Park; Sailor's Haven, boardwalk trail through the area known as Sunken Forest; as well the visitor center, general store, and  public marina. Located on the eastern end of Fire Island, Otis Pike Fire Island High Dune Wilderness is the only federally designated U.S. Wilderness Area in New York State.
7.   Storm King Art Center, Mountainville, Orange County, Hudson Valley
Located in Mountainville, an hour's drive north from the George Washington Bridge, the 500-acre Storm King Art Center is both a museum and a nature conservancy. Five hundred acres of landscaped lawns, fields and woodlands provide the setting for postwar sculptures by internationally renowned artists at Storm King Art Center. The museum celebrates the relationship between sculpture and nature by presenting art within an exhibition space is defined by sky and land. Unencumbered by walls, the subtly created flow of space is punctuated by modern sculpture. When viewing the sculpture, you're surrounded by the majestic Hudson Highlands. Because the sculptures are affected by changes in light and weather, no two visits are the same.
8.   Catskill Scenic Trail (Catskill Mountains), Catskills
The Catskill Scenic Trail lies on top of the former rail bed of the Ulster & Delaware Railroad. This 19-mile "Rails to Trails" project offers a hard-packed surface that makes it perfect for hiking, biking, horseback riding and cross-country skiing. The Trail's very gentle grade is a unique feature, with only a four hundred foot change in elevation over the entire 19 miles. The young and the young-at-heart will find this an easy trek through some of the most beautiful scenery in the world. The western Catskill Mountains of Delaware County offer some of the most stunning rolling mountain vistas. The headwaters for the Delaware River flow through the region providing fertile ground for farming on the river valleys and sweeping up gentle slopes to the mountain tops. These family farms and forests fed the needs of the growing Manhattan population and trains, such as the Ulster & Delaware, brought their produce and timber to market.
9.   Waterways of the 1000 Thousand Islands, Thousand Islands
  The waterways of the 1000 Islands region, Lake Ontario and the St. Lawrence River, are the setting for some of the best boating and fishing in the world, the most interesting cruising anywhere and the best diving outside of the Caribbean. With island after island and port after port of breathtaking beauty, fascinating history and lively activity, it's easy to see why the 1000 Islands are a popular cruising destination for both power boaters and sailors. Best of all, there's so much accessible by boat, including restaurants, resorts, parks, museums, golf courses, retail shops ... and its all surrounded by some of the most gorgeous scenery anywhere! The waters are filled with trophy-sized fish, drawing anglers from around the world every year for lake trout, king salmon and walleye on Lake Ontario, and Muskie, northern pike, bass, and the famous Lancaster Perch. Fishing services abound in the region with plentiful marinas, boat launches and bait and tackle shops. Local guides and charters can assure a successful outing for any angler with their proven knowledge and expertise.
10. Saratoga Springs, The Roosevelt Baths & Spa, Saratoga County, Capital-Saratoga
            Saratoga Springs has long been famous for its mineral springs, the result of a geological fault that allows the carbonated mineral water from deep in the earth to come to the surface. Believing the mineral springs to be sacred and have healing powers, Native Americans frequented them in the 14
th
century. During the 1800's Saratoga Springs became a very popular tourist attraction when many people came to partake of the waters. In the middle 1800's, the water was being bottled and shipped around the world. Experience the luxury of these springs with a mineral bath or other treatment at the newly renovated Roosevelt Baths & Spa. Indulge your body, mind and spirit with a luxurious spa vacation, the ultimate escape - from effervescent mineral baths to rejuvenating body scrubs! The Roosevelt Baths & Spa at Gideon Putnam Resort in Saratoga Springs has been recognized and certified as a 'green spa' by Eminence Green Spa's newly launched certification program, which encourages and rewards partner spas that have a passion for the environment, are involved in eco-conscious practices and are actively supporting the green movement. In order to become an Eminence Green Spa, a spa must "prove it is actively involved in Earth-friendly practices such as the use of reusable bags and linens, low-voltage lighting, organic fabrics, recycling programs and an assortment of other green efforts.
###
Contact:
Lisa Willner (ESD) |
lwillner@empire.state.ny.us
| 1-800-260-7313
Contact:
Eric Scheffel (ESD) |
escheffel@empire.state.ny.us
| 518-292-5274