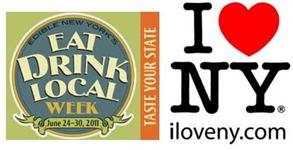 Seven magazines, from Brooklyn to Buffalo, co-host the weeklong real-food revelry
Hundreds of restaurants participating across New York State
Albany, N.Y.
 - I LOVE NEW YORK and New York State's seven 
Edible
 magazines are again joining forces to celebrate local food in classic Edible style. The magazines-among the Edible Communities network, whose titles were collectively named "Best Publication of 2011" at the James Beard Foundation Awards-have become the voice of the locavore movement. The seven-day food fest will celebrate great harvests upstate and down. The week, devoted to raising the profile of and creating markets for food and drink makers in our region, features hundreds of restaurant partners throughout the state and seven seasonal ingredients, crowd-sourced from 
Edible
 magazine readers. Part seasonal food festival and part charitable fund-raiser, Eat Drink Local exhorts New Yorkers to get to know the farmers, food artisans, fishers, winemakers, brewers, shopkeepers and others who fill our bellies, green our region and enrich our lives-and to support those people.
PARTICIPATING RESTAURANTS TO HIGHLIGHT SPECIAL INGREDIENTS
Hundreds of 
partner restaurants
 are joining forces, including the region's best farm-forward chefs. From the North Fork Table and Inn on Long Island, Al di Là and Egg in Brooklyn and Manhattan's storied Blue Hill and Gramercy Tavern to Red Devon up in the Hudson Valley, participating restaurants will create special Eat Drink Local week menus featuring the official reader-nominated seven ingredients: 
Strawberries
, 
Peas
, 
Chives and Green Garlic
, 
Rhubarb
, 
Lamb
, 
Oysters
 and 
Yogurt
. These restaurants will also feature 
New York wine
, 
beer
 and 
spirits
. See full restaurant list from Manhattan, Brooklyn and the East End below. Restaurant partners from the rest of the state will be announced soon. A full list can be found 
here
.
MADE POSSIBLE BY
I LOVE NEW YORK is one of dozens of sponsors and supporters who helo make Eat Drink Local week possible, including GrowNYC, Shawangunk Wine Trail, NOFA-NY, Long Island Wine Council, as well as leading sponsors Bing, Organic Valley and American Express. Bing, the decision-engine of choice for food and drink enthusiasts, will be providing interactive searching of New York food and drink options. Organic Valley will be sampling dairy from their nearly 200 New York farmer members, including their new New York Fresh label, produced and bottled entirely in the Empire State. And American Express supports restaurants, grocers, wine shops and other businesses. 
WEEKLONG EXPERIENCES
Edible brings its delicious message to life at sold-out smash parties pairing the best food and drink anywhere. Eat Drink Local week's lineup of experiences includes: JUNE 22. 
Taste of Greenmarket
: the annual fund-raiser for the city's Greenmarkets, at Studio 450. JUNE 24. 
Edible Queens
 hosts a Tasting of Local Wines at Table Wine, 79-14 37th Ave., Jackson Heights, 4-7 pm, FREE. For more information and to RSVP, email 
edibequeensevents@gmail.com
JUNE 24. Whole Foods Markets (Bowery, Upper West Side, Columbus Circle, Tribeca) will be partnering with nearby Eat Drink Local restaurants for in-store demonstrations of recipes the chefs are featuring throughout the week. In addition, the Culinary Demonstration Specialists at all six New York City Whole Foods Markets will be challenged to develop a recipe using as many of the 7 ingredients as possible and demo on the floor. JUNE 25 Edible Queens hosts a Supper Club featuring local foods at LIC Market, 21-52 44th Dr., Long Island City, Two Seatings, 6 pm & 9 pm, $50 per person. For more information and to RSVP, email 
edibequeensevents@gmail.com
JUNE 26 Edible Queens hosts a Meet the Farmer breakfast event at Sweetleaf, 10-93 Jackson Ave., Long Island City, 9-11 am, FREE. For more information and to RSVP, email 
edibequeensevents@gmail.com
JUNE 27 Edible Queens hosts a Meet the Farmer evening event at Astor Bake Shop, 12-23 Astoria Blvd., Astoria, 5-7 pm, FREE. For more information and to RSVP, email 
edibequeensevents@gmail.com
JUNE 29 Edible Queens hosts a Tasting of Local Wines at Claret Wine Bar, 46-02 Skillman Ave., Sunnyside, 5-7 pm, FREE. For more information and to RSVP, email 
edibequeensevents@gmail.com
JUNE 29. "Meet Your Maker": a local food and drink artisan tour at the Brooklyn Brewery. JUNE 29. Strawberry Social: to raise funds for Food Systems Network NYC at La Plaza Cultural Community Garden. JUNE 30. A Long Island oyster and beer party to end Eat Drink Local, at Jimmy's No. 43 JUNE 24-30. Whole Foods Markets citywide will feature special prepared foods dishes that uses 7 ingredients. JUNE 24-30. Foursquare Check-in Promoting Free Organic Valley Product at Whole Foods Markets. Each NYC store will have a foursquare offer that awards a coupon for a free Organic Valley product to anyone that checks in during Eat Drink Local week. (Coupons would be preferred since we wouldn't have to worry about refrigeration at the counter where they are redeemed.) JUNE 24-30. An interactive bring-something-win-something happening at the Union Square 
Greenmarket 
to encourage New Yorkers to cook, grow and forage. THROUGHOUT JUNE. Cooking and food preservation demonstrations at 
Greenmarkets
 citywide. THROUGHOUT JUNE. 
Gardens of the Alhambra
 and other food culture programming at the 
New York Botanical Garden
. Our food is how we change the world around us. So, Eat Drink Local encourages people to cook an extra meal with seasonal ingredients, take a friend to the Greenmarket, host a locavore feast at your home, and think more about the people behind your food. And lots more events both downstate and upstate to be announced as the week approaches.
A SEVEN-MAG STATEWIDE CELEBRATION
The seven Empire state 
Edibles
 are joining forces to celebrate Eat Drink Local week: 
Edible Brooklyn
,
 Edible Buffalo
,
 Edible East End
, 
Edible Finger Lakes
, 
Edible Hudson Valley
,
 Edible Manhattan
 and 
Edible Queens
. 
All are members of Edible Communities, a national network that includes 70 locally owned publications that celebrate their food and drink community. EdibleManhattan.com will be syndicating blog posts from throughout the state about the ingredients of the week, as well as selected other 
profiles in Eat Drink Local goodness
 as it did last year.
CHARITABLE BENEFICARIES
Each magazine will individually designate charitable beneficiaries whose work reinforces the mission of Eat Drink Local week. In Manhattan and Brooklyn, the beneficiary is the Greenmarket's umbrella organization GrowNYC, and 
Grow to Learn
, its new initiative to inspire, promote and facilitate the creation of a sustainable school garden in every New York City public school. On the East End, the beneficiary is the Edible Schoolyards network of the East End.
EAT DRINK LOCAL RESTAURANT PARTNERS
 (A full list can be found 
here
.)
Also be on the lookout for our green heart logo which will identify the green certified restaurants that are participating!
About New York State
I LOVE NEW YORK also has some timely news for summer travelers: you can have an amazing and affordable vacation in your own backyard on just a single tank of gas! New York State features 11 beautiful vacation regions.  New York's attractions span from landmarks such as Niagara Falls, to the wine trails of Hudson Valley and treasures like the Baseball Hall of Fame in Cooperstown.  By visiting 
www.iloveny.com
, you can choose and plan a New York State adventure accessible on a single tank of gas. Check out the destinations you'll be visiting and connect with local tourism professionals to find out more about dining, lodging, events, packages and promotions. For more information about what is going on at I LOVE NY and New York State, make sure to follow us on Twitter at 
www.twitter.com/I_LOVE_NY
 or fan us on Facebook at 
www.facebook.com/iloveny
. Empire State Development is New York's chief economic development agency and administrator of the statewide business resource portal New York First (
www.NYfirst.NY.gov
).  The mission of Empire State Development is to promote business investment and growth that leads to job creation and prosperous communities across New York State.  ESD also oversees the marketing of "I LOVE NY," the State's iconic tourism brand.  For more information on Empire State Development, visit 
www.esd.ny.gov
.
###
| | |
| --- | --- |
| Contact: | Lisa Willner |
| | Empire State Development |
| | Phone: (800) 260-7313 |
| | E-Mail: lwillner@empire.state.ny.us |
| | |
| | Eric Scheffel |
| | Empire State Development |
| | Phone: (518) 292-5274 |
| | E-Mail: escheffel@empire.state.ny.us |