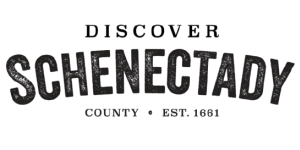 Three-day event will bring tourism industry from all corners of New York to Schenectady
Schenectady, N.Y. – Discover Schenectady and Rivers Casino & Resort Schenectady announced today that the New York State Tourism Industry Association (NYSTIA) has selected Rivers Casino & Resort Schenectady as the site of the "I Love New York" Empire State Tourism Conference, which will take place April 23 to 25, 2018. The conference theme is, "The Tourism Experience: Learn It. Do It. ❤ it!"
"When the Schenectady County Legislature created the Convention and Visitor's Bureau we did it to facilitate these types of conferences in Schenectady County," said Schenectady County Legislator and President of the Schenectady County Convention and Visitor's Bureau Jeff McDonald. "Our staff and community partners are working together daily to continue to bring in more business to Schenectady County. This is just a start for many more things to come from the partnerships of the Convention and Visitor's Bureau."
"With all of the wonderful attractions that are continuing to develop in Schenectady, it's especially exciting to welcome a tourism-themed conference to the county," said Becky Daniels, Executive Director of Discover Schenectady. "We are thrilled to bring in tourism and hospitality professionals from across the state to see all that we have to offer here in Schenectady County."
"We are proud to host a marquee event in New York State tourism here at Rivers Casino," said Rivers Casino & Resort Schenectady General Manager Mary Cheeks. "Our Event Center is the perfect location for a meeting like the Empire State Tourism Conference, with dining, lodging and entertainment right on site, and immediate access to all that downtown Schenectady has to offer. We're already looking forward to welcoming NYSTIA to Rivers."
"Welcoming the Empire State Tourism Conference to Schenectady is a major win forour county and shows we are quickly becoming a premier regional tourism destination," said Cathy Gatta, Chair of the Schenectady County Legislature's Committee on Tourism, Arts and Special Events. "This conference will be a great opportunity for Schenectady County and Rivers Casino & Resort to showcase our first-class event and entertainment venues that will attract more conventions, meetings and visitors."
"Our conference committee was impressed with all that Schenectady could offer our attendees during our three-day event," said President & CEO of NYSTIA Jill Delaney."NYSTIA selected the location based on the idea that we would be showcasing just how great of an impact tourism development can have on a community like Schenectady." The upcoming 2018 conference will be the 12th Empire State Tourism Conference and is expected to attract approximately 300 tourism professionals to Schenectady. The event will feature hands-on, energetic workshops that explore and immerse attendees in the latest and greatest tools, technology and best practices in the tourism industry. Outside of conference sessions, attendees will have plenty of opportunities to explore local dining and attractions.
The Rivers Casino & Resort Schenectady Event Center will be host to the bulk of the conference's activity. The casino's 10,000-square-foot Event Center can be reconfigured in a variety of ways to accommodate seminars and breakout groups, as well as large gatherings of up to 900 people. Since the casino's opening in February, the Event Center has hosted more than 200 events.
The Event Center is attached to the Capital Region's only casino gaming floor, featuring 1,150 slot machines, 67 gaming tables,16 poker tables; with six on-site restaurants and lounges, including OpenTable award-winner Dukes Chophouse; and The Landing Hotel, a 165-room upscale boutique hotel featuring the full-service Splash Spa.
###
About Rivers Casino & Resort
Rivers Casino & Resort Schenectady features a 50,000-square-foot gaming floor with 1,150 slot machines, 67 gaming tables and 16 poker tables. The floor is attached to a 10,000-square-foot Event Center capable of hosting more than 900 people for conventions and special events, one of the largest spaces in the region. Also on the property are five restaurants, Splash Spa and the 165-room The Landing Hotel. For more information on Rivers Casino & Resort, visit www.riverscasinoandresort.com.
About Discover Schenectady
Discover Schenectady is the tourism promotion agency representing Schenectady County. We inspire people to experience and enjoy Schenectady through promotion of the events, attractions and history that make Schenectady County a great destination to live, work, stay and play. For more information, visit www.discoverschenectady.com.
About The New York State Tourism Industry Association
The New York State Tourism Industry Association (www.nystia.org) is a statewide membership-based organization for travel and tourism related businesses. NYSTIA is a 501c6, NYS not-for-profit corporation engaged in the business of advocacy, leadership, marketing and professional development.
Media Contacts:
Charles Wiff (518) 326-6400 or (607) 743-8314
Becky Daniels (518) 522-0040