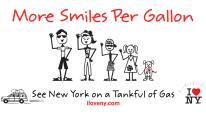 Get More Smiles Per Gallon with affordable New York State Travel Itineraries
Albany, N.Y.
- With a recent
Quinnipiac University poll
showing that New Yorkers think New York State is a great place to vacation but see the price of gas as the number one potential impediment to their summer travel, I LOVE NEW YORK's
More Smiles Per Gallon
campaign has just what travelers are looking for: amazing and affordable vacations in their own backyards on just a single tank of gas! By visiting
http://www.iloveny.com/
, you can choose and plan a New York State adventure accessible on a single tank of gas. Check out the destinations you'll be visiting and connect with local tourism professionals to find out more about dining, lodging, events, packages and promotions. Included in the 15 statewide adventures are two terrific excursions through New York's romantic and historic Long Island region. "At only 118 miles long from end to end and only 20 miles wide at its widest point, it's easy to navigate Long Island, and you're never that far from a beach," said Kristen Matejka, director of marketing at the Long Island Convention & Visitors Bureau. "And you'll find a tremendous variety of attractions, hotels, historic sites, scenic beauty, culture and outdoor fun for all ages." With its opulent Gold Coast estates, quaint fishing villages and some of the world's best beaches, Long Island is famous for summertime fun. Enjoy simple pleasures like a garden stroll, kayaking at a nature preserve, or relaxing on a white-sand beach. The shopping is simply fabulous, ranging from large designer outlets to small seaside boutiques and roadside stands selling fresh local produce. You'll also find world-class wineries, wild water parks, fun aquariums and fascinating museums, from aviation to whaling. The North Fork Trail scenic byway runs from Riverhead to Orient Point through vineyards and farmland. On the South Fork, the Hamptons were named the ultimate summer playground by
Conde Nast Traveler.
Combining picturesque scenery with great attractions and close proximity to New York City, this 118-mile-long island offers a very cool getaway. By visiting iloveny.com, you'll discover two suggested itineraries which include some of the Island's favorite stops.
Trip Highlights: Western Long Island Route
Maritime Heritage
- Learn about Long Island's rich seafaring heritage in King's Point at the
US Merchant Marine Academy.
The museum features fascinating collections of ship models, paintings, and nautical instruments and artifacts from Colonial times to WW II and beyond. It also houses the
National Maritime Hall of Fame
, which honors America's naval heroes and great ships.
www.usmma.edu/about/Museum/
Oyster Bay Opulence
- In Oyster Bay, walk amid splendid gardens and wooded paths at
Planting Fields Arboretum
, a 409-acre Gold Coast estate. Take a guided tour of Coe Hall, the estate's 65-room Tudor mansion. While in Oyster Bay, visit Sagamore Hill where President Theodore Roosevelt raised his family and which also served as his Summer White House.
www.plantingfields.org/
;
www.nps.gov/sahi
A Whale of a Time!
- Discover Long Island's whaling and maritime history, as well as contemporary conservation efforts, in Cold Spring at the Cold Spring Harbor Whaling Museum. Exhibits include whaling artifacts, paintings and beautiful works of scrimshaw, a traditional art form popularized by 19
th
-century seafarers.
www.cshwhalingmuseum.org/
By the Seashore
- Beautiful white-sand beaches, high dunes, ancient maritime forests, historic landmarks and glimpses of wildlife await you at Fire Island National Seashore in Patchogue. The Fire Island Lighthouse area, adjacent to Robert Moses State Park, has exhibits, a nature trail, and family-friendly programs.
www.nps.gov/fiis/
Marine Heritage and Much More
- Just south of Patchogue, stroll, shop and dine in the quaint port town of Sayville, which also connects to Fire Island by ferry, then explore the Long Island Maritime Museum in West Sayville, where annual events include seafood festivals and antique and classic car shows.
www.limaritime.org/
The "Good Old Days" -
At the Old Bethpage Village Restoration experience Long Island life as it was in the mid-1800s. As you stroll amid restored homes, shops and farms, chat with costumed townspeople who demonstrate skills like sheep shearing, hat making and churning butter. There are also battle reenactments, concerts and family programs.
www.nassaucountyny.gov/agencies/Parks/wheretogo/museums/central_nass_museum/old_bethpage_rest.html
Opulence and Entertainment in Westbury
- Tour the opulent Charles II-style mansion and explore 200 magnificent acres of formal gardens, landscaped grounds, woodlands, ponds and lakes at Old Westbury Gardens in Westbury. You can also enjoy events such as concerts and family programs.
www.oldwestburygardens.org/
Nearby, the NYCB Theater at Westbury is an entertainment center known for fun. Enjoy shows by top performers in comedy and pop, rock, and country music, as well as special family programs in this round 3,000-seat theater.
www.westburymusicfair.org/
Fresh Seafood and Great Entertainment
- The Village of Freeport is renowned for its waterside restaurants that serve fresh seafood and great entertainment. You'll also discover boat tours, charter fishing, specialty shops and seasonal festivals.
Eastern Long Island Route
Branching out in Riverhead
- Your 'More Smiles' Eastern Long Island begins in Riverhead, where eastern Long Island branches into two forks: the North Fork and the South Fork. Three of the region's top attractions are found here: Named a Top 10 Aquarium for children by
Parents
magazine, Atlantis Marine World offers a world of watery fun year-round. More than 100 exhibits and interactive experiences blend science and nature with myth to create a fun and educational experience for all ages.
www.atlantismarineworld.com/
Nearby, cool off at Splish Splash Water Park, voted one of the "Best Waterparks in America" by the Travel Channel and one of the Top 15 in the US by Budget Travel. Enjoy 96 acres of wet and wild waterslides, a wave pool, a 1,300-ft-long lazy river, an interactive family water play area, a spa pool and other fun for all ages.
www.splishsplashlongisland.com/
Wineries, Cruises and a Lighthouse!
Driving east along the North Fork, you can tour award-winning wineries, take a day cruise aboard a schooner or take in the view from a lighthouse. The North Fork Trail scenic byway runs past rustic vineyards and charming villages, from Riverhead to Orient Point Beach State Park.
https://www.nysdot.gov/portal/page/portal/e-zine/spring2008/scenic-byway/
Kayaking on Shelter Island
- Just
south of Greenport take a ferry to Shelter Island Kayak Tours. The South Ferry Company connects Shelter Island with Sag Harbor and the South Fork.
www.kayaksi.com/
www.southferry.com/
Thar She Blows!
- Visit the Sag Harbor Whaling Museum, set in a classic Greek revival mansion. Learn fascinating local history as you explore the 1845 whale ship owner's home and its large collection of whaling artifacts and other unique items. Restaurants in Sag Harbor serve fresh seasonal cuisine accompanied by breathtaking sunset views over the bay.
www.longisland.com/museums/museum.php?ID=91/
The Beauty of the South Fork
- Along the South Fork, stretching east from Southampton to Montauk Point, you'll find white-sand beaches, world-class wineries, grand estates and picturesque villages. Along with swimming, sailing and occasional movie-star sightings, you can enjoy music festivals, art museums, seaside bike trails and Main Street shops and galleries. At the Island's easternmost tip, Montauk Point State Park boasts some of the world's best surf fishing. Climb to the top of Montauk's historic lighthouse, golf with an ocean view, or saddle-up for a ride on the beach at Deep Hollow, a 350-year-old working cattle ranch. Accommodations range from chic resorts and spas to campsites on the beach at Hither Hills State Park.
www.montauklighthouse.com/
Relax and Wind Down
- Head west from the Hamptons and complete your trip with a relaxing hike or bird watching at the Quogue Wildlife Refuge. The 305-acre expanse of protected land has more than seven miles of trails that lead through a variety of habitats: pine barrens, wetlands, meadows and a tidal estuary.
www.quoguewildliferefuge.com/
Upcoming Events -
Paumanauke PowWow
08/13-14/2011; Hours: Saturday 10 a.m. - 10 p.m., Sunday: 10 a.m. - 5 p.m.; Babylon Town Hall, 200 East Sunrise Highway, Lindenhurst, NY 11757. Admission: Adults: $10.00; Seniors: $5.00 and children 12-16: $5.00; Children under 12 freel. The Paumanauke Pow Wow and Native American Living Arts Festival is a non-profit organization operating for the benefit and preservation of Native American cultural heritage on Long Island. Over 60 vendors, general competition and social dancing competition for all major categories.
http://www.paumanauke.org/
Long Island Scottish Games
08/27/2011; for hours and admission, please call (516) 333-0048; Old Westbury Gardens, 71 Old Westbury Road, Old Westbury, NY 11568. Scottish dance and music performances, competitive Highland Games (caber toss, putting the stone and tossing of the sheaf), cultural and historical displays, clan genealogy information, individual and pipe band competitions, children's activities, dog agility and other animal demonstrations, Scottish wares, crafts, foods.
http://www.oldwestburygardens.org/
Hamptons Classic Horse Show
08/28/2011 - 09/04/2011 Sponsor: Hampton Classic Horse Show Address: 240 Snake Hollow Road , Bridgehampton, NY 11932 One of the largest hunter/jumper competitions in the country; over 1600 horses will compete in five show rings. Spectators can enjoy competition, shopping and dining.
http://www.hamptonclassic.com/
Quick Silver Pro Professional Surfing World Tour Competition
09/04/2011 - 09/15/2011 Long Beach Entrance at National Boulevard Allegria Hotel Beach, Long Beach, NY 11561 The Quicksilver Pro New York will be the sixth on the Association of Surfing Professionals 2011 World Tour, kicking off in Australia and features events in Brazil, France and Hawaii, among several other locales. This event is likely to attract many surfing aficionados to the area, especially considering the fact that many of the biggest names in the sport will be staying in Long Beach to compete, including 10-time world champion Kelly Slater.
http://www.aspworldtour.com/
For more Long Island Travel Information:
Long Island Convention & Visitors Bureau and Sports Commission -
www.discoverlongisland.com/
; (877) 386-6654
About New York State
New York State features 11 beautiful vacation regions.  New York's attractions span from landmarks such as Niagara Falls to the wine trails of Hudson Valley and treasures like the Baseball Hall of Fame in Cooperstown.  Whether it's wide-ranging outdoor activities for the whole family like fishing, hiking and boating; culinary wonders and farm-to-table fresh foods; or the rich history and culture of one of the 13 original colonies, New York State offers diverse activities for all travelers. For more information visit
http://www.iloveny.com/
. Media can find press releases and more at
http://www.thebeat.iloveny.com/
. You can also get I LOVE NEW YORK updates and information on Twitter: 
twitter.com/I_LOVE_NY
Facebook: 
www.facebook.com/iloveny
Flickr: 
www.flickr.com/photos/officialiloveny
YouTube:  
www.youtube.com/OFFICIALILOVENY
About Empire State Development
Empire State Development is New York's chief economic development agency and administrator of the statewide business resource portal New York First (
http://www.nyfirst.ny.gov/
).  The mission of Empire State Development is to promote business investment and growth that leads to job creation and prosperous communities across New York State.  ESD also oversees the marketing of "I LOVE NY," the State's iconic tourism brand.  For more information on Empire State Development, visit
http://www.esd.ny.gov/
.  
###
Contact:
Lisa Willner (ESD) |
lwillner@empire.state.ny.us
| (800) 260-7313                Eric Scheffel (ESD) |
escheffel@empire.state.ny.us
| (518) 292-5274