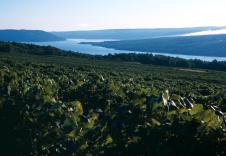 Great New York State Fair, Award-winning wineries, pristine scenery and world-class museums beckon travelers from around the globe 
Albany, N.Y.
- Named for eleven pristine lakes that spread like fingers across its fertile land, New York State's Finger Lakes region dazzles with natural wonders, unique attractions, and some of the world's finest wine. Rivers connect the lakes to Great Lake Ontario, making it a haven for fishing, swimming and boating. The scenery is spectacular at every turn. A tour of the region offers fascinating museums, cultural treasures, historic homes, more than 50 regional wineries, and those famous crystal clear lakes! From autumn treks in search of natural beauty to great food, drink and recreation, the Finger Lakes region has it all! Between August 25 and September 5, be sure to check out the exciting and historic
Great New York State
Fair in Syracuse. "With over 9,000 square miles of lakes and lands the Finger Lakes is a perfect place to explore for a variety of interests. We're a perfect driving destination and encourage people to explore the nooks and crannies!", said Valerie Knoblauch, Regional Administrator of the Finger Lakes Tourism Promotion Agencies. To help you best explore the region, I LOVE NEW YORK has prepared two trips you can take on a tankful of gas, a Northern and a Southern route. With Labor Day around the corner, get ready to start your 'More Smiles Per Gallon' exploration of the magnificent Finger Lakes region! Visit
http://www.iloveny.com/
to choose and plan a New York State adventure accessible on a single tank of gas. Check out the destinations you'll be visiting and connect with local tourism professionals to find out more about dining, lodging, events, packages and promotions. Included in the 15 statewide adventures are two terrific excursions through New York's naturally wonderful Finger Lakes region.
Finger Lakes - Northern Route
So Much to Do in Syracuse!
- Start your tour by getting a taste for the region in the Salt City. Choose from
Onondaga County Parks'
unique variety of sites, including the
Rosamond Gifford Zoo
at Burnet Park,
Beaver Lake Nature Center
, Highland Forest, and on weekend afternoon's, the
Salt Museum
, where you can discover the industry that created the City of Syracuse and supplied the entire nation with salt! At the fascinating
Museum of Science and Technology
, explore the hands-on exhibits, a planetarium and a domed IMAX theater. And, if you make plans to visit Syracuse between August 25 and September 5, be sure to check out the exciting and historic
Great New York State Fair
. Discover the best of New York's agriculture, entertainment, education, industry and technology while enjoying world-class musical performances.
15 Miles on the Erie Canal
- Head
west to Skaneateles, for sightseeing cruises on Skaneateles Lake and the Erie Canal with the
Mid-Lakes Navigation Company
. Daily cruises include dinner, lunch sightseeing and even Mailboat cruises on Skaneateles Lake and the Erie Canal near Syracuse.
"History's Hometown"
In
Auburn
discover "History's Hometown" with stops at the
Seward House Museum
(Seward's Folly), the only Tiffany designed chapel known to exist at
Willard Memorial Chapel
, and the
Harriet Tubman Home
.  Known to be the birthplace of talking movies at the Case Research Lab and home to 'Broadway in the Finger Lakes,'
Merry-Go-Round Playhouse
, the largest professional musical theatre venue in New York State, outside of Broadway.  
The Birthplace of the Women's Rights Movement
- In Seneca Falls, be sure to visit the
Woman's Rights National Historical Park
, where you'll see historic sites related to the first Women's Rights Convention (1848), including the
Elizabeth Cady Stanton House
and
Wesleyan Chapel
. Nearby, the
National Women's Hall of Fame
celebrates the achievements of great American women.
Romance in Geneva -
Recently
voted
one of the "
Top 10 Romantic Inns and Resorts
",
Belhurst Castle
, the Belhurst Winery's plush 19
th
-centry inn on Seneca Lake in Geneva, combines the romance of the past with the comforts of the present in an elegant, yet relaxed atmosphere. Stay the night in one of Belhurst's beautifully appointed guest rooms in one of three distinct hotels.
Culinary Delights, Magnificent Gardens ... and Grapes!
- At
the
New York Wine & Culinary Center
in Canandaigua, take a cooking or wine class and dine on specialties created from fresh NY produce, artisan cheeses, wines and beers. The Canandaigua Wine Trail is nearby. Also in Canandaigua, visit
Sonnenberg Gardens & Mansion
to tour the historic Queen Anne-style home and walk amid nine formal gardens enhanced by marble cupids, reflecting pools and fountains. Also, make a stop in Naples for everything grape-related including purple fire hydrants, and grab a famous grape pie at
Arbor Hill Grapery
, a perfect dessert for a nice fall picnic.
History Coming to Life in Mumford
- Northwest of Canandaigua in Mumford,
the
Genesee Country Village & Museum
awaits you. Experience living history as costumed villagers recreate 19
th
-century country life amid more than 60 restored historic homes, shops, schools, churches and farms. Check out local wildlife in the nature center.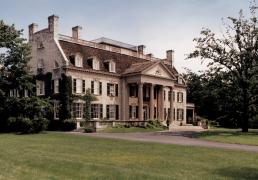 Rochester Delights in So Many Ways!
In Rochester, a must-see for you and your kids is a trip of exploration to
Strong National Museum of Play at the Strong
. Step into Sesame Street, visit the Berenstain Bears, and walk through an indoor butterfly garden. See the world's largest collection of dolls and toys, while looking for your favorites in the
National Toy Hall of Fame
. Hundreds of thousands of photographs encompassing the full history of photography make the
George Eastman House
museum the world's preeminent museum of the medium. Eastman House is also one home to one of the oldest film archives in the United States and is now considered to be among the top cinematic collections worldwide. Explore earth and space at the
Rochester Museum & Science Center and Strasenburgh Planetarium
, with three floors of interactive exhibits on science, technology, nature and culture. Wind down with some pure family fun at
Seabreeze Amusement Park
featuring classic family rides and new thrills. Open since 1879, this fun park now includes more than 75 rides, shows and attractions--and a cool waterpark! Enjoy an old-fashioned picnic with beautiful views of Lake Ontario.
Morman and Canal Heritage
- In Palmyra, tour the
Grandin Building
where The Book of Mormon was first printed and sold. The
Hill Cumorah Visitor Center
offers a guided tour of historic Mormon sites. Your next stop in the "Queen of Canaltowns," is a visit to the
Wm. Phelps General Store
"where time stands still." This historic general store is 185 years old and was built specifically to serve the Erie Canal, displays products dating back to 1860.
Finger Lakes - Southern Route
Soaring to New Heights in Elmira
- Fun is in the air at the
National Soaring Museum
in Elmira. You'll learn about motorless flight as you play with flight simulators and other interactive exhibits, and you'll also see the world's largest collection of sailplanes and gliders! For a uniquely uplifting experience and memory you'll treasure forever, head to the
Harris Hill Soaring Center
where you can actually glide with FAA-certified pilots over the picture-perfect countryside.
3,500 Years of Glass
- Don't miss a chance to see the
Corning Museum of Glass
. The museum offers the world's best collection of art and historical glass, with more than 45,000 objects tracing 3,500 years of glassmaking history. Watch hot glass blowing demonstrations and learn about the artistry and science of glass making. Sign up to create your own masterpiece and pick up sparkly souvenirs in the giant Glass Market. Then check out Corning's historic
Gaffer District
 which has more than 100 shops, restaurants and hot glass studios. Add some western flavor to your Corning trip by seeing the
Rockwell Museum's
collection of American Western art, one of the finest in the nation. See works by masters of the Old West such as Remington and Russell, as well as Native American and contemporary artists, from Kay Walking Stick to Andy Warhol.
The Cradle of Aviation
- Drive northwest to Hammondsport and the
Glenn H. Curtis Museum
. Fun interactive exhibits celebrate the aviation pioneer whose inventions and daring experiments with motorcycles and flying machines once thrilled the world and inspired the
Adventures of Tom Swift
books.
Side Trip: Keuka Lake Wine Trail
- For a side trip option, drive northwest to connect with the
Keuka Lake Wine Trail
. Enjoy stunning scenery, and great shops, restaurants and country inns. Award-winning wineries along the lake offer tours, tasting and events. Don't forget to choose a designated driver!
Breathtaking Views
- You'll certainly want your camera with you when you stop at
Taughannock Falls State Park
, where hiking trails that lead to breathtaking views, such as that of the 215-foot waterfall plunging over rocky cliffs towering 400 feet above the gorge. There are also cabins, campsites, a swimming beach, a marina and a boat launch right on Cayuga Lake.
It's Gorge-ous in Ithaca!
Continue southeast to the
Museum of the Earth
at the Paleontological Research Institute. Interactive exhibits let you explore life beneath an ancient sea, track a herd of dinosaurs, and touch relics of a world carved by ice. Next, bring your bathing suit for a refreshing swim beneath an actual waterfall at
Robert H. Treman State Park
. Follow winding hiking trails to dramatic gorges and other gorge-ous scenery.
Views and Thrills in Watkins Glen!
The views rule at
Watkins Glen State Park
. The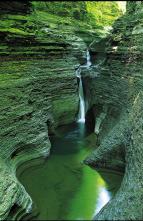 glen's stream plunges over 200-foot cliffs, generating 19 waterfalls. Travel through the gorge path, which winds over and under waterfalls, to the spray of Cavern Cascade. There's also fresh water fishing and an Olympic-size pool for campers and day trippers. Complete your trip with the thrills and sounds of world-class auto racing at
Watkins Glen International
. Watch classic cars and NASCAR's biggest names vie for the checkered flag.
Upcoming Events -
The Great New York State Fair
8/25/2011 to 9/5/2011; State Fairgrounds, 581 State Fair Blvd., Syracuse; (315) 487-7711 or (800) 475-3247. The longest running and one of the largest state fairs in the U.S., the Great NYS Fair boosts around 1 million visitors each year. There is food, rides, games, agricultural events, nationally famous musical artists, a Native American village, and so much more! Syra
http://www.nysfair.org/
Finger Lakes Cork and Fork
9/16/2011 and 9/17/2011; Rodman Lott & Son Farms; Route 414, Seneca Falls; (315) 568-2906. The Cork and Fork is the premier field to feast event in the Finger Lakes, celebrating and showcasing the region's agriculture, viticulture, and culinary best. Sample local wines and beverages, sample locally grown produce, taste dishes prepared by the area's finest restaurants and chefs, and much more!
http://www.fingerlakescorkandfork.com/
Naples Grape Festival
9/24/2011 and 9/25/2011; Naples; The Finger Lakes is credited for creating the grape pie in the 1950s and today the Naples Grape Festival celebrates everything grape! This one of a kind festival includes everything from The World's Greatest Grape Pie Contest to arts, crafts, grape foods, wine tastings and music.
http://www.naplesgrapefest.com/
.
Ithaca Brew Fest
9/3/2011; Stewart Park at the base of Cayuga Lake. Enjoy the 5
th
annual Ithaca Brew Fest with beer samples poured by over 45 local, regional, national and international breweries. Snack on sizzling and savory food from local eateries. Take in musical performance by Sim Redmond Band and the Mutron Warriors.
http://www.ithacabrewfest.com/
Watkins - Vintage Grand Prix Festival
9/9/2011; Watkins Glen; 607-535-3003. At the Grand Prix Festival of Watkins Glen, park along the main streets of the village and you'll find more than 600 classic sports cars of all ages and marquees for your enjoyment. In addition to live music, wine tasting, food courts, and assorted other family activities, a variety of racing items and merchandise are provided for your entertainment.
http://www.grandprixfestival.com/
Keuka Lake Wine Trail Harvest Tour of Food and Wine
9/17/2011 and 9/18/2011; Along the Keuka Lake Wine Trail; 800-440-4898. Experience the incomparable beauty of the fall season and taste foods bursting with the flavors of harvest time in the heart of the Finger Lakes. Taste the exquisite wines of Keuka Lake and sample fine dishes prepared from the finest locally produced foods.
http://www.keukawinetrail.com/
For more Finger Lakes Travel Information:
Cayuga County Convention and Visitors Bureau
Chemung County Chamber of Commerce
Cortland County Conv. & Visitors Bureau
Finger Lakes Visitors Connection
Ithaca/Tompkins County Convention & Visitors Bureau
Livingston County Chamber of Commerce
Seneca County Chamber of Commerce
Steuben County Conference & Visitors Bureau
Syracuse Convention and Visitors Bureau
Tioga County Tourism
VisitRochester
Watkins Glen Chamber of Commerce
Wayne County Office of Tourism
NYS Office of Parks, Recreation & Historic Preservation
NYS Hospitality & Tourism Association (NYSHTA)
NYS Department of Environmental Conservation
Campground Owners of New York (CONY)
About New York State
New York State features 11 beautiful vacation regions.  New York's attractions span from landmarks such as Niagara Falls to the wine trails of Hudson Valley and treasures like the Baseball Hall of Fame in Cooperstown.  Whether it's wide-ranging outdoor activities for the whole family like fishing, hiking and boating; culinary wonders and farm-to-table fresh foods; or the rich history and culture of one of the 13 original colonies, New York State offers diverse activities for all travelers. For more information visit
http://www.iloveny.com/
. Media can find press releases and more at
http://www.thebeat.iloveny.com/
. You can also get I LOVE NEW YORK updates and information on Twitter: 
twitter.com/I_LOVE_NY
Facebook: 
www.facebook.com/iloveny
Flickr: 
www.flickr.com/photos/officialiloveny
YouTube:  
www.youtube.com/OFFICIALILOVENY
About Empire State Development
Empire State Development is New York's chief economic development agency and administrator of the statewide business resource portal New York First (
http://www.nyfirst.ny.gov/
).  The mission of Empire State Development is to promote business investment and growth that leads to job creation and prosperous communities across New York State.  ESD also oversees the marketing of "I LOVE NY," the State's iconic tourism brand.  For more information on Empire State Development, visit
http://www.esd.ny.gov/
.  
###
Captions
: Keuka Lake - A drive along the Keuka Lake Wine Trail is filled with stunning scenery, and great shops, restaurants and country inns. Award-winning wineries along the lake offer tours, tasting and events. (Darren McGee/NYS DED) The George Eastman House in Rochester is the world's preeminent museum of photography and is home to hundreds of thousands of photographs encompassing the full history of the medium. (Darren McGee/NYS DED) At Watkins Glen State Park, the glen's stream plunges over 200-foot cliffs, generating 19 waterfalls. The gorge path winds over and under waterfalls, to the spray of Cavern Cascade. (Darren McGee/NYS DED)