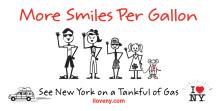 Get More Smiles Per Gallon with affordable New York State travel itineraries 
Albany, N.Y.
- With a new
Quinnipiac University poll
showing that New Yorkers think New York State is a great place to vacation but see the price of gas as the number one potential impediment to their summer travel, I LOVE NEW YORK's
More Smiles Per Gallon
campaign has just what travelers are looking for: amazing and affordable vacations in their own backyards on just a single tank of gas! "The results of the Quinnipiac University poll reaffirm what we already knew - New Yorkers love New York State and cherish a wealth of great vacations within its borders," said Kenneth Adams, President, CEO & Commissioner of Empire State Development, which administers the I LOVE NEW YORK campaign. "The only thing New Yorkers don't love is when they have to forgo vacation plans because of high gas prices, and that's why I LOVE NEW YORK's online summer campaign 'More Smiles Per Gallon' highlights all the incredible affordable destinations that New Yorkers can experience close to home on a single tankful of gas." By visiting
http://www.iloveny.com/
, you can choose and plan a New York State adventure accessible on a single tank of gas. Check out the destinations you'll be visiting and connect with local tourism professionals to find out more about dining, lodging, events, packages and promotions. Included in the 15 statewide adventures are two terrific excursions through New York's historic and breathtaking Hudson Valley. "More Smiles per Gallon is a perfect promotion for the Hudson Valley since we are minutes from the New York City metro area," said Mary Kay Vrba, Dutchess Country Tourism Director. "This summer, whatever it is that you want to do, the Hudson Valley has it all, from Ziplines to Parasailing, from great farm markets and restaurants to historic sites and world class art events and galleries. Come, relax, spend time by yourself or with your loved ones; the Hudson Valley will embrace you and you won't have to spend a lot of money to get here!"
Tankful of Gas Spotlight: Hudson Valley Region
Less than an hour from Manhattan, this region's magnificent landscapes have inspired generations of artists and writers. Traveling along the majestic Hudson River, you'll find palatial historic estates, splendid gardens, farm-fresh cuisine and fascinating history. I LOVE NEW YORK is offering travelers two itineraries-a Southern and a Northern route-to explore this picture-perfect region!
Hudson Valley Tour Highlights
Southern Route
Putting it All into Perspective
- Get an overview of the region you'll be exploring and the river for which it was named in Yonkers at Westchester County's largest cultural institution, the
Hudson River Museum
. Tour the 1877 Glenview Mansion and galleries while wishing upon a star in the planetarium. Now through Sept. 11 at the museum, contemporary photographer Susan Wides' fascination with the nineteenth-century Hudson River School painters is explored in
From Mannahatta to Kaaterskill
.  
www.hrm.org/
The Sound of Fun
- For old-fashioned fun on Long Island Sound, nothing beats
Playland Park
in Rye. With more than 50 rides, plus a beach, boardwalk and fishing pier, it's been a family favorite for nearly 80 years. Every Wednesday and Friday from July 1 through Sept. 7 enjoy fantastic fireworks shows choreographed to music over Long Island Sound!  
www.ryeplayland.org/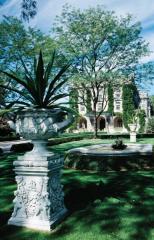 Magical Sleepy Hollow
- Tour Historic Hudson Valley's network of stunning sites in Sleepy Hollow Country including
Philipsburg Manor
, a 1750 working farm;
Sunnyside
, Washington Irving's charming 19th-century cottage;
Kykuit
, the Rockefeller Estate and the
Union Church of Pocantico Hills
. At Pocantico Hills, take a delicious tour at the
Stone Barns Center for Food Agriculture
, a sustainable farm and education center at Sleepy Hollow. Dine on outrageously fresh local fare at the
Blue Hill Restaurant
.  Don't miss
Lyndhurst
, a Gothic revival mansion.
www.hudsonvalley.org/
www.stonebarnscenter.org/
www.lyndhurst.org/
Mountain Time
- Situated in rugged mountains rising from the west bank of the Hudson River,
Bear Mountain State Park
boasts a trailside museum and zoo, picnic groves, a merry-go-round, a swimming pool, hiking and bike trails, and fishing.
http://nysparks.state.ny.us/parks/13/details.aspx
Finding a room with a great view is easy at the
Bear Mountain Inn
, a beautiful mountain side retreat nestled in the heart of Bear Mountain State Park.
www.visitbearmountain.com/
Shop 'til You Drop!
- In Central Valley, power shop at
Woodbury Common Premium Outlets
, the world's largest collection of luxury designer and name brand outlets, with 220 fabulous stores.
www.premiumoutlets.com/woodburycommon
Where it All Began
- Enjoy award-winning wines in one of the most beautiful historic settings in the country at
Brotherhood Winery
in Washingtonville. Tour the cellars and taste some of their finest creations, and also enjoy free music performances (selected dates, see website). Upcoming events at Brotherhood include a Hawaiian Luau (July 30) and Sangria Pig Roast (Aug. 27). 
http://www.brotherhood-winery.com/
West Point
- Get a magnificent view of the Hudson River as you follow the footprints of generals on a tour of the
US Military Academy at West Point
. July concerts featuring the West Point Military Band are scheduled for July 4, 10, 17, 24 and 31. (for complete concert information, cancellations and updates call the West Point Band's hotline at 845/938-2617).
www.westpointtours.com/
Majestic Views
- Near West Point, in Mountainville, take an artful stroll at the
Storm King Art Center
. The ever-changing sky and landscape serve as a fascinating backdrop to over 120 masterworks displayed in meadows and woodlands.
www.stormking.org/
Boscobel
- Tour the magnificent
Boscobel House & Gardens
in Garrison, a restored 19th-century mansion estate overlooking the Hudson River and West Point. In addition to a wide range of concerts, Boscobel hosts the acclaimed Hudson Valley Shakespeare Festival, which attracts over 30,000 fans every summer. Other events include art gallery exhibitions and talks, costumed house tours, yoga on the lawn, and, for the first time, a pond ecosystem exploration! For full visitation and event dates, visit
www.boscobel.org/
.  
The Heart of Art
- Dutchess County is the home
Dia: Beacon, Riggio Galleries
, pioneers of the now widely practiced conversion of industrial buildings for the installation of contemporary art. Dia: Beacon's renowned art collection spans the 1960s to the present and includes masterworks by Andy Warhol and Richard Serra.
www.diabeacon.org/
Northern Route
Church of the Hudson River School -
In Hudson, you'll want to visit
Olana
, the splendid estate of 19th-century Hudson River School artist Frederic Church. Tour the Persian-style mansion and stroll the surrounding gardens and carriage paths.
www.olana.org/
Calling All Antique Lovers
- While you're in Hudson, hit the trail - the Antique Trail, that is - 65 shops and galleries along five historic blocks on and around Warren Street. You'll find items ranging from European furniture to clocks and architectural treasures.
www.hudsonantiques.net/
New York's First Capital
- History buffs will want to explore the Senate House State Historic Site in Kingston, the meeting place of the first New York State Senate. Browse the history exhibits and art gallery.
http://nysparks.state.ny.us/historic-sites/18/details.aspx/
. While in Kingston, get a great perspective of the region by taking a narrated sightseeing tour with Hudson River Cruises aboard the modern 300-passenger Rip Van Winkle. You'll pass charming lighthouses and historic mansions.
www.hudsonrivercruises.com/
Those Magnificent Men in Their Flying Machines
- Across the river, in Rhinebeck,
Old Rhinebeck Aerodrome
preserves and celebrates the dawn and golden age of aviation. Experience the thrills of watching old-time, madcap air shows and explore one of the world's largest collections of historic aircraft from the early days of flight.
www.oldrhinebeck.org/
Hyde Park
- There's so much to do in Hyde Park. Start with a tour of
The Culinary Institute of America
, the world's premier culinary college. Register online for food and wine tastings or cooking classes. Make reservations at one of the five award-winning restaurants (you don't need reservations for the Apple Pie Bakery Café open M-F).
www.ciachef.edu/
Nearby, visit the
Eleanor Roosevelt National Historic Site
,
Val-kill
, the private retreat of the First Lady, from 1945-1962. Next, relive the Gilded Age with a tour of the neighboring Vanderbilt Mansion, surrounded by lush formal gardens and great Hudson River views.
www.nps.gov/elro/
www.nps.gov/vama/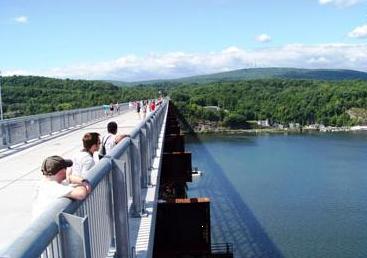 What a View!
- No visit to the region is complete without checking out the views from the
Walkway Over the Hudson
, the longest pedestrian bridge in the world! A marvel of adaptive-use architecture, the renovated railroad bridge is now a linear park stretching 1.28 miles across the majestic Hudson River. In the fall, the walkway is the perfect vantage point for taking in the Hudson River Valley's spectacular foliage.
http://www.walkway.org/%20%20
Mohonk Mountain House
- Across the river in New Paltz, treat yourself to a stay at the elegant
Mohonk Mountain House
, a lakeside Victorian castle surrounded by forests and winding trails. Enjoy fine dining, swimming, boating, tennis, golf, hiking and a spa. Conde Nast Traveler just named it one of the Top 20 large resorts in the US.
www.mohonk.com/
For the Wine Aficionado in You
- Eleven wineries along the
Shawangunk Wine Trail
offer tours, tasting and special events. With a designated driver, travel a 30-mile loop along country roads with charming B&Bs, restaurants, streams for canoeing and fly fishing, and roadside farmstands.
www.shawangunkwinetrail.com/
Selected Current and Upcoming Regional Events
Orange County Fair -
One of the oldest county fairs in New York, this traditional family festival has everything from a midway to agricultural displays to farm animals to funnel cakes! July 15-17, 20-24, and 27-31. Weekdays 4 p.m. to closing, weekend 11:30 a.m. to closing. Orange County Fairgrounds, Middletown.
http://www.orangecountyfair.com/
Rhinebeck Antiques Fair
- Every year buyers of fine antiques return to this great event to experience the thrill of the hunt - for furniture, decorative accessories, statuary, painted cupboards, tables, blanket chests, hooked rugs, and more. Paintings, quilts, vintage clothing, antique jewelry, metals, books, weathervanes, vintage posters, folk art or funk, you'll find it here. July 23;
www.rhinebeckantiquesfair.com/
New York Renaissance Faire
- Travel back in time in our Medieval village where costumed actors offer Renaissance crafts, games, performances, music, food, and so much more. Twenty stages and over 100 craftspeople inhabit 65 acres of beautiful Sterling Forest in Orange County. Weekends in August and September.
http://www.renfair.com/
Hudson Valley Rib
Fest -
The
place to be for lovers of finger-licking good food in the Northeast. This two-day festival at the Ulster County Fairgrounds in New Paltz is actually two events in one - a food festival and a sanctioned Barbeque Contest where winners can advance to the national finals in Kansas City! The entire family will have fun with cooking demonstrations, live music, and a children's area with inflatable bouncing houses, climbing wall and kid's country games. August 20-21;
http://www.hudsonvalleyribfest.org/
Dutchess County Fair
- For six days each August, the bucolic fairgrounds on Route 9 in Rhinebeck plays host to nearly half a million patrons. The second largest county fair in New York State is the showplace for agriculture in Dutchess County. Over 160 acres of finely manicured gardens and grass create the beautiful setting for thousands of farm animals, agricultural exhibits and horticultural displays. Aug. 23-28;
www.dutchessfair.com/
Columbia County Fair
- First held in 1841, the Columbia County Fair in Chatham is jam-packed with entertainment and non-stop action. Enjoy Painted Pony Rodeo, Demolition Derbies, a Monster Truck Pull and much more! Aug. 31-Sept. 5;
www.columbiafair.com/
For more Hudson Valley Travel Information:
Columbia County Tourism Department
www.columbiacountyny.org/
Dutchess County Tourism Promotion Agency
www.dutchesstourism.com/
Orange County Tourism
www.orangetourism.org/
Putnam Visitors Bureau
www.visitputnam.org/
Rockland County Department of Tourism
www.rockland.org/
Westchester County Office of Tourism
www.westchestertourism.com/
Ulster County Tourism
http://www.ulstercountyalive.com/
NYS Office of Parks, Recreation & Historic Preservation
http://nysparks.state.ny.us/
  NYS Hospitality & Tourism Association (NYSHTA)
www.nyshta.org/
NYS Department of Environmental Conservation
www.dec.ny.gov/
Campground Owners of New York (CONY)
www.nycampgrounds.com/
About New York State
New York State features 11 beautiful vacation regions.  New York's attractions span from landmarks such as Niagara Falls to the wine trails of Hudson Valley and treasures like the Baseball Hall of Fame in Cooperstown.  Whether it's wide-ranging outdoor activities for the whole family like fishing, hiking and boating; culinary wonders and farm-to-table fresh foods; or the rich history and culture of one of the 13 original colonies, New York State offers diverse activities for all travelers. For more information visit
http://www.iloveny.com/
. Media can find press releases and more at
http://www.thebeat.iloveny.com/
. You can also get I LOVE NEW YORK updates and information on Twitter: 
twitter.com/I_LOVE_NY
Facebook: 
www.facebook.com/iloveny
Flickr: 
www.flickr.com/photos/officialiloveny
YouTube:  
www.youtube.com/OFFICIALILOVENY
About Empire State Development
Empire State Development is New York's chief economic development agency and administrator of the statewide business resource portal New York First (
http://www.nyfirst.ny.gov/
).  The mission of Empire State Development is to promote business investment and growth that leads to job creation and prosperous communities across New York State.  ESD also oversees the marketing of "I LOVE NY," the State's iconic tourism brand.  For more information on Empire State Development, visit
http://www.esd.ny.gov/
.  
###
Contact:
Lisa Willner (ESD) |
lwillner@empire.state.ny.us
| (800) 260-7313 Eric Scheffel (ESD) |
escheffel@empire.state.ny.us
| (518) 292-5274