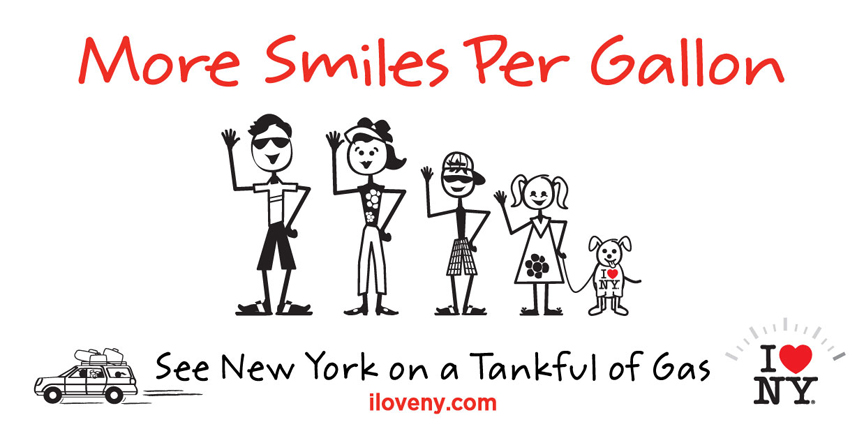 Ten affordable and exciting New York itineraries you can take on a single tank of gas!
Albany, N.Y. -
I LOVE NEW YORK has some timely news for summer travelers: you can have an amazing and affordable vacation in your own backyard on just a single tank of gas! I LOVE NEW YORK is launching its 2011 campaign,
More Smiles Per Gallon
, which features ways for travelers within driving distance of New York State to enjoy affordable getaways on a tank of gas. The kickoff of the summer campaign will begin with the introduction of an online guide and planning tool highlighting ten adventures that can be taken on a single tank of gas in New York State. Links will be provided on each itinerary to connect visitors with the attractions and destinations they will be visiting, as well as links to regional tourism websites for further information on dining, lodging, summer events listings and any summer packages and promotions that may be available. "The message to travelers this summer is simple: don't let the high price of gas at the pumps stop you from enjoying a world class vacation here in New York," said Edward Maitino, Managing Director of the Division of Tourism at Empire State Development.  "I LOVE NEW YORK has put together these affordable and inspiring packages that invite New Yorkers and travelers from surrounding states and Canada to see for themselves the incredible travel destinations and adventures you can experience close to home on a single tankful of gas." According to the Automobile Association of America, despite the high cost of gas, travelers are not canceling their vacation plans this summer. In fact, AAA estimates 34.9 million Americans are expected to travel 50 miles or more between May 26 and May 30 for the Memorial Day holiday weekend. With the price of a gallon of gas jumping by more than a dollar over the past year, AAA acknowledges that high fuel prices are a concern for travelers this summer and will likely impact travel plans in some ways, including traveling shorter distances. In response to this shared concern, I LOVE NEW YORK is offering these exceptional and affordable travel itineraries. John Percy, President and CEO of the Niagara Tourism and Convention Corporation, said: "With a terrific variety of 'tankful of gas' road trips from which to choose across New York State, I LOVE NEW YORK's
More Smiles Per Gallon
program sends a positive message to travelers concerned about the price of gas this summer." Mary Kay Vrba, Dutchess Country Tourism Director and regional administrator for Hudson Valley travel promotion agents, said: "New Yorkers have so many choices for their summer vacations but the I LOVE NEW YORK
More Smiles Per Gallon
program provides means for travelers to discover the Hudson River Valley and other vacation destinations this summer. So start your engines and enjoy the best vacation you'll ever have!" Thomas Becker, President of Chautauqua Institution, said: "New Yorkers love visiting Chautauqua during the summer season. An added benefit in these times of high gas prices is that the Institution is a walking / bicycling community and most visitors never touch their cars during their visit. Enjoy the best of Western New York at Chautauqua Institution." Jim Walter, Executive Director of Madison County Tourism, said: "New York is full of scenic byways, quaint downtowns, iconic diners and restaurants. This summer is the perfect opportunity to take a road trip and rediscover it all." "The Great Escape and Splashwater Kingdom is proud to partner with I LOVE NY and the
More Smiles Per Gallon
program to provide unparalleled affordable family fun to Adirondack Region visitors this summer," said Rebecca Close, Communications Manager, Six Flags Great Escape Properties.   "For over 50 years, the theme park has delivered long lasting memories for guests of all ages. This program will further solidify that the best family entertainment experiences can be found right in your backyard." I LOVE NEW YORK's
More Smiles Per Gallon
campaign is working closely with its tourism partners to bring travelers to destinations across the state. Some of the partners I LOVE NEW YORK will be working with are: Bethel Woods Center for the Arts, Albany Aqua Ducks and Trolleys, Dinosaur Bar-B-Que, Howe Caverns, AAA of Western and Central New York, The Great Escape and Splashwater Kingdom.
By visiting
iloveny.com
, you can choose and plan a New York State adventure accessible on a single tank of gas. Check out the destinations you'll be visiting and connect with local tourism professionals to find out more about dining, lodging, events, packages and promotions. Estimates of trips may vary depending on tank size and miles per gallon. In 2008, AAA estimated that a single tank of gas would get 450 miles based on an average vehicle having an 18-gallon tank and getting 25 miles per gallon. Which tankful of gas tour will you choose? The activities and attractions within each region are as varied as the geography they cover:
The Adirondacks
New York's Adirondacks region is perfect for a get-away-from-it-all tankful of gas adventure. Its vast wilderness is teeming with lush forests, rushing streams and majestic mountain peaks and local towns and villages are home to world-class museums, sports facilities and resorts. Start with art at the renowned Hyde Collection in Glens Falls, then "splash down" near Lake George at Six Flags Great Escape and Splashwater Kingdom. At Ausable Chasm, enjoy magnificent scenic vistas and waterfalls, along with rafting, tubing and horseback riding before reliving thrilling Winter Olympics memories in Lake Placid.
Capital-Saratoga
Set out on an amazing journey that will take you from the modern glass and marble towers of Albany to the quaint streets and charming shops of rural towns steeped in American history. Just across the Hudson from Albany, enjoy riverside dining at the new Dinosaur Bar-B-Que in the charming and revitalized city of Troy. Enjoy a swim and a picnic at nearby Grafton Lakes State Park and delight in the thrill of thoroughbred horse racing at Saratoga Race Course.
Catskills
Just ninety miles from New York City, the magnificent Catskills region offers a wealth of both natural and man-made treasures. Take a wild and scenic river tour by canoe or kayak on the majestic Delaware River, and then bring it down a notch with a leisurely stroll amid the quaint shops and art galleries along Tinker Street in Woodstock. Head to the town of Bethel and enjoy concerts, special events and festivals on the site of the 1969 Woodstock music festival.
Central New York
The Central New York region is bursting with history, hidden treasures, and natural wonders. On a single tank of gas, you can have an adventure that will take you from a cruise on the historic Erie Canal to an excursion 156 feet below the earth's surface into Howe Caverns. You'll discover the birthplace of baseball and celebrate its greatest players in Cooperstown, and then the entire family will have a blast in Binghamton, digging, driving, flying, shopping, hopping, performing and painting at the Discovery Center of the Southern Tier!
Chautauqua-Allegheny
A visit to the Chautauqua-Allegheny region is a journey of adventure, enchantment and discovery. Start in Ellicottville at Holiday Valley's newest attraction, Sky High Adventure Park, and then discover a working lighthouse from 1875 and military museum in Dunkirk.  Immerse yourself in the region's Victorian ambiance by staying at the Athenaeum Hotel at Chautauqua Institution, and take an unforgettable cruise onboard the largest and most historic vessel on Chautauqua Lake, the Chautauqua Belle.
Finger Lakes
A journey through the Finger Lakes region is a journey of wonder amid miles of unspoiled forests and steep, grapevine-covered hillsides. Travel one of four wine trails to experience the rich history and production of world-class vintages. In Watkins Glen, find out what road racing is all about with a thunder road tour at Watkins Glen International, or take the controls of a glider as you soar over Harris Hill in Elmira. In the cities of Rochester and Syracuse, you'll delight at fine dining, take in renowned museums and enjoy the best in entertainment, the arts and culture.
Hudson Valley
For a leisurely and scenic driving holiday, savor the natural beauty of the Hudson Valley. Your journey, spanning the distance between Westchester and Columbia counties, includes visits to iconic 19th century mansions, a tour of America's oldest winery, shopping at Woodbury Commons premium outlets, and a delicious stop at the Culinary Institute of America in Hyde Park. All these options are set against the magnificent backdrop of the picture-perfect, unspoiled Hudson Valley region.
Greater Niagara
A visit to the Greater Niagara region is a truly magical experience. The 10,000-year-old mighty Niagara Falls beckons and awes visitors from around the globe, and with three major waterfalls and cliffs as high as 600 feet, it's no wonder Letchworth State Park is known as the "Grand Canyon of the east." Experience a wondrous world of sea creatures at the Aquarium of Niagara, or try your luck at the Seneca Niagara Casino. Take in contemporary art at Buffalo's Albright-Knox Art Gallery, and grab unmatched thrills and excitement at Darien Lake Theme Park Resort.
Long Island
Discover pristine beaches, quaint fishing villages, opulent gold coast mansions and much more on Long Island. On the North Fork savor the Island's latest award-winning wines, cruise aboard a schooner and tour historic lighthouses. Come face to face with sharks, seals, and sea lions at Atlantis Marine World in Riverhead. And from Southampton to Amagansett, take in picturesque towns, Victorian mansions, antique shops and first class restaurants along some of the nation's most fashionable beachfront acreage.
Thousand Islands-Seaway
You'll be amazed at the beauty and adventure you'll discover as you explore New York's breathtaking Thousand Islands-Seaway region on a single tank. Delight in miles and miles of scenic vistas and picturesque coastline along the Great Lakes Seaway Trail. Fall in love with the grandeur and romance of Boldt Castle. Experience the unforgettable rush of class three and four rapids on the legendary Black River, or take it all in from a thousand feet above ground in a hot air balloon! ###
About New York State
New York State features 11 beautiful vacation regions.  New York's attractions span from landmarks such as Niagara Falls to the wine trails of Hudson Valley and treasures like the Baseball Hall of Fame in Cooperstown.  Whether it's wide-ranging outdoor activities for the whole family like fishing, hiking and boating; culinary wonders and farm-to-table fresh foods; or the rich history and culture of one of the 13 original colonies, New York State offers diverse activities for all travelers. For more information visit
http://www.iloveny.com/
. Media can find press releases and more at
http://www.thebeat.iloveny.com/
. You can also get I LOVE NEW YORK updates and information on Twitter: 
twitter.com/I_LOVE_NY
Facebook: 
www.facebook.com/iloveny
Flickr: 
www.flickr.com/photos/officialiloveny
YouTube:  
www.youtube.com/OFFICIALILOVENY
About Empire State Development
Empire State Development is New York's chief economic development agency and administrator of the statewide business resource portal New York First (
www.NYfirst.NY.gov
).  The mission of Empire State Development is to promote business investment and growth that leads to job creation and prosperous communities across New York State.  ESD also oversees the marketing of "I LOVE NY," the State's iconic tourism brand.  For more information on Empire State Development, visit
www.esd.ny.gov
.
Contact:
Lisa Willner (ESD) |
lwillner@empire.state.ny.us
| (800) 260-7313 Eric Scheffel (ESD) |
escheffel@empire.state.ny.us
|(518) 292-5274