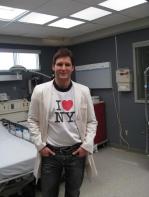 New York, NY
 - One of Hollywood's hottest stars expresses his love for his home state of New York and helps the Empire State's tourism promotion agency (
http://www.iloveny.com/
) launch its new Twitter handle @I_LOVE_NY.   Actor Peter Facinelli tweets about New York starting today, October 16, in between shooting for Showtime's hit series
Nurse Jackie,
and filming for the next installment of the blockbuster
Twilight Saga: New Moon.
Facinelli shares why he "loves New York" to his 1 million+ plus followers on his own Twitter handle @peterfacinelli. His tweets are also displayed on his official web site,
http://www.peter-facinelli.com/
. "As a native New Yorker, I have great pride in the State after growing up in Queens and studying acting at The Atlantic Theater Company," says Facinelli. "I want to share my love for New York with my fans and friends on Twitter and help I LOVE NEW YORK launch its own Twitter presence." According to Thomas Ranese, Chief Marketing Officer of Empire State Development, Facinelli's enthusiasm for his home state will be an important asset in helping further I LOVE NEW YORK's social media presence. "We are thrilled that Peter is helping us launch our Twitter presence by tweeting about his love for New York," said Ranese.  "He has an incredible following and we're hoping his tweets will help us achieve our goal to become the number one most followed state on Twitter. The digital world is a key component in our efforts to promote our 11 diverse getaway regions, giving people another reason to experience and love New York." An avid Twitter user, Facinelli is also one of Hollywood's hottest rising stars.  A veteran actor with a resume of more than three dozen films and TV appearances, Facinelli was cast as one the key characters in the mega-hit
Twilight
, playing the role of Cullen family patriarch Dr. Carlisle Cullen. In 2009, Facinelli was cast as Dr. Fitch Cooper in the critically acclaimed Showtime series Nurse Jackie opposite Edie Falco. Empire State officials are elated at the opportunity to showcase New York's 11 vacation regions to Facinelli's Twitter followers. Empire State officials are encouraging all New York fans to sign-up to follow its @I_LOVE_NY Twitter handle and help New York become the number one most followed state. The State will also utilize Twitter to promote the latest happenings, events, special offers and getaway opportunities.  Also, visit I LOVE NEW YORK'S new Facebook page at
http://www.facebook.com/pages/I-LOVE-NEW-YORK/118914714168
 .
About New York State
New York State features 11 beautiful vacation regions.  New York's attractions span from landmarks such as Niagara Falls, to the wine trails of Hudson Valley and treasures like the Baseball Hall of Fame in Cooperstown.  Whether it's wide-ranging outdoor activities for the whole family like fishing, hiking and boating, culinary wonders and farm-to-table fresh foods, or the rich history and culture of one of the 13 original colonies, New York State offers diverse activities for all travelers.  For more information visit
http://www.iloveny.com/
.  Media can find press releases and more at
thebeat.iloveny.com.
# # #
Contacts:
Michelle Horn/Terence Gallagher                                                                            Lou Hammond & Associates                                                                                              Tel: (212) 308-8880; Fax: (212) 891-0200                                                                        michelleh@lhammond.com terryg@lhammond.com Lisa Willner  Empire State Development Corporation Tel: (212) 803-3740 lwillner@empire.state.ny.us