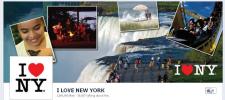 Engaging and Fun Social Media Campaign Attracting More than 70,000 Fans Per Week
Albany, N.Y. -
There are now a million
more
reasons to love New York! I LOVE NEW YORK, already the top-ranked Destination Marketing Organization (DMO) in North America on Twitter, has reached a social media milestone of one million "LIKES" on Facebook, making it now the first and only state in the nation with more than a million Facebook fans! And the world famous tourism marketing program isn't stopping here - I LOVE NEW YORK's Facebook page is currently adding an average of 70,000 fans per week. "We are thrilled to have one million Facebook fans and to be able to engage with travelers from around the world about all the great things to do in the state they love," said Edward Maitino, Director of Tourism for Empire State Development, which administers the I LOVE NEW YORK program. "With the continued power of our brand and skilled guidance of our staff, we look forward to even more growth and engagement on Facebook and in our social media community overall in the years ahead." "Lonely Planet congratulates I LOVE NEW YORK on this terrific milestone!" says Lainey Franks, VP Marketing and Client Solutions at Lonely Planet.  "Lonely Planet has always loved New York as a travel destination. The Hudson River Valley was #2 on our list of Top US Destinations for 2012 and we publish seven books that cover New York, both up and down state." Since launching its Facebook page in November 2009, I LOVE NEW YORK has focused on building its fan base in order to tailor its marketing to the needs and wants of its audience through direct interaction. A significant part of this effort was the creation of 
Team I LOVE NY
in October 2010.
Team I LOVE NY
is an online New York travel and tourism community for travelers and potential travelers to share with friends and family their New York travel stories and suggested destinations, obtain travel information, and even contribute to New York State tourism promotions through  requests for User Generated Content for use in I LOVE NEW YORK marketing materials. After joining, team members are asked to answer specific tourism questions or to comment on different New York State topics. Select team members' ideas and suggestions that are posted on I LOVE NEW YORK's Facebook Wall are collected and are included in various I LOVE NEW YORK travel and tourism publications, such as the newly-released
2012 I LOVE NEW YORK Travel Guide
. "I LOVE NEW YORK has fans from around the globe that have tremendous passion and love for the brand, and Facebook provides a place for them to engage with us in a way that, until a few years ago, didn't exist," said Maitino. "This new relationship with our audience has allowed us to get right to the heart of what they want and to make sure that we provide the best getaway information for their visits to New York State." To follow I LOVE NEW YORK on Facebook and its other social media accounts, visit Facebook at
www.facebook.com/ILOVENY
, Twitter at
www.twitter.com/I_LOVE_NY
, YouTube at
www.YouTube.com/OFFICIALILOVENY
, and Flickr at
www.Flickr.com/officialiloveny
. To join
Team I LOVE NY
on Facebook, simply log on to your Facebook account and visit
www.facebook.com/iloveny
, click the "like" button at the top of the page and you're on the Team!
###
About New York State 
New York State features 11 beautiful vacation regions. New York's attractions span from landmarks such as Niagara Falls, to the wine trails of Hudson Valley and treasures like the Baseball Hall of Fame in Cooperstown. Whether it's wide-ranging outdoor activities for the whole family like fishing, hiking and boating, culinary wonders and farm-to-table fresh foods, or the rich history and culture of one of the 13 original colonies, New York State offers diverse activities for all travelers. For more information, visit www.iloveny.com. Media can find press releases and more at www.thebeat.iloveny.com.
CONTACT:
Melanie Klausner M. SILVER ASSOCIATES (212)-754-6500, ext. 243
Melanie@msilver-pr.com
Eric Scheffel Empire State Development (518) 292-5274
escheffel@esd.ny.gov