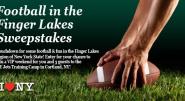 Albany, N.Y.
- Looking for a great way to kick off the 2010 football season? I LOVE NEW YORK, EscapeMaker.com and the Finger Lakes region of New York are teaming up to make your gridiron dreams come true with the ultimate VIP Football weekend. Enter the "Football in the Finger Lakes Sweepstakes" now for a chance to win a once-in-a-lifetime up close and personal preseason football experience in New York State's gorgeous Finger Lakes region! One winner, along with three guests will receive passes to New York Jets Training Camp at SUNY Cortland, VIP access to the camp's hospitality area before practice, and VIP seating during practice. Also included is transportation, provided by Amtrak, Fly Ithaca Regional Airport and Avis rental car; lodging at Hope Lake Lodge in Cortland; plus an exciting Finger Lakes Vacation Package, which you can use either the same weekend or at a later date! In 2009
Sherman's Travel
rated the Finger Lakes region as the number one lakeside retreat in the world. Travelers from around the globe are enchanted by the region's miles of unspoiled forests snuggling along steep, grapevine-covered hillsides and cold streams racing through deep gorges bursting into sunshine at thundering waterfalls. But that's just part of the experience. The region's natural beauty is perfectly complemented by state-of-the-art museums and the historic Erie Canal, and serves as the perfect backdrop for the largest wine region east of the Mississippi - and one that was recently voted the most beautiful wine region in the world by readers of
Budget Travel
. Cortland County, host to New York Jets Training Camp, is made for the summer outdoor enthusiast. The county boasts 22 miles of warm-water rivers and over 25 lakes and ponds which provide an abundance of fishing opportunities. 30,000 acres of state forest land are available for hiking, biking and enjoying, while golfers will want to enjoy a round on one of the county's five public courses. New York Jets quarterback Mark Sanchez recently teamed up with I LOVE NEW YORK during a filmed appearance for an upcoming New York State tourism campaign. You can check out the Behind the Scenes video's and pictures at I LOVE NY's pages on Flickr and YouTube
www.youtube.com/OfficialILOVENY
 and
www.flickr.com/photos/officialiloveny
For more information on the sweepstakes and to enter, simply visit iloveny.com.
###
About Hope Lake Lodge
Hope Lake Lodge & Indoor Waterpark at Greek Peak Mountain Resort offers 106 condominium units in nine distinctive designs, providing quarter-share owners and resort guests with luxurious accommodations in a family friendly, "green" Northwoods style lodge. Hope Lake Lodge guests and owners have exclusive access to the 41,000 square foot Cascades Indoor Waterpark, with over 500 feet of slides, including a three-story tube slide, a 500 gallon deluge bucket, a wave pool, activity tower, and hot tubs.  Waterfalls Spa is unique in its Feng Shui design, the level of treatment customization and privacy. The spa caters to guests of Greek Peak Mountain Resort as well as the public. Visit www.greekpeakmtnresort.com for information on quarter-share condo sales, hotel and spa reservations, skiing or the many other programs offered at Greek Peak Mountain Resort.
About EscapeMaker.com
EscapeMaker.com is an online guide to local hotels, B&B's, vacation rentals, events and festivals, and weekend getaway and day trip destinations within a day's drive or train ride of New York City. For more information visit: http://www.escapemaker.com/.
About New York State
New York State features 11 beautiful vacation regions.  New York's attractions span from landmarks such as Niagara Falls, to the wine trails of Hudson Valley and treasures like the Baseball Hall of Fame in Cooperstown.  Whether it's wide-ranging outdoor activities for the whole family like fishing, hiking and boating, culinary wonders and farm-to-table fresh foods, or the rich history and culture of one of the 13 original colonies, New York State offers diverse activities for all travelers.  For more information visit http://www.iloveny.com/.  Media can find press releases and more at thebeat.iloveny.com.
###