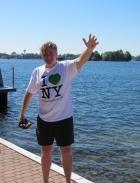 Discover the ins and outs of green travel from an expert
Albany, N.Y.
- Travelers looking for inexpensive and innovative ways to promote a more sustainable environment now have a new information resource courtesy of Erik Baard, New York State's "Greenest New Yorker," who today launched his blog, "
The Diaries of the Greenest NYer
." Baard recently visited the Thousand Islands-Seaway region where he explored its famed waterways, one of I LOVE NEW YORK's
Top 10 Green Destinations
, as well as attended the Oswego Harborfest. Read about his current and upcoming adventures at
http://www.greenheartny.wordpress.com/
. As the official I LOVE NEW YORK Greenest NYer, Baard is spending the year traveling New York State in his free time and experiencing some of its finest green/eco-tourism offerings, while using the title in his networking and work in the promotion of sustainability. In 2010, I LOVE NEW YORK launched Greenheart NY focused on building the eco-certified hospitality offerings around New York State, from restaurants to hotels to earth-friendly transportation options. The program's goal is to promote sustainable travel and tourism working with green certification organizations to increase and promote eco-certified hotels and restaurants and to work with multiple green transportation partners. Amtrak, in partnership with I LOVE NEW YORK, is currently featuring a "Go Green" 15 percent discount for travel in New York State. This year, I LOVE NEW YORK is partnering with New York State Department of Parks, Recreation and Historic Preservation as well as the Department of Environmental Conservation to promote all the amazing opportunities for active, outdoor adventure in New York State. Information about I LOVE NEW YORK's Green destinations can be found on the Green Heart NY Web site at
www.iloveny.com/greenheart
.
About New York State
New York State features 11 beautiful vacation regions.  New York's attractions span from landmarks such as Niagara Falls, to the wine trails of Hudson Valley and treasures like the Baseball Hall of Fame in Cooperstown.  Whether it's wide-ranging outdoor activities for the whole family like fishing, hiking and boating, culinary wonders and farm-to-table fresh foods, or the rich history and culture of one of the 13 original colonies, New York State offers diverse activities for all travelers. For more information visit
http://www.iloveny.com/
. Media can find press releases and more at
http://www.thebeat.iloveny.com/
.   I LOVE NEW YORK is currently ranked number one on social media's Twitter platform out of all Destination Marketing Organizations in North America. To follow I LOVE NEW YORK on its social media accounts, visit Facebook at
www.facebook.com/ILOVENY
, Twitter at
www.twitter.com/I_LOVE_NY
, YouTube at
www.YouTube.com/OFFICIALILOVENY
, and Flickr at
www.Flickr.com/officialiloveny
.
Empire State Development
is New York's chief economic development agency, committed to being recognized on a global scale as the economic development engine driving job growth, strategic investment and prosperity in New York State. ESD also oversees the marketing of "I LOVE NY," the State's iconic tourism brand.  For more information, visit
http://www.esd.ny.gov/
.                             
###
Photo Caption:
  Erik Baard, the 2011 Greenest New Yorker sends greetings from the Boldt Yacht House on Wellesley Island on the St. Lawrence River. (Photo by Gary DeYoung, 1000 Islands International Tourism Council.)
Contact
: Lisa Willner (ESD)
lwillner@empire.state.ny.us
1-800-260-7313 Eric Scheffel (ESD)
escheffel@empire.state.ny.us
518-292-5274