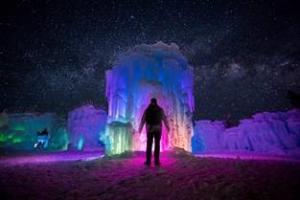 Lake George, N.Y. – The wait will soon be over for the debut of the most anticipated new winter attraction in New York. Ice Castles in Lake George will open to the public on Sunday, January 23, 2022. Tickets will go on sale at www.icecastles.com/new-york on Wednesday at 8pm ET.
Ice artisans are working around the clock to get the attraction at Festival Commons ready for Sunday's grand opening. The interactive experience will feature ice-carved tunnels, fountains, slides, frozen thrones, and cascading towers of ice embedded with color-changing LED lights.
Artisans have spent the last 8 weeks growing, harvesting, and hand-placing icicles to create the life-size fairytale playground in Upstate New York. This is Ice Castles' first season in New York. The Utah-based company has four other locations in Minnesota, Wisconsin, New Hampshire, and Utah.
Additional information and promotional images can be found at www.icecastles.com/media
###
About Ice Castles: Ice Castles has been bringing fairy tales to life since its inception in 2011. Founder, Brent Christensen, developed the patented process used to create Ice Castles while attempting to build a winter playground for his kids in the front yard of their home in Alpine, Utah. The project drew crowds who came out to tour Christensen's frozen creation. Ice Castles has since turned into an internationally renowned tourist attraction with five locations across North America and growing.
Contact:
Melissa Smuzynski
Ice Castles | Marketing and Public Relations
817.366.5285