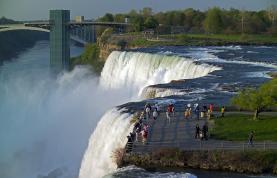 Niagara Falls, N.Y.
- The world famous Niagara Falls will be dark from 8:30 until 9:30 p.m. on Saturday, March 26, in honor of Earth Hour, a global initiative aimed at drawing attention to the issue of climate change. The event urges the turning off all non-essential light by individuals, businesses and organizations around the world. Read more about it
here
. Niagara Falls State Park and the Empire State Building are two of New York State's
Top 10 Iconic Green Destinations
. For more information on green travel in New York State visit
www.iloveny.com/greenheart
.
###