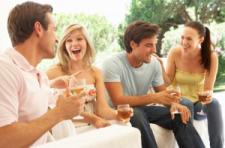 Penn Yan, N.Y.
- If you've ever uncorked a bottle of wine or looked at the wine in your glass and asked yourself, I wonder what detail goes into making this, then you'll want to be logging onto the web and visiting
http://winemakerforaweek.com/
. This promotional package is a special one week vacation get-away to the heart of New York's Finger Lakes where contestants and a guest will receive hands on winemaking training by a large scope of knowledgeable and respected winemakers and winery owners, as well as experience variety of other regional activities. These activities range from attending a regional food and wine festival, visiting and experiencing the unique Corning Museum of Glass, taking in the cultural center of Ithaca, as well as visiting and sampling at a large variety of Finger Lakes wineries. Nothing good comes free, right? In order to win a chance to get this package, contestants need to create a video explaining why they would be the best fit to win the "Winemaker for a Week" sweepstakes. For a full listing of details and how to enter, visit:
http://winemakerforaweek.com/
or contact the Finger Lakes Tourism Alliance at 315-536-7488.
###
Contact
: Jessica Robideau Finger Lakes Tourism Alliance 309 Lake Street Penn Yan, NY 14527 P: 315-536-7488 | F: 315-536-1237
http://www.fingerlakes.org/
jessicar@fingerlakes.org