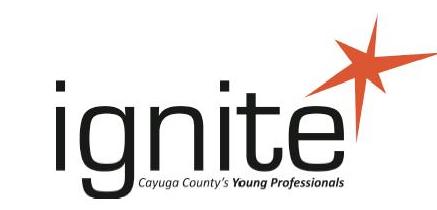 Auburn, N.Y.
- Excitement and celebration are probably not the first things that come to mind when local residents think about the Central New York winter, but that might change this year when people experience "IGNITE the Winter!" on March 2 in Downtown Auburn. IGNITE has secured another matching grant through the We Live New York Livable Communities Capacity Grant Program to kick off what IGNITE plans to make an annual winter event. IGNITE, Cayuga County's Young Professionals, will partner with multiple local agencies to host IGNITE the Winter! - a winter celebration organized in connection with the established "First Friday" event on March 2, 2012 from 5 to 10 pm. This event will take place on Exchange Street Mall in the heart of Downtown Auburn. The event will feature a comfort food cook-off, where people can keep warm by tasting and judging their favorite chili, soups or chowders prepared by local restaurants and organizations. A renowned local ice sculptor will hold a live demonstration. The event will include live bands, street performers and horse-drawn wagon rides. "IGNITE the Winter! is about bringing people together to celebrate the good life in Central New York," said Trish Ottley, IGNITE Steering Committee member and event coordinator. "The support and interest we've received from the City of Auburn and our partner agencies, like Majorpalooza and Auburn Doubledays, is overwhelming. We look forward to bringing new energy and excitement to Downtown Auburn this winter." Following IGNITE's mission, the event seeks to enhance the value of living in Cayuga County by connecting people and ideas. For 2012, IGNITE decided to focus on community building and connecting young people with residents, organizations and businesses through fun and engaging activities. "IGNITE the Winter! should provide an exciting addition to the Central New York winter - something to look forward to," said Monika Salvage, IGNITE Chair. "The goal is to get people out of their houses and embrace the cold weather while having fun with live entertainment, food and artistic performances." IGNITE believes that a key part of attracting and retaining young talent to the Central New York region is to provide quality entertainment and cultural activities for young professionals and families. Winter is the most challenging time of the year, often cited as one of the causes for "brain drain." The planned winter celebration is unique - linking indoor and outdoor activities throughout the urban core to combine food, wine, art, and entertainment in one "First Friday" late-winter experience. For this reason, and because of the partnership with the Cayuga County Tourism Office and the Cayuga County Chamber of Commerce, there is great opportunity to draw crowds from within the region. "We live in a four-season destination, and one of those seasons is winter, so let's enjoy it!" said Meg Vanek, Executive Director of the Cayuga County Office of Tourism. "My hope is that IGNITE the Winter! will become an annual remedy for cabin fever, bringing both residents and visitors out of hibernation and into downtown Auburn for great entertainment, food and fun." IGNITE seeks to increase collaboration among local organizations, businesses and the city to create an anchor event that will strengthen Auburn's urban core. Drawing on the expertise of the Downtown Auburn Business Improvement District and Auburn Historic and Cultural Sites Commission, who initiated Auburn's "First Fridays", IGNITE the Winter! will build on the existing relations with the participating historic sites and invite visitors to circulate in the areas around downtown. The combination of the two events should encourage more downtown businesses to stay open into the evening, offer specials and provide opportunities to warm up indoors. Auburn Downtown BID Executive Director Connie Reilley is always eager to assist with all Downtown Auburn events and appreciates IGNITE's obtaining the grant. "BID is glad to bring all of its resources tothe mix, build upon the successful "First Friday" schedule, and include the kickoff of 'Main Street Goes Blue,' sponsored by Cayuga County Cancer Services Program," she said. "This event promises to rock Downtown with exceptional music, luscious food, and great company coming together in the heart of our community to chase away the winter doldrums and get ready for spring. Be sure to join us." The We Live New York Livable Communities Capacity Grant is a matching grant program funded by Empire State Development Corporation and administered through the New York State Urban Council. In this third round of funding, IGNITE was again awarded the maximum of $2,000 and committed to raise the same amount to plan and execute the proposed event. For event details visit
www.ignitethewinter.com
and follow updates on
http://www.facebook.com/#!/ignitecny
. If you are interested in becoming a member or want to volunteer for IGNITE the Winter!, contact IGNITE at
info@ignitecny.com
.
###
Contact
: Monika Salvage, Chair 315.372.9831 liberty1307@yahoo.com