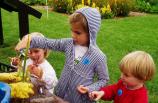 Ticonderoga, N.Y.
- Fort Ticonderoga's King's Garden is alive with an amazing variety of trees, shrubs, flowering plants and vegetables all displayed in a beautiful setting that encourages relaxation and exploration.  Several new learning opportunities are available this summer for adults and children, starting with the Hands-on Horticulture series program "Making Sense of Lavender" on July 1st.  This series focuses on the history and care lavender (July 1 - 12) and the bearded iris (August 12 - 30), plus new programs highlighting beneficial insects (July 15 - 26) and preserving flowers (July 29 - August 9).  The programs are on-going from 1:30pm - 3:30pm Monday through Friday. The King's Garden is included in Fort Ticonderoga general admission.  For additional information about the King's Garden and other programs, visit the Fort Ticonderoga website at
http://www.fort-ticonderoga.org/
or call 518-585-2821. The King's Garden is open through Columbus Day from 9:30am - 5pm daily. Also this season, Fort Ticonderoga offers programs for children ages 3-8 that engage kids in garden-related activities.  Fort Ticonderoga participates in the Let's Move Museum and Gardens national initiative to promote physical activity and healthy eating habits.  The "Growing Up with Gardening: Sow, Grow & Know" series encourages children to explore the relationships that seeds, plants, insects and flowers have to everyday life through stories and hands-on learning.  The program is offered on four Tuesday mornings, July 9 & 23, and August 6 & 20 at 10:30am. On alternate Tuesdays explore the Pavilion landscape and surrounding wild areas on a guided nature walk for kids (July 2, 16, 30 and August 13, 27).  The bountiful herb garden is the setting for herb harvesting demonstrations every Friday at 10:30 am during July, August and September.  Our gardeners discuss the individual plants in the herb garden, their uses, and explain how to harvest different types.  Visitors are encouraged to touch, smell and taste as well as help in the harvest!  Guided and self-guided tours of the gardens are available daily along with a scavenger hunt and plenty of fun and interesting displays in the formal garden, Three Sisters Garden, Children's Garden and Garrison Garden. 
About the King's Garden
The King's Garden is one of North America's oldest gardens dating to the French occupation of the Fort in the mid-18th century.  Today it is the largest public garden in the Lake Champlain- Adirondack Region.  Visitors to the Garden explores centuries of horticulture history. The walled King's Garden, a colonial revival garden, was originally designed in 1921 by leading landscape architect Marian Coffin.  The formal elements - a reflecting pool, manicured lawn and hedges, and brick walls and walkways - are softened by a profusion of annuals and perennials, carefully arranged by color and form.  Heirloom flowers and modern cultivars are used to recreate the historic planting scheme. Visitor favorites include the lavender border, towering hollyhocks, bearded irises, dinner plate dahlias and many types of phlox. Outside of the nine-foot brick walls of the colonial revival King's Garden, the Discovery Gardens include a children's garden, an interpretive 18th century garrison garden, and Three Sisters Garden. The restored Lord and Burnham greenhouse, charming gazebo, sweeping lawns and shady picnic spots invite visitors to explore the beautiful landscape. Fort Ticonderoga offers more than one hundred exciting and unique events and programs this season! Visit www.FortTiconderoga.org for a full list of ongoing programs or call 518-585-2821. Funding for the 2013 season is provided in part by Amtrak.  Visit
http://www.fortticonderoga.org/visit/directions
for a special 2 for 1 Amtrak offer!
FORT TICONDEROGA
America's Fort
TM
Located on Lake Champlain in the beautiful 6 million acre Adirondack Park, Fort Ticonderoga is a not-for-profit historic site and museum that ensures that present and future generations learn from the struggles, sacrifices, and victories that shaped the nations of North America and changed world history. Serving the public since 1909, Fort Ticonderoga engages more than 70,000 guests annually and is dedicated to the preservation and interpretation of Fort Ticonderoga's history.  Accredited by the American Association of Museums, Fort Ticonderoga offers programs, historic interpretation, tours, demonstrations, and exhibits throughout the year and is open for daily visitation May 17 through October 20, 2013. The 2013 season features the Fort's newest exhibit "It would make a heart of stone melt" Sickness, Injury, and Medicine at Fort Ticonderoga which explores early medical theory, practice, and experience as each relates to the armies that served at Fort Ticonderoga in the 18th century.  Visit www.FortTiconderoga.org for a full list of ongoing programs or call 518-585-2821. Fort Ticonderoga is located at 100 Fort Ti Road, Ticonderoga, New York. America's Fort is a registered trademark of the Fort Ticonderoga Association.
Photo
: Fort Ticonderoga King's Garden offers a variety of summer programs and blossoms in many shades of gorgeous throughout the summer!
###
Contact
: Beth Hill 518-585- 2821
bhill@fort-ticonderoga.org