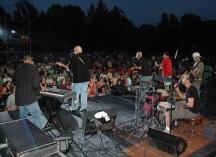 Search For Annual Harborfest Song Announced
Oswego, N.Y.
- Harborfest is defined by its traditions...world-class fireworks, nationally known entertainers, food and fun for all ages
and
the official Harborfest song.  Each year festival organizers listen to entries from songwriters hoping to strike the right chord and have their musical composition selected as the official Harborfest 2011 song.  Once again Harborfest is soliciting entries for the official Harborfest song.  According to festival organizers the original song can be in any musical style and should capture the excitement of Harborfest and convey the essence of the festival to the listener.  The winning song will be performed live during Harborfest's Opening Ceremonies on July 28
th
on the NRG Lakeview Stage in Breitbeck Park.  In addition the song will be recorded for use in the music track that accompanies the Entergy Nuclear Fireworks Spectacular on July 30
th
. The composer of the official Harborfest song will receive a $500 honorarium. Official Harborfest Song Applications are available at the Harborfest offices, 41 Lake Street in Oswego, A&J Music, 104 West Bridge Street in Oswego, or can be downloaded from the Harborfest website, www.oswegoharborfest.com. All entries must include an official Harborfest Song Application, a lead sheet (melody, chord changes, and lyrics), and a clearly labeled CD recording of the song.  Completed entries may be delivered in person or mailed to Harborfest, 41 Lake Street, Oswego, NY  13126.  All entries must be received no later than Friday, May 27
th
.  The winner will be notified on or before June 10
th
.  For more information you may contact Barbara Manwaring in the Harborfest offices at 343-6858. Slated for July 28-31, the 2011 edition of Harborfest will feature plenty of food, fun and entertainment as venues on both Oswego's east and west sides will be used to deliver the excitement.  A wide variety of entertainment will be featured on stages throughout the city of Oswego including, the Jazz & Blues Stage in East Park, the River Stage at Riverwalk West, the Family Stage at the Novelis Family Park at East Park and the NRG Lakeview Stage in Breitbeck Park.
Photo Caption:  Michael Place and the Oswego County All Stars perform the 2010 Harborfest Song "Making Waves" on the NRG Lakeview Stage during the opening ceremonies at Harborfest 2010.
###
Contact:
Barbara Manwaring, Programming Coordinator Phone:  (315) 343-6858
bmanwaring@oswegoharborfest.com