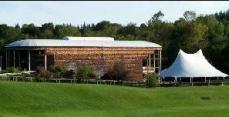 Howes Cave, N.Y.
-- The Iroquois Indian Museum opens for the season with a bold new exhibit,
IndianInk: Iroquois and the Art of Tattoos.
On display from May 4 through Nov. 30,
Ink
will feature contemporary tattoo art as an indelible statement of self-expression, cultural philosophy, indigenous identity, political stance, and personal statement.  The exhibit will also look back at the meaning and methods associated with historical tattooing. Inspired by
Tattoo Nation
(1997),
a Nation to Nation sponsored
event and a conference presentation (2011) by Carla Hemlock of Kahnawake,
IndianInk
will showcase contemporary tattoo art, both the work of designers such as Lyle Logan, Teejay Dill, and Ike Hopper and skin art selected and commissioned by others.  Once widespread among Indigenous peoples of the northeast, the patterns and practices of this extraordinary tradition of body modification had declined by the mid 1800's as a consequence of Christianity, assimilation, and relocation. Today, this ancient art is undergoing a spectacular resurgence in Native and non-Native communities.  Prior to the late 1960s, tattoos were associated with deviant types on the fringes of mainstream culture or brandished primarily by bikers, sailors, and those who had served time. While much more widespread today, tattooing stubbornly retains its unconventional character as a somewhat provocative form of personal expression.   While tattooing and other forms of body modification have become almost commonplace since the 1980s, especially among youth, the motifs presented in
IndianInk
employ a visual and symbolic language that is uniquely Iroquois in its expression.   The motivation for seeking a tattoo varies from individual to individual.  For some, it is a mark of distinct individuality, not unlike the early historic period when one's tattoo pattern was recorded on official documents in lieu of a written signature.  Family connections form the basis for many Haudenosaunee tattoos, with Clan symbols, names in the original languages, and memorials to those who have passed on common.  For others, skin art becomes a statement of cultural identity with the repurposing of old style silver, beadwork, pottery, and wampum belt patterns into original design composites. Not only does contemporary tattooing represent a valid art in its own right, but this once maligned form of embellishment has entered an ever-evolving articulation of cultural expression-one that challenges and expands the definition of tradition.  Not unlike oral history, ceremony, and fine hand craft the less conventional language of skin art actively conveys and reinforces cultural standards and stories from one generation to the next.  Tattoos are also part of the repertoire of contemporary Iroquois artists, serving as visual indicators of precontact or early historical period (Peter B. Jones and Carson Waterman), of perpetual connection between past and present (John B. Thomas), and of unassimilated national identity (Alex Jacobs).    From mementos of warfare to icons of pop culture, these enduring physical declarations represent a little celebrated and spot on facet of Iroquois cultural expression.   Kicking off the exhibit will be an opening reception on Saturday, May 4, from 1 - 5 PM.  At 3 PM, in the indoor amphitheater, tattoo scholar Lars Krutak will share his worldwide investigative adventures.  A sought after speaker and author Krutak's program will focus on indigenous tattooing in the Philippines, Indonesia, touch on Northeastern North America, and will include a video of skin stitching techniques in Thailand. The excitement continues throughout the spring and summer with an illustrated lecture on May 18 by Interpreter Michael Galban.  Galban has conducted extensive research on historical body modification practices among the Iroquois and other northeastern native nations and has first-hand experience with the traditional hand poking method of tattooing.   Galban's presentation is offered in partnership with Ganondogan Historic Site and will be part of Early Technology Day at the Museum.  Whether you are a history buff or a tattoo aficionado Galban's program should be on your calendar.  On August 17 the Museum will host a Motorcycle Ride attracting bikers from across Iroquois country and culminating at the Museum with a live runway-style tattoo expo.  Proud of your ink?  Here's the chance to strut your stuff!  Native and non-native entrees are welcome with awards for Best in Show, Best Color, Best Black and White, Most Unusual.  Spectators are an important part of the event so bring the family and cheer on your favorites. Bike Ride from 9 AM - 5 PM, contest at 2 PM. Last but not least, for those who aren't quite ready for the real deal, our annual Labor Day Weekend Festival of the Arts (August 31 and Sept 1) will feature high quality painted and airbrushed temporary tattoos by guest artist Peter Loran.
IndianInk
is supported in part by grants from the New York Council for the Humanities, Walmart Foundation, and the generous donations of individuals. The Iroquois Museum was established in 1980  and is located in Howes Cave, NY
,
40 miles west of Albany.  For information about
IndianInk
and other upcoming museum events visit our website at
http://www.iroquoismuseum.org/
or call 518-296-8949.
###
Contact
: Stephanie Shultes/Colette Lemmon Iroquois Indian Museum Howes Cave, NY 518-296-8949
http://www.iroquoismuseum.org/
info@iroquoismuseum.org