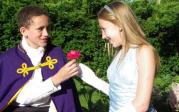 Albany, N.Y.
- Indian Ladder Farms and Classic Theater Guild Inc. join forces to create the "2012 Helderberg Theater Festival" coming to the beautiful outdoor landscapes of Indian Ladder Farms in Altamont.  The plays to be presented include: 
Cinderella
, Directed by Ed Bablin,  
The Merry Wives of Windsor
directed by Tony Pallone, and
The Durang Hour,
directed by Thomas Dalton Bambury. The festival is a free outdoor event to take place July 26
th
through August 11
th
2012.  Please bring blankets and chairs as the plays are to be presented in an outdoor setting at Indian Ladder Farms under a big top tent. This year's offerings mirror last year's festival with a traditional family show, a Shakespeare piece, and a whole new set of offerings from Christopher Durang in
The Durang Hour. 
The Classic Theater Guild is proud to be one of the only Theater companies in the area to be presenting this array of theater in a free outdoor venue. The Classic Theater Inc. with the assistance of The Voorheesville Community and School Foundation, along with Goldman Sachs, Price Chopper, and First Niagara Bank are proud to keep this Six year tradition alive.  The Guild believes it is so vitally important to maintain such a wonderful plethora of outdoor free entertainment for all ages.  This year a strong focus has been placed on highlighting principal directors and key members of the Classic Theater Guild who take on many roles on and off stage throughout the main stage season at Proctors Fenimore Gallery and their summer series at Indian Ladder Farms. There is a special touch the directors bring to each piece with their own unique artistic choices that have been made this season.  The classic story of "Cinderella" is told by director Ed Bablin, who has chosen a predominately youthful cast where in the lead role of Cinderella is shared between actors Abby Parker and Emily Bablin.  Sure to please audiences of all ages, Bablin has been able to showcase the talents of many younger actors and actresses that will prove to make their mark in the Capital Region and beyond. This year's Shakespeare offering, "The Merry Wives of Windsor", is inspired by the parallels between the tale of Sir John Falstaff's skirt-chasing mischief and the antics of classic TV shows like "Three's Company". The show's director, Tony Pallone, has employed a 1970s-era concept to the piece. In addition, Pallone has assembled a cast and crew from all corners of the region, with no fewer than six local counties represented. Lastly the Guild's new President, Thomas Dalton Bambury is bringing to life once again the most quirky and riveting tales of Christopher Durang. A whole new installment of Durang pieces will be offered for this year's festival differing from last year's Durang plays presented. Bambury, as always, working with a very tight knit ensemble of actors that have performed with him in past shows throughout the main stage season with the Guild, make a reappearance in these off the wall comedies all to be presented during this two week run. What also lends special focus to this piece, is Interim director, Patricia Keister, who has been taken under the wing of Thomas Dalton Bambury to be groomed as part of the Guild's directors projector, which lends wonderful teaching opportunities for Bambury to share his expertise with her in resurrecting these Durang works, helping prepare her for future directing projects that may come her way. It is the Guild's vision to nurture new directors each summer hence incorporating well seasoned directors to oversee this apprenticeship of new budding talent. All three plays are to be presented under a big top tent, so rain or shine audiences will get to share in all of these directors wonderful creations. As always the Classic Theater Guild is thrilled to be sharing such a unique and special summer tradition with the Voorheesville community and all the support it drives from neighboring areas. Please join us this summer with the Classic Theater Guild Inc.'s 2012 Helderberg Theater Festival, providing more than ever, a little something for everyone!  For more information, please contact the Classic Theater Guild Inc. at 256-1656, or
http://www.classictheaterguild.org/
###
Contact
: Amanda Stankavich: 441-7863