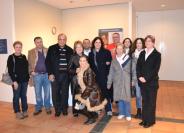 Warren County, N.Y. -
The Warren County Tourism Department hosted an I LOVE NEW YORK/ Kay New Century Tours Partnership Familiarization tour March 24-25. Area attractions, lodging and dining opportunities throughout the area were featured. The familiarization tour brought twelve inbound international tour operators and travel agents to Long Island, the Hudson Valley, the Catskills,
Albany/Saratoga Region, Washington County and Warren County Areas for nine days in March. These Travel representatives develop packages for overseas clients and specialize in group or individual inbound U.S. travel. International Tour Operator, Avi Kaptzan of Kay New Century Tours, based in Tel Aviv, Israel and I LOVE NEW YORK representative, Markly Wilson, joined Tanya Brand, Group Tour Promoter for Warren County and tourism industry partners throughout Upstate New York in showcasing tourism opportunities, outdoor recreation and itineraries for their inbound clients. In Warren County, the international travel agents experienced the Lake George Area first hand through a locally hosted sight seeing tour that featured downtown Glens Falls, Lake George and Lake Luzerne. On the first day of the tour the group visited The Hyde Museum and was greeted by Senator Betty Little, enjoyed a shopping excursion at Aviation Mall and toured the Six Flags Great Escape Lodge with dinner at Johnny Rockets. Day two the group was greeted by Supervisor Gene Merlino and met guide Pam Morin for a tour of the Villages of Lake George and Lake Luzerne. Stops included The Painted Pony Rodeo and The Adirondack Folk School. The group was hosted by both the Fort William Henry Resort and Lodges at Cresthaven. The tour then moved south to Oneida County before moving on to New Jersey and Pennsylvania.
###
Contact
: Tanya Brand, Group Tour Promoter Warren County Tourism Dept. (518) 761-6575
brandt@co.warren.ny.us