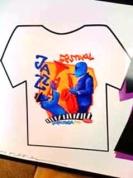 Saratoga Springs, N.Y.
- An illustration by Frankie Flores' has been chosen as the official design for the 33
rd
annual Freihofer's Saratoga Jazz Festival, June 26-27.  Flores is a Saratoga Springs-based artist famous for his vivid racing scenes and rich, colorful jazz portraits. His design will be featured on this year's official festival t-shirt, which is a popular part of the festival tradition and collector's item for jazz aficionados.  "Frankie Flores' artwork is iconic to this area and has a vibrancy that perfectly captures the spirit of the Freihofer's Saratoga Jazz Festival. We are thrilled his design will be the face of our 2010 jazz festival and are grateful to him for generously donating this original work. Frankie Flores' talent has earned him critical recognition and commissions from collectors and VIP's from around the world. Yet, his love of Saratoga and SPAC made him want to contribute to our festival," said Marcia J. White, President and Executive Director. Flores is an internationally acclaimed fine artist who studied at the Art Institute of Houston, in Houston, Texas. He began his career in fine art during the early 90s and has since been the recipient of over 40 professional awards for his graphic designs and illustrations. He is particularly known for his dramatic equestrian and jazz inspired paintings. His artwork can be found in many public and private collections internationally and among jazz and equestrian collectors including Harry Connick Jr. and Bill Parcells.  Flores operates his own gallery-studio in Saratoga Springs. T-shirts with Flores' original design will be for sale at the Freihofer's Saratoga Jazz Festival which will take place at SPAC on Saturday, June 26 and Sunday, June 27. The jazz festival, which begins at noon each day, will feature more than 20 performances over the weekend on SPAC's Amphitheatre and Gazebo stages.  This year's lineup includes Gladys Knight, Al Jarreau & the George Duke Trio, Taj Mahal, Al Di Meola and World Sinfonia, Ahmad Jamal and Ann Hampton Callaway.  Tickets and more information on the festival can be found at
http://www.spac.org/
.