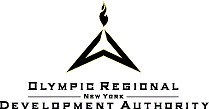 Lake Placid, N.Y. ---
On a fast track, the U.S. bobsled and skeleton team got off to an ever faster start when it claimed two medals at last weekend's FIBT World Cup series opener in Park City, Utah.  Pilot Todd Hayes (Del Rio, Texas) drove his sled to a silver medal finish in the two-man race, while Erin Pac (Farmington, Conn.) piloted her sled to a bronze medal result in the women's two-man event on the 2002 Olympic course.  The two are eying similar results this weekend, Nov. 20-22, when the series resumes in Lake Placid. Team Germany packed four medals onto their flight from Utah to Lake Placid.  The squad captured titles in both the women's two-man bobsled and women's skeleton races, and silver medals in the men's skeleton and women's bobsled race.  Team Canada also came away with a handful of medals including gold in the four-man bobsled, and silver and bronze medals from the women's skeleton competition. Racing on the Olympic Sports Complex course, in Lake Placid, begins Friday, Nov. 20, at 9:30 a.m. with the women's skeleton event, followed by the men's skeleton race at 1 p.m.  The men's two-man bobsled race is slated for Saturday, Nov. 21, also beginning at 9:30 a.m., while the women's two-man bobsled race is scheduled to begin at 1:30 p.m.  Both the four-man bobsled race and the team competition are set for Sunday, Nov. 22.  The four-man race begins at 9:30 a.m. and the team event caps off the three days of racing at 1 p.m. Daily Tickets are available for $8.00 for adults and $6.00 juniors and senior citizens.  Anyone who brings a non-perishable food item for the Lake Placid Ecumenical food pantry will receive free entry. For tickets call the Olympic Sports Complex at 518-523-4436 or pick them up at the gate on event days.  For more information on the Nov. 20-22 Intersport FIBT World Cup bobsled and skeleton race in Lake Placid, log on to www.whiteface.com.         ORDA's Sports Development Department is bringing over 1,200 school children from Northern New York to Friday's skeleton races and Saturday's two-man events, as part of its Scholastic Sliding Challenge. The Challenge allows each school to "adopt" a nation for this event, and learn about the culture and people of that country. While at the track, the students will get to meet some of the athletes competing for World Cup titles. The Scholastic Sliding Challenge is a program for students in grades three through six that will help develop the awareness of the Olympic sliding sports and expose them to sports that they may not be familiar with. This fun and interactive educational opportunity began with a package containing information for that particular school to "adopt" a country that will be participating in this weekend's race.  The package included a light lesson plan, details on how to communicate with the newly adopted country, and fun "souvenirs" for each student. Each classroom can then expand the program as they see fit, and it concludes with a special trip to see the event. During the World Cup race, the students will get to watch their "own" athletes compete in skeleton and bobsled, and participate in interactive sports stations.
###
Established in 1982, the New York State Olympic Regional Development Authority (ORDA) was created by the State of New York to manage the facilities used during the 1980 Olympic Winter Games at Lake Placid. ORDA operates Whiteface and Gore Mountain ski areas; the Olympic Sports Complex at Mt. Van Hoevenberg; the Olympic ice and jumping complex and Olympic arena. As host to international and national championships, the Authority has brought millions of athletes, spectator and participants to the region, resulting in significant economic development. 
CONTACT
: Jon Lundin
jlundin@orda.org
(518) 523-1655 ext. 213