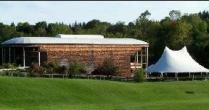 Howes Cave, N.Y.
- On July 4, The Iroquois Indian Museum hosts its 
Early Technology Day
 -- a great, hands-on learning experience about life in early America. Early Technology Day takes place from 10 a.m. to 4 p.m. The event is free with paid admission to the Museum. Visitors can watch and participate in the process of flint knapping (the ancient art of making chipped stone tools), Primitive fire making, Atlatl spear throwing and early archery.  There will be displays of projectile points, tools, and local archaeological finds from the Museum's archaeology department.  Have you ever found an artifact? Please bring it with you and the Museum's experts will try to identify it for you! Currently on display at the Museum is the exhibition, "Birds and Beasts in Beads: 150 Years of Iroquois Beadwork." The exhibit features more than 200 beaded objects, largely from the collection of retired archaeologist and Museum trustee, Dolores Elliott. The Museum is open from 10 a.m. to 5 p.m. Tuesday through Saturday and from 12 Noon to 5 p.m. on Sunday. It is closed Monday. Regular admission is $8 for adults, $6.50 for seniors/students and $5 for children ages 5-12. Children under five are free when accompanied by an adult. Special group rates are available by calling the Museum at
518-296-8949
. For more information: contact the Iroquois Indian Museum at
(518) 296-8949
,
info@iroquoismuseum.org
or visit
http://www.iroquoismuseum.org/
.
About the Museum
The Iroquois Indian Museum is an educational institution dedicated to fostering understanding of Iroquois culture using Iroquois art as a window to that culture.  The Museum is a venue for promoting Iroquois art and artists, and a meeting place for all peoples to celebrate Iroquois culture and diversity.  As an anthropological institution, it is informed by research on archaeology, history, and the common creative spirit of modern artists and craftspeople
.
The Museum represents the world's most comprehensive collection of modern Iroquois art work. This collection celebrates the ancient unity of the Iroquois still expressed in the creative spirit of today's artists. A special interactive Children's area introduces young visitors to Iroquois traditions through a variety of crafts, games and technologies. A guide posted Nature Park of 45 acres is open year round for walks, snowshoeing, and cross-country skiing.
###
MEDIA CONTACT:
Stephanie Shultes, Curator Iroquois Indian Museum 518-296-8949
info@iroquoismuseum.org