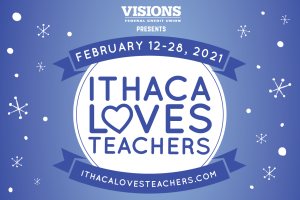 Ithaca, N.Y. –  As home to Cornell University, Ithaca College and Tompkins Cortland Community College, Ithaca is truly a community built on education. The community honors education with Ithaca Loves Teachers, an annual celebration that has grown into a highly anticipated l experience for many public educators, school support staff, educational administrators, public school employees, school district retirees, and their guests across the Northeast.
Ithaca Loves Teachers will kick off this year on February 12, 2021, with businesses offering deals and special perks to show their appreciation through February 28, 2021. Marking the 16th year of the celebration, Visit Ithaca works with hospitality and tourism partners from across the region to coordinate special offerings such as spa services, virtual workshops, shopping discounts, take-out and restaurant deals, lodging and overnight packages and more, all to give educators ample opportunity to get away, or plan a "stay-cation" and enjoy some well-deserved time to relax and recharge, while being recognized for the work that they do year-round. With community and visitor safety remaining a top priority, the celebration has been modified this year following all Tompkins County and NY State Public Health guidelines.
President of the Ithaca Teachers Association, Adam Piasecki says "Since last March, educators and support personnel have been working tirelessly to achieve the impossible during challenging times and continue to go above and beyond for our students. The February break and Winter Recess - Ithaca Loves Teachers can serve as a way for everyone to take a moment for themselves and their families. I hope everyone can find a way, even virtually, to take advantage of the many offerings that the community is doing for us."
Educators or those affiliated with education can register for the event online at www.IthacaLovesTeachers.com beginning on February 8th and will then receive access to a digital savings pass. Upon arrival, attendees will check-in during set hours at the Downtown Visitor Center in the Tompkins Center for History & Culture or the East Shore Drive Visitor Center, to receive a VIT (Very Important Teacher) badge and gift from presenting sponsor Visions Federal Credit Union. Educators can attend with a member of their household who can join the fun as a Teacher's Pet and share the savings pass.
For more information, visit IthacaLovesTeachers.com or contact the Ithaca/Tompkins County Convention & Visitors Bureau at info@visitithaca.com
Ithaca Loves Teachers is organized by Visit Ithaca, the Downtown Ithaca Alliance, and the Tompkins Chamber.
Images for promotion are available to download here: https://www.dropbox.com/sh/uc9ytxnj22ux9bo/AADqvcRyAeGYI9xTE_BAhzMMa?dl=0
Contact:
Erin Rafalowski | Director of Marketing
Ithaca/Tompkins County Convention & Visitors Bureau
A Division of the Tompkins Chamber
t. 607.272.1313 | VisitIthaca.com
904 E Shore Drive, Ithaca, NY 14850