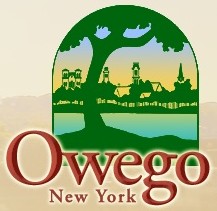 Owego, NY -- It's a holiday celebration!   All are invited to come to downtown Owego on Friday evening, December 3, from 5:30-8:30 pm.  Owego will sparkle with holiday lighting and a family festive atmosphere. Christmas lights reflecting on the river, Children's choirs, ballet dancers, barbershop quartet singers, a juggler, hot air balloon ride, alpacas to pet, an ice sculptor, horse and wagon rides, and a visit with Santa; all the sights and sounds of Christmas.  Magic 101.7FM will have a live radio remote with Improv Dads', Russ the Big Guy, at M&T's parking lot.   Join the Historic Owego Marketplace as we kick off the 4th Annual "Lights on the River Festival." 
The festivities begin at 5:30 pm in downtown Owego with WEBO's Lew Sauerbrey, leading the countdown to light the downtown street decorations at 6:00 pm. in front of the Courthouse Square.  Festival sponsors will be recognized at this time.  Enjoy plenty of shopping, warm free refreshments all around town, cookies, hot cocoa, and lots of goodies to get you in the mood for the holidays.  Don't forget to stop in the Tioga County Historical Museum for "O'Tannenbaum" and check out over 100 decorated Christmas trees and wreaths on display.  Salvation Army kettles wil l be placed throughout the town as well.  The evening is capped off with an exciting riverside fireworks show off Draper Park near the bridge! 
NEW THIS YEAR!!!  A shuttle bus and parking will be available from the Tioga County Fairgrounds/Marvin Park from 5:00-9:00 pm.  Park your car there and get a ride into town.  While you're at Marvin Park, get tethered rides in a Hot Air Balloon lifting off from the middle of the park (weather permitting).  Also, check out the new "Victorian Skaters" light display on the Owego Riverwalk!  Due to the set-up of the fireworks display, the west side of the Riverwalk to the bridge will be closed to pedestrians during the festival.  The east side of the bridge will be open but there will be no pass-through.
Thank you to the following organizations who are offering yummy refreshments during this event:  Owego Kiwanis Club, Owego Rotary Club, the Elks' Lodge, Johnson's Pools and Spas, Girl Scout Troop #66, Open Door Mission, Royal Automotive Group. 
We are grateful to our wonderful sponsors of this event:  ·  Royal Automotive Group
Municipal Electric and Gas Alliance (MEGA) Superior Wells Company Lockheed Martin Ahwaga Paint & Floor Covering Allstate Insurance-Lounsbury Agency Chemung Canal Bank The Dollar Bazaar Cell Preservation Services Employees Field Afar The John Barleycorn Martin Plumbing & Heating Original Italian Owego Rotary Club Pumpelly House Estate Richards Funeral Home Riverview Manor Health Care Shear Paradise Patterson Electric Owego Elks Lodge #1039 The Tax Ladies, LLC VFW Post 1371 Tri-Town Insurance Susquehanna Screenprinters The Goat Boy Edward Jones Investment Artisan's Townhouse The Hand of Man Scoville-Meno Automotive Lynn's Barbershop Joe Yaman's Automotive Four Seasons Fitness Tioga County Tourism Scott Smith & Son Price Chopper Alpacalachin Farms HairColor Cafe Mario's Restaurant John's Fine Foods HSBC Bank The Cellar Restaurant Village of Owego.
For a complete schedule of Owego's "Lights on the River" Festival, call 800-671-7772 or
go to
http://www.benchmarkemail.com/c/l?u=58D46&e=8A16C&c=12CA8&t=0&email=G1aaNOOGYQ0AA6EZBVcqYXyUFMeTr5veMnLRkZYnKqE%3D
.  # # #