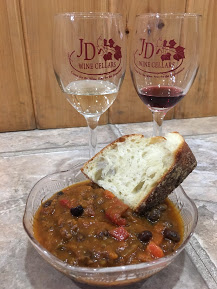 Macedon, NY -- It's a Throwback Wine and Chili weekend at JD Wine Cellars! Join us for 10th Annual Chili tasting at JD Wine Cellars, January 25th and 26th from 12p – 5p.   It's been 10 years since we opened our doors to the Tasting room and to commemorate 10 wonderful years, we dug through past chili recipes and picked two of the most popular to bring back for this special anniversary. 
This yearly event features 2 homemade chili dishes, each expertly paired with (2) JD Wine Cellars wines, plus each guest can select an additional 5th wine to taste.
By pre-purchasing your tickets you get to take home your JD Wine Cellars etched wine glass.  Tickets for this event are $10/person or $5/person for JD Wine Cellars Case Club Members. Tickets are also available at the door.   For more information, call 315-986-4202 or visit www.JDWineCellars.com. 
###
JD Wine Cellars is in its 10th year of producing and specializing in small batch, hand-crafted red, white and 100% fruit wines. Co-located and working in line with the goals of Long Acre Farms, JD Wine Cellars aims to provide an authentic and family-friendly experience to its guests in its fun and educational wine tasting venue.
Contact:
Audrey Allen
Tasting Room Manager
Office: 315-986-4202