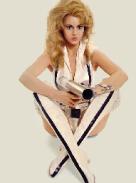 May brings an exciting lineup of exhibitions and entertainment to the
George Eastman House International Museum of Photography and Film
in Rochester, including an 18-film sci-fi extravaganza featuring some of the most iconic titles of the genre from the 1950s to the early 2000s. There's also a tribute to Fred Astaire and Ginger Rogers, a trip down the yellow brick road and much more. Get ready to beam aboard!
CALENDAR OF EVENTS
May 2009
1   8 p.m. Friday FILM EVENT
Writer/director Alex Rivera in person, presenting his film
Sleep Dealer
(2008, 90 min.) which imagines a militarized world marked by closed borders, virtual labor, and a global digital network. Rivera, winner of two prizes at the Sundance Film Festival for his sci-fi work, will introduce his film and answer questions after the screening.
Co-presented by the Rochester Labor Council.
Admission: $7 general/$5 students and members.
3   Sunday FILM EVENT "Cinematic Symphony: Oz and Beyond with Eastman House & RPO"
Celebrate the 70th anniversary of
The Wizard of Oz
at this fundraiser beginning at 3 p.m. in the Eastman Theatre, featuring a screening of the MGM classic with live orchestral score performed by the RPO. The celebration continues at 5:45 p.m. at George Eastman House, with a presentation of treasures from the motion picture collections, followed by a gala dinner. For tickets visit www.rpo.org or call the RPO Box Office at (585) 454-2100.
7   6 p.m. Thursday PHOTOGRAPHY LECTURE
Eastman House Director Anthony Bannon discusses Pictorialism, in conjunction with the exhibition
TruthBeauty
, on view through May 31. Included with museum admission.
8   6 to 10 p.m. Friday EXHIBITION OPENING EVENT
Not A Cornfield
artist Lauren Bon joins us for a free public opening of the Not A Cornfield exhibition at Eastman House from 6 to 8 p.m., continuing at our exhibition partner Rochester Contemporary Art Center, 137 East Ave., from 7:30 to 10 p.m. Light refreshments served.
9    Saturday EXHIBITION OPENING
Not A Cornfield
opens today and remains on view through July 12. This photography and video installation captures the transformation of a 32-acre brownfield in the historic center of Los Angeles into a cornfield for one agricultural cycle between May 2005 and May 2006. This project - which involved 1,500 truckloads of new soil and 1 million corn seeds - was created by artist Lauren Bon to bring forth questions surrounding the nature of urban public spaces and convey redemption and hope. The exhibition is a product of the Metabolic Studio, a direct charitable activity of the Annenberg Foundation. Included with museum admission.
8   8 p.m. Friday FILM EVENT
Archivist Jeff Lambert of the National Film Presentation Foundation (NFPF) hosts this program of seminal films by Andy Warhol, Hollis Frampton, Pat O'Neill, Ken Jacobs, Jonas Mekas, and Chick Strand that pushed the boundaries of cinema.
Preservation funding provided by the Carnegie Corporation of New York, The Film Foundation, the National Endowment for the Arts, and the NFPF. This program is co-sponsored by George Eastman House's The L. Jeffrey Selznick School of Film Preservation and the University of Rochester's Program in Film and Media Studies and Department of Modern Languages and Cultures.
9   9 a.m. to Noon, Saturday GARDEN CLASSES
On the second Saturday of each month, beginning in May and continuing through September, gardeners may train "hands-on" in the historic garden with our landscape staff. To learn more or to register, please email gardens@geh.org or call (585) 271-3361 ext. 224. (Pre-registration required)
10   1 to 5 p.m. Sunday MOTHER'S DAY
A special tour for moms at 1:30 p.m. will highlight the life of George Eastman's mother, Maria Kilbourn Eastman. (Regular house tour offered at 2 p.m. and garden tour offered at 3 pm., included with museum admission). A live organ recital will be presented by Joe Blackburn in the Conservatory at 3 p.m. Free admission for all moms.
23   1 to 5 p.m. Saturday FILM EVENT
The annual RIT Student Honors Show highlights some of the year's best work from RIT's School of Film & Animation. Approximately 20 short pieces are selected from all types of animation and live action, including narrative, documentary, and experimental. Students represented rand from first year to graduate level. Many of these films go to national and international festivals. Admission is $5; free for students w/ ID. Program running time: 180 min.
25   Monday MUSEUM CLOSED
MUSEUM CLOSED for Memorial Day.
---
CONTINUING EXHIBITIONS May 2009 Not A Cornfield -- May 9 through July 12, 2009 (Potter Peristyle) What We're Collecting Now: Constructed Pieces -- Through May 24, 2009 (New Acquisitions Gallery) The Photograph Collection: An Introduction -- Through May 24, 2009 (Potter Peristyle) TruthBeauty: Pictorialism and the Photograph as Art, 1845-1945 -- Thru May 31, 2009 (Brackett Clark & South Galleries) Lincoln Portrait: Conservation of a National Treasure -- Thru May 31, 2009 (Potter Peristyle) Where Do Cameras Come From? -- Ongoing (Second floor of house) Machines of Memory: Cameras from the Technology Collection -- Ongoing (Mees Gallery) The Remarkable George Eastman -- Ongoing (Second floor of house)
---
CALENDAR OF FILM EVENTS May 2009 Please note: Sunday films are screened at 7 p.m. unless otherwise noted Films listed begin at 8 p.m. in the Dryden Theatre, except for Sunday evening films, which begin at 7 p.m., and those otherwise noted. "Take-10" discount tickets (10 admissions for $55/$40 members and students) are available at the box office and the Eastman House Store. The film program is partially funded by the National Endowment for the Arts and the New York State Council on the Arts. SPACESHIPS & ALIENS Get ready to blast off on a two-month, 18-film intergalactic cinematic journey! We've compiled a terrific sci-fi survey of films that date from the "golden age" of the 1950s through the early part of the 2000s focusing on space travel, starships, and otherworldly beings, both of the friendly and the zap-you-with-their-rayguns variety. The visual and intellectual imaginations on display will stimulate your senses and beam you into another world. In honor of the release of the newly revamped Star Trek movie, we begin with what is widely considered the most entertaining of the feature vehicles containing the original Starship Enterprise crew, Star Trek IV: The Voyage Home (May 3). Also recently brought up to date is the sci-fi standby The Day the Earth Stood Still (May 6), which shows in its still-terrific 1951 version. While many of the films ask to be taken seriously, humor is nonetheless plentiful throughout the series. Camp moments abound when Jane Fonda travels to strange new worlds in Euro superproduction Babarella (May 13); a very smart sense of satire informs John Carpenter's first feature, Dark Star (May 27) and Mars Attacks! (May 27) is an out-and-out parody of the genre, right down to the giant-brained aliens modeled directly on the creatures from the classis This Island Earth (June 10), which also screens. Some of the other genre milestones in this lineup include MGM's Forbidden Planet (May 17), which retells Shakespeare's The Tempest on planet Altair IV; It Came from Outer Space (May 24), showing in eye-popping 3-D; and Howard Hawk's original productions of The Thing (From Another World) (June 3). The great contributions of fantasy film legend George Pal are seen in a double bill of War of the Worlds and Conquest of Space (June 12); and a double feature of Earth vs. the Flying Saucers and 20- Million Miles to Earth (June 21) spotlights the innovative and influential stop-motion special effects of the great Ray Harryhausen. Another twin bill, this time from Japan, shows what happens when visitors from other planets mess with Tokyo's biggest movie star in Godzilla vs. King Ghidorah and Godzilla 2000 (June 7). There's also a double dose of "spaghetti sci-fi" when we pair Italian director Mario Bava's atmospheric and chilling horror/sci-fi hybrid Planet of the Vampires with the sublimely ridiculous War between the Planets (June 17). The series concludes with a favorite from the first days of video arcade games, Nick Castle's The Last Starfighter (June 24). FRED & GINGER: DANCING WITH THE REAL STARS Long before the days of dance-based reality television, Americans flocked to movie theaters to enjoy the effortless showmanship and romantic chemistry of dapper terpsichorean Fred Astaire's and fleet-or-foot, golden- haired ingénue Ginger Rogers. Discover or re-discover them for yourself when we present four of their very best collaborations, each in archival 35mm prints, on consecutive Thursdays in May. The Gay Divorcee (May 7) was the first film to feature the pair with equal billing. Rogers plays a woman desperate for a divorce, while Astaire is an American dancer visiting England. The two meet cute in a train station, setting in motion a comedy of errors with great songs like Cole Porter's "Night and Day" and "The Continental." "They're dancing Cheek-to-Cheek Again!" reads the tagline for Astaire and Rogers' Top Hat (May 14). Astaire plays another American showman abroad, and Rogers is a neighbor angrily awakened by his late-night hoofing. Top Hat presented the world with "The Piccolino," an elaborate dance routine famously filmed by director Mark Sandrich in just one take. Follow the Fleet (May 21) was Sandrich's third Astaire-Rogers production. Astaire played a preternaturally gifted dancing sailor who attempts to win back his lady love and former dance partner (Rogers) while on shore leave in San Francisco. Fleet features great Irving Berlin compositions like "Lets Face the Music and Dance." Swing Time (May 28) was their sixth filmic pairing, and is widely considered the best of the ten films they made together. Astaires played a gambling addicted hoofer torn between two lovers, including Rogers as comely dance instructor Penny Carroll. Jerome Kerns and Dorothy Fields won an Oscar® for the film's song "The Way You Look Tonight." ZHANG YIMOU & GONG LI In 1985, fifth-generation Chinese filmmaker Zhang Yimou chose the luminous Gong Li, then a Beijing-based drama student, to play the female protagonist in his directional debut Red Sorghum, thus beginning a decade of personal and professional collaborations. Although he was married when he cast her, they embarked on an affair that produced seven critically acclaimed films, four of which will screen on Tuesdays in May. In Raise the Red Lantern (May 5), Gong plays a student forced into an arranged marriage with a polygamist businessman. She becomes the fourth wife, and inhabits a compound with her co-wives. While the script passed muster with Chinese censors, it was ultimately banned since it was read as a critique of Communism. The Story of Qui Ju (May 19) is Zhang's first film set in contemporary China. The heroine is a pregnant peasant who sets out on several arduous journeys to appeal to bureaucratic authorities for recompense and an apology from a village chieftain. If Chinese censors were suspicious of Zhang's spurious political intentions in earlier films, they wholeheartedly supported Qiu Ju's representations of polite, helpful bureaucrats. To Live (May 12) traces the changing fortunes of gentry during China's transition from Nationalism to the Cultural Revolution. The film weighs the benefits and drawbacks of socialism via Xu, a pragmatic everyman, whose political affinities are malleable and opportunistic. The couple parted ways, both personally and professionally, shortly before the 1995 release of Shanghai Triad (May 26). Set in a city dominated by criminal gangs, it features Gong as a nightclub chanteuse and mistress to an eminent criminal boss. -Jim Healy, Assistant Curator, Exhibitions, Motion Picture Department MAY 2009 FILMS: 1 FRI | 8 p.m. | Alex Rivera in Person! | Rochester Premiere SLEEP DEALER (Alex Rivera, US 2008, 90 min., English/Spanish/subtitles) In a near future of airtight international borders and militarized corporate warriors, underground classes of laborers plug their nervous systems into a global computer network. When a young Mexican leaves his dying farm to become a "node worker" in the city, he stumbles across a sinister transmission that will pave the way for the cities of the future. Writer-director Rivera's prescient and socially committed work of sci-fi won two prizes at the Sundance Film Festival. Rivera will introduce and answer questions following the screening. Co-presented by the Rochester Labor Council. 2 SAT | 7 p.m. | Human Spirit Series | Rochester Premiere ANGRY MONK (Luc Schaedler, Switzerland 2005, 97 min., English/Tibetan/subtitles, Digital Projection) This documentary follows the life and times of Tibetan monk Gendun Choephel (1903-1951), who eventually turned his back on monastic life and became a fierce critic of his country's religious conservatism, cultural isolationism, and reactionary government. Angry Monk provides both a personal and political portrait of a pioneering and visionary intellectual who was also a smoking, drinking, and sexually active man. Note start time. 3 SUN | 8 p.m. | Spaceships & Aliens STAR TREK IV: THE VOYAGE HOME (Leonard Nimoy, US 1986, 119 min.) In order to save the universe from a deadly alien probe, Kirk, Spock, McCoy and co. must travel back in time to 1986 San Francisco. Their mission: hijack a pair of humpbacked whales, the only creatures capable of stopping the probe, and bring them back to a future where they are extinct. Perhaps the most enjoyable film of the series, it derives much of its humor from watching the technologically and medically advanced Enterprise Crew cope with our "modern" world. 4 MON | 1:30 p.m. | Senior Matinee (free to those 60 and over) THE BARRETTS OF WIMPOLE STREET (Sidney Franklin, US 1943, 110min.) The romance of 19th century poets Elizabeth Barrett (Norma Shearer) and Robert Browning (Fredric March) is given a lavish and highly entertaining treatment by director Sidney Franklin and the seemingly inexhaustible resources of M-G-M in its heyday. Charles Laughton and Maureen O'Sullivan are two of the stellar supporting cast. 5 TUES | 8 p.m. | Zhang Yimou & Gong Li RAISE THE RED LANTERN (DA HONG DENG LONG GAO GAO GUA, Zhang Yimou, China/Hong Kong/Taiwan 1991, 125 min., Mandarin/subtitles) A young, poor college student (Gong Li) is forced to marry the wealthy lord of a manor and finds herself embroiled in bitter competition for the privileges that come with the lord's favor. Zhang's (Hero, House of the Flying Daggers) acute visual sense constructs a tense environment through controlled use of color, claustrophobic sets, and 1920s period costumes by Huamiao Tong. 6 WED | 8 p.m. | Spaceships & Aliens THE DAY THE EARTH STOOD STILL (Robert Wise, US 1951, 92 min.) The late director Wise's intelligent sci-fi allegory revolves around Klaatu (Michael Rennie), an alien who lands on Earth, along with his robot Gort, to deliver a message of peace. Earth's reply, however, is mistrust and outright violence, and Klaatu is forced to use his (and Gort's) otherworldly powers. Klaatu barada nikto! 7 THURS | 8 p.m. | Fred & Ginger THE GAY DIVORCEE (Mark Sandrich, US 1934, 107 min.) Fred Astaire plays an American dancer in London who is mistaken by Ginger Rogers as the correspondent hired to help assist with her divorce proceedings. Despite the mistaken identity, they still find time for plenty of singing and dancing in this classic RKO musical-their second of several screen pairings. The great music score features Fred and Ginger's rendition of the Cole Porter classic "Night and Day," as well as the epic number "The Continental," the first to win an Academy Award® for Best Original Song®. 8 FRI | 8 p.m. | Jeff Lambert in Person! Treasures from the American Avanat-Garde (Program running time: 98 min.) Armed with inexpensive film equipment and the limits of their imagination, a generation of Americans following WWII began experimenting with cinema, pushing the boundaries and subverting conventions. These artists created a parallel tradition to Hollywood which redefines film as an intensely personal and political medium. Hosted by Jeff Lambert of the National Film Presentation Foundation (NFPF), this program of seminal films by Andy Warhol, Hollis Frampton, Pat O'Neill, Ken Jacobs, Jonas Mekas, and Chick Strand is a rare opportunity to see an important but often overlooked chapter in film history. Preservation funding provided by the Carnegie Corporation of New York, The Film Foundation, the National Endowment for the Arts, and the NFPF. This program is co-sponsored by George Eastman House's The L. Jeffrey Selznick School of Film Preservation and the University of Rochester's Program in Film and Media Studies and Department of Modern Languages and Cultures. 9 SAT | 8 p.m. | Rochester Premiere SILENT LIGHT (STELLET LICHT, Carlos Reygadas, Mexico 2007, 127 min., Plautdietsch/subtitles) This visually ravishing drama allows audiences a rare glimpse into the very private lives of a community of Mennonites outside Chihuahua, Mexico. Cast with non-professional Mennonite actors speaking a German derivative dialect, the story revolves around the crisis of a married farmer who tries to maintain the stability of his family while openly having an affair with another woman. A transcendent, poetic experience, Silent Light is the third feature from Mexican director Reygadas, and his first masterpiece. 10 SUN | 7 p.m. | Mother's Day LETTER FROM AN UNKOWN WOMAN (Max Ophüls, US 1948, 86 min.) In magical, fin-de-siècle Vienna, Stefan (Louis Jourdan), a cynical pianist, receives a passionate letter from a dying woman (Joan Fontaine, in her favorite role) he doesn't remember. In flashbacks, we see their tragic love story enacted. Art, devotion, and loss are indissolubly tied together in this heartbreaking romance. Director Ophüls displays his masterly directing talent through his celebrated long camera takes, in the film widely considered his American masterpiece. 11 MON | 1:30 p.m. | Senior Matinee (Free to those 60 and over) I WAS A MALE WAR BRIDE (Howard Hawks, US 1949, 105min.) Cary Grant and Ann Sheridan flip the old "war bride" theme on its head in this hilarious Howard Hawks comedy. French Army office Grant tries to accompany his new American WAC wife (Sheridan) home to the States with some surprising results. 12 TUES | 8 p.m. | Zhang Yimou & Gong Li | Member's Movie Night TO LIVE (HUOZHE, Zhang Yimou, China 1994, 125 min., Mandarin/subtitles) Zhang's epic account of a Chinese family takes us from the 1940s to the 1970s. The story begins as a wealthy gambling addict (comic actor Ge You) with a pregnant wife (Gong Li) and young daughter loses his family's fortune and becomes a shadow puppeteer shortly before civil war erupts. To Live's criticisms of the '60s Cultural Revolution and its aftermath kept Zhang from making films in China for two years. Members admitted free. 13 WED | 8 p.m. | Spaceships & Aliens BARBARELLA (Roger Vadim, France/Italy 1968, 98 min.) Jane Fonda, in her sex-kitten phase, stars as an intergalactic pleasure seeker in this campy, colorful, always entertaining sci-fi adaptation of the famous '60s comic book character. In search of a missing scientist, Barbarella is attacked by dolls with metal teeth, pecked at by birds, and racked to a machine that causes death by erotic sensation. Will she survive to provide further sexcapades throughout the universe? Don't miss this cult classic to find out! 14 THURS | 7 p.m. | Fred & Ginger TOP HAT (Mark Sandrich, US 1935, 101 min.) Fred Astaire and Ginger Rogers cemented their icon status in their second musical comedy for director Mark Sandrich. American dancer Jerry Travers (Astaire) comes to London to star in a show, where he attempts to impress Dale Tremont (Rogers) to win her affection. Widely regarded as the most successful picture of their partnership, it was the first film written specifically for Fred and Ginger. The classic musical numbers by Irving Berlin include "Isn't This a Lovely Day?," "Cheek to Cheek," and the title song. 15 FRI | 8 p.m. | New 35mm Print! 200 MOTELS (Tony Palmer & Frank Zappa, US 1971, 98 min.) Frank Zappa is known for producing some of the most brilliant, most innovative, and most bizarre music from the last 50 years. In this "filmusical," Zappa intersperses a loose narrative about the dizzying effects of life on the road with concert footage of his band, the Mothers of Invention. He embraces unconventional character types, assigning the role of "The Hot Nun" to The Who's Keith Moon and the unforgettable "Larry the Dwarf" to a post-Beatles Ringo Starr. In a world where everything seems to make sense, Zappa reminds us that being absurd is important...and incredibly fun! 16 SAT | 8 p.m. | New 35mm Print! KAGEMUSHA- THE SHADOW WARRIOR (Akira Kurosawa, Japan 1980, 180 min., Japanese/subtitles) In mid-16th-century Japan, three warlords launch all-out warfare in a brutal, devastating struggle for control. When the mightiest of the three is assassinated, a doppelgänger with an uncanny resemblance is placed on the throne, but can this thief handle the charge of nobility? 17 SUN | 7 p.m. | Spaceships & Aliens FORBIDDEN PLANET (Fred M. Wilcox, US 1956, 98 min.) In this loose sci-fi retelling of Shakespeare's The Tempest, Prospero becomes Dr. Morbius (Walter Pidgeon), who rules the planet Altair-4 along with his daughter (the sexy Anne Francis) and their mechanical Caliban, Robby the Robot. When a United Planets rescue team lands, a battle of wits ensues between Morbius and the rescue team's Commander (a young, straight-faced Leslie Nielsen). The colorful CinemaScopeTM landscapes and the electronic score of Bebe and Louis Barron make this a treat for the eyes and the ears. 18 MON | 1:30 p.m. | Senior Matinee (free to those 60 and over) PAT AND MIKE (Edward Dmytryk, us 1944, 95 min.) Dick Powell proved his worth as a dramatic actor by creating the most memorable Philip Marlowe ever. This is classic film noir that makes the most out of every twist and turn in Raymond Chandler's original story. Claire Trevor and Anne Shirley are the ladies who turn Marlowe's life upside down. 19 TUES | 8 p.m. | Zhang Yimou & Gong Li THE STORY OF QIU JU (QIU JU DA GUAN SI, Zhang Yimou, China 1993, 125 min., Mandarin/subtitles) In her fifth collaboration with director Zhang, leading lady Gong Li bravely forgoes the glamour of her previous roles to play the pregnant Qiu Ju, an irrepressible peasant bent on earning justice for her young husband after he suffers an incapacitating injury at the hands of their village chief. Celebrated for its immersive cinematography and mesmerizing, bucolic soundtrack, this fable-like comedic drama is an ode to simplicity and the honest spirit of rural China. 20 WED | 8 p.m. | Spaceships & Aliens DARK STAR (John Carpenter, US 1974, 83 min.) Four astronauts, who spend their time destroying unstable planets and listening to surf music, confront an intelligent bomb with a God complex that is determined to blow up the spaceship. With this forgotten low-budget jewel, where aliens suspiciously resemble beach balls and spacesuit chest plates are made from muffin trays, John Carpenter makes his feature-length debut. His space comedy's claustrophobic atmosphere is counterbalanced by some of the most hilarious moments in sci-fi cinema. The screenplay is by Dan O'Bannon, who later penned Alien, and plays one of the astronauts. 21 THURS | 8 p.m. | Fred & Ginger FOLLOW THE FLEET (Mark Sandrich, US 1936, 110 min.) Fred Astaire and Ginger Rogers share the screen with Randolph Scott and Harriet Hilliard in their fifth pairing for RKO Studios. Against the non-exotic backdrop of the San Francisco harbor, sailor Bake Baker tries to win back his dancing partner's love, while his buddy courts her sister. Dancing, romance, and a funny fight scene between Astaire and Scott are the main attractions of this evergreen musical comedy. 22 FRI | 8 p.m. | Rochester Premiere THEATER OF WAR (John Walter, US 2008, 95 min., Digital Projection) The 2006 Shakespeare-in-the-Park staging of Bertolt Brecht's masterful anti-war drama Mother Courage is the focus of this new documentary that also explores the contemporary relevance of the play, Brecht's life, and the relation of his work to Karl Marx's writings. Chief among a number of experts speaking passionately and eloquently about the author is the star of the production, Meryl Streep. 23 SAT | 8 p.m. CASABLANCA ((Michael Curtiz, US 1942, 102 min.) Firmly ensconced in our American psyche, Casablanca is the type of film that only comes around once in a lifetime-but once it's here, it stays. The inimitable Humphrey Bogart plays Rick, the sharp and cynical owner of a seamy nightclub in WWII-era Morocco-haunted by memories of deserted lover Ilsa (beautiful Ingrid Bergman). When their paths cross in Casablanca, Rick must confront his past. The unparalleled supporting cast includes Sydney Greenstreet, Dooley Wilson, Peter Lorre, Claude Rains, Conrad Veidt, and Paul Henreid. If you've never experienced Casablanca on the big screen, you shouldn't miss this opportunity, and if you have, well...you should watch it at least once more! 24 SUN | 7p.m. | Spaceships & Aliens IT CAME FROM OUTER SPACE (Jack Arnold, US 1953, 81 min.) A group of aliens assume the identities of several Arizona civilians in order to proceed undetected while making repairs to their damaged spaceship in the desert. This classic, suspenseful piece of sci-fi-horror and '50s paranoia will be presented in an Anaglyph (red/blue) 3-D format. 26 TUES | 8 p.m. | Zhang Yimou & Gong Li SHANGHAI TRIAD (YAO A YAO YAO DAO WAIPO QIAO, Zhang Yimou, France/China 1995, Mandarin/subtitles, 109 min.) In his final pairing with actress Gong Li, director Zhang casts his star as the willful, troublesome mistress of a gang boss in 1930s Shanghai. The drama is seen through the eyes of a small rural boy who loses his innocence in eight bloody days. Like his previous works, the film was praised for its cinematography and its use of costumes, which result in a film that is very different from traditional period crime dramas. 27 WED | 8 p.m. | Spaceships & Aliens MARS ATTACK! (Tim Burton, US 1996, 103 min.) Giant-brained aliens who say little more than "Ak Ak!" land in the Nevada desert, supposedly on a mission of peace, and promptly begin zapping everyone and everything in sight with their ray guns. Burton's outrageous lampoon of classic sci-fi and American society in general is based on a bestselling series of Topps chewing gum cards, and features a jaw-dropping cast of stars: Jack Nicholson (in two roles), Pierce Brosnan, Annette Bening, Sarah Jessica Parker, Michael J. Fox, Martin Short, Pam Grier, Jim Brown, Jack Black, and many more. 28 THURS | 8 p.m. | Fred & Ginger SWING TIME (George Stevens, US 1936, 103 min.) Fred and Ginger are at the top of their game in this musical comedy from Hollywood heavyweight George Stevens. John "Lucky" Garnett (Fred Astaire) is a gambler and dancer who, after slighting his future father-in-law, must earn $25,000 in NYC to prove himself worthy of the man's daughter. Complicating things is Penny Carroll (Ginger Rogers), a downtown dance instructor whose moves rival Lucky's own. Swing Time features four masterful routines from Astaire and Rogers, including "Never Gonna Dance," often regarded as their utmost achievement in film. 29 FRI | 8 p.m. | New 35mm Print! MADE IN U.S.A (Jean-Luc Godard, France 1966, 92 min., French/subtitles) Godard's final film with then-wife and muse Anna Karina is a very loose adaptation of an American crime novel by the late Donald Westlake. Karina arrives in Atlantic City searching for her boyfriend, only to find herself shadowed by Jean-Pierre Léaud...and then bodies start mysteriously dropping. 30 SAT | 8 p.m. | Rochester Premiere TREELESS MOUNTAIN (So Yong Kim, US/South Korea, 89 min., Korean/subtitles) Director So Yong Kim's second feature is a gentle and restrained semi-autobiographical account of two little girls, told from a child's perspective. Six-year-old Jin's mom leaves her and her younger sister with their neglectful aunt in order to seek out her missing husband. Jin is forced to discover the emotional resources needed to survive. The subtle performances of the two young leads contribute greatly to a portrait of childhood as a time of delicate growth, unforeseen sadness, and charming surprises. 31 SUN | 5 p.m. | Rochester Premiere TREELESS MOUNTAIN See Saturday May 30. 31 SUN | 7 p.m. | New 35mm Print! MADE IN U.S.A See Friday May 29. Attn. Media: A sample of high-res Dryden stills are online at https://secure.eastmanhouse.org/pressroom/DrydenTheatre/