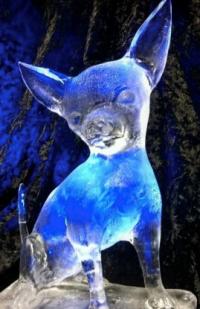 Over 20,000 pounds of ice will once again be transformed into the Lake George Region's Hottest Ice Bar and this year it's gone to the dogs …
Bolton Landing, NY – The Ice Bar that started the trend in the Lake George Region will return to The Sagamore on January 25, 2019 for just two short weekends, January 25-26 and February 1-2.  This magnificent outdoor bar will be carved entirely out of 20,000 pounds of ice by master ice carvers and will have a very special theme this year – it will honor our four-legged, furry, canine companions.  To add to the excitement, a contest is open to the public and one lucky winner will receive a free weekend stay and a likeness their dog carved into a block of ice!
"We are very excited to bring our Glacier Ice Bar & Lounge back this winter," said Tom Guay, General Manager at The Sagamore. "We've added a new, exciting element this year – our theme is dogs and we will be donating a small portion of our proceeds to the local shelter Adirondack Save-A-Stray.  In addition, we will afford one lucky guest the opportunity to have their dog's likeness carved in ice – a fantastic opportunity for our many canine-loving guests!"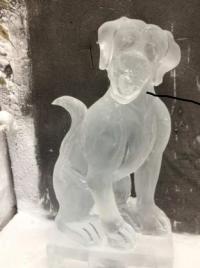 Glacier Ice Bar & Lounge will be created this year by talented teams of ice sculptors and designers who spend countless hours carving and assembling 300-pound blocks of ice using chisels and chainsaws to create bars, seats, tables, ice luges, couches, sculptures and more.  Everything in these cold sensory environments, with the exception of the toasty fire lamps and faux-fur cushions, is crafted entirely out of ice.  
New for 2019, Glacier Ice Bar & Lounge will have a very special canine theme and feature carved ice sculptures of dogs, including the furry friend of one lucky contest winner who will also win a 2-night stay for two people at the Glacier Ice Bar weekend of their choosing, January 25 – 26 or February 1 – 2. This prize is non-transferrable and can only be redeemed during one of the 2019 Glacier Ice Bar weekends.  To enter this exciting contest, go to thesagamore.com/ruffwinter.  The deadline for entering is January 11, 2019.
As an added bonus for Man's Best Friend, the Glacier Ice Bar & Lounges will also donate all of the proceeds from a warm mocktail called The Saint Bernard to the local animal shelter, Adirondack Save-A-Stray.  This warm apple cider drink is served with hints of orange and cinnamon and topped with an apple crumble.  The resort will also match the dollar amount raised for the shelter.
This year the Sagamore's Glacier Ice Bar will serve a variety of festive winter, handcrafted cocktails.  Guests can indulge in a Snowball Martini: Tito's Handmade Vodka, Vanilla Liqueur, White Cream De Cacao and a toasted marshmallow garnish or Old Man Winter: Titos Handmade Vodka, Fresh Squeezed Lemon Juice, Agave Nectar, Splash of Sparkling Soda. Guests can also fire up their taste buds at The Comfort Zone featuring two different "chowdas" - New England Clam Chowder and Hearty Chicken Corn Chowder.  There is also a Pot & Kettle Winter Chili and warm mocktails!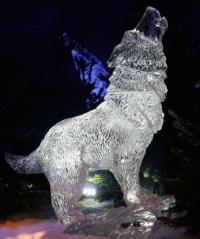 The Glacier Ice Bar & Lounge locations are open to the public and are weather permitting, so guests are encouraged to get there before they are reduced to only a puddle!     
The Glacier Ice Bar & Lounge is sponsored by Titos Handmade Vodka, Shipyard and Ripe Bar Juice.  
Glacier Ice Bar & Lounge at The Sagamore: Jan 25 & 26 and Feb 1 & 2.
Photos courtesy of Tito's Vodka; dog sculptures will be similar during the Sagamore Glacier Ice Bar January 25-26 and February 1-2, 2019.
About The Sagamore Resort
The Sagamore Resort is a full-service, all-season resort and sports paradise featuring a Donald Ross championship golf course, two pools, gourmet cuisine and much more. Situated on a private 70-acre island on Lake George in Bolton Landing, the resort is bustling year-round with activities both indoors and out.  The Sagamore is an official landmark listed in the National Register of Historic Places and a member of the Preferred Hotels and Resorts, Historic Hotels of America, a recipient of the AAA Four-Diamond Award and a member of American Express Fine Hotels & Resorts.  For information and reservations, call The Sagamore at (866) 385-6221 or visit www.thesagamore.com.