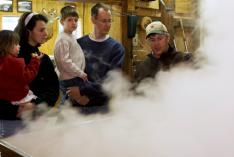 Tap into a great late winter/early spring family activity!
Albany, N.Y.
- Late winter/early spring is a sweet time of year in New York State. It's when the sap from maple trees - the official New York State tree - starts running and the maple sugaring season gets underway. Sap flow begins in the southern part of the state, gradually making its way to the northern counties. The state's typical maple production season runs from the last week in February through the first week in April, or when trees start to bud. According the US Department of Agriculture, New York State is the third largest producer of maple syrup in the United States and fourth largest worldwide. In 2010 New York State's approximately 1.9 million maple syrup taps yielded more than 312,000 gallons of syrup in 2010, with a value of approximately $17.9 million. Throughout New York, many sap houses welcome you to come and see how maple syrup is made, from the tapping of the trees, to the boiling of the sap into syrup. This month New York is offering a sweet and sticky treat for visitors as 110 of its maple producers join together for the 16
th
Annual Maple Weekend (http://www.mapleweekend.com/). During Maple Weekend, maple producers throughout the state, from Buffalo to Albany,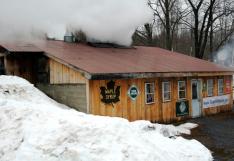 Rochester to Binghamton and Jamestown to Plattsburgh, will host free open houses to demonstrate how maple syrup and other related products are made.  The event takes place over two weekends -- March 19-20 and 26-27 from 10 a.m. - 4 p.m. each day. In addition to demonstrating how maple syrup is tapped from trees, collected as sap, and boiled into syrup, producers will feature a variety of activities and maple products will be available for sampling and purchase.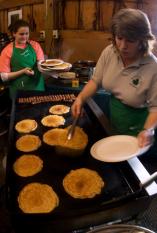 A sampling of Maple Syrup Events and Maple Weekend participants are listed below. For more information, and a complete list of participants, visit
http://www.mapleweekend.com/
.
Remsburger Maple Farm Fest - Dutchess County, N.Y.
This Maple Weekend, the Remsburger Maple Farm of Pleasant Valley brings all of their knowledge and great maple products to the Dutchess County Fairgrounds. Enjoy a pancake breakfast, vendors, maple sugaring demonstrations and horse drawn carriage rides. For more information visit Remsburger Maple Farm & Apiary's website at
www.remsburgermaple.com
.  
Toad Hill Maple Farm - Athol, N.Y.
On Maple Weekends 2011, visitors to Toad Hill Maple Farm, the largest maple producer in Warren County, will get to experience modern maple production. If the weather cooperates, guests will get to see sap flowing from the sugarbush, through the production process and turned into finished syrup. Free samples of fresh syrup and other products will be available to delight the taste buds, so plan on an enjoyable learning experience in the Adirondacks!
Moore's Maple Shack & Pancake House - Freedom, NY
The Moore family opens their Pancake House and sugar shack every March through the end of April. Their 5,600-tap maple operation is adjacent to the Sugar Shack, a pancake house serving all-you-can-eat buttermilk pancakes. Special pancake breakfasts will be held on Maple Weekend, as well as wagon rides to the sugar bush and samplings of maple cream, maple walnut brittle, maple nuts and other maple goodies.  For more information visit
http://www.mooresmaple.com/
or call (716) 492-3067.
Randall's Maple Products - Alexander, N.Y.
Set in a picturesque location next to a pond, Eric and Eleanor Randall will offer Maple Weekends tours of their sugarhouse, maple syrup making demonstrations and the chance to climb aboard an authentic, antique caboose.  For more information visit
http://www.randallsmaple.com/
or call (585) 547-3596.
Maple Glen Sugar House - Gowanda, N.Y.
Paul Lesefske's family welcomes visitors to their maple syrup production facility and store. The sugarhouse tour consists of an oil-fired evaporator, reverse osmosis machine, filter press and a unique bottling machine. Visitors are encouraged to try the famous maple hotdogs boiled in maple sap. Maple Glen is planning a few surprises for their Maple Weekend activities, such as a candy making demo and tree tapping demonstrations. For more information visit
http://www.mapleglensyrup.com/
or call (716) 532-5483.
Merle Maple Farm - Attica, NY
The Merle family runs a 16,000-tap operation with a reverse osmosis sap concentrator, conventional evaporators and a steam away. Activities for Maple Weekend will include wagon rides to the sugar bush, demonstrations of the portable band saw mill and tree tapping. A kids' corner will feature calf petting, crafts and tour of the sap house. Visitors can sample maple cotton candy, maple mustard, pepper jelly and pure maple syrup. For more information visit
http://www.merlemaple.com/
or call (585) 535-7136. For a comprehensive look into the world of American Maple Syrup:
The American Maple Museum - Croghan, New York
Exhibits depict the history of maple syrup and sugar making techniques ranging from those used by the Native Americans to plastic tubing and stainless steel evaporators in use today. Audio tapes explain many of the exhibits. The museum will be open March 26 - 27 from 7:00 a.m. - 4:00 p.m., with a pancake breakfast being served from 7 a.m. - 11 a.m. For more information and museum hours call (315) 346-1107 or visit www.lcida.org/maplemuseum.html
###
About New York State
New York State features 11 beautiful vacation regions.  New York's attractions span from landmarks such as Niagara Falls, to the wine trails of Hudson Valley and treasures like the Baseball Hall of Fame in Cooperstown.  Whether it's wide-ranging outdoor activities for the whole family like fishing, hiking and boating, culinary wonders and farm-to-table fresh foods, or the rich history and culture of one of the 13 original colonies, New York State offers diverse activities for all travelers. For more information visit http://www.iloveny.com/. Media can find press releases and more at
http://www.thebeat.iloveny.com/
. Empire State Development is New York's chief economic development agency, committed to being recognized on a global scale as the economic development engine driving job growth, strategic investment and prosperity in New York State. ESD also oversees the marketing of "I LOVE NY," the State's iconic tourism brand.  For more information, visit
http://www.esd.ny.gov/
.
Photo Captions:
   Photo 1: A family watches maple sap being boiled down into syrup at Toad Hill Farm in Athol, N.Y. This month New York is offering a sweet and sticky treat for visitors as 110 of its maple producers, including Toad Hill Farm, join together for the 16th Annual Maple Weekend (http://www.mapleweekend.com/).  Credit: Darren McGee, NYS Dept. of Economic Development Photo 2: The sugarhouse at Toad Hill Farm in Athol, N.Y. This month New York is offering a sweet and sticky treat for visitors as 110 of its maple producers, including Toad Hill Farm, join together for the 16th Annual Maple Weekend (http://www.mapleweekend.com/).  Credit: Darren McGee, NYS Dept. of Economic Development Photo 3: Pancakes being prepared at Mapleland Farms in Salem, N.Y. This month New York is offering a sweet and sticky treat for visitors as 110 of its maple producers, including Mapleland Farms, join together for the 16th Annual Maple Weekend (http://www.mapleweekend.com/).  Credit: Darren McGee, NYS Dept. of Economic Development
Contact
: Eric Scheffel Empire State Development Bureau of Media Services (518) 292-5274
escheffel@empire.state.ny.us