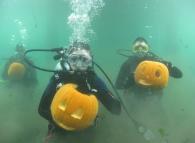 Watkins Glen, N.Y.
- It's that time of year to start carving pumpkins! In Watkins Glen, one organization does it under water! Every October, the Finger Lakes Underwater Preservation (FLUPA) members dive right into the fall season by carving pumpkins under the surface of Seneca Lake. Once again, the public is invited to come out and witness this fun, free and traditional event.
When: Saturday, October 20, 2012
Time: 1:00 - 3:00 PM
Where: Seneca Harbor Park (on the Seneca Lake Pier in Watkins Glen)
For more than 10 years, members of FLUPA have entertained the Watkins Glen community with the underwater pumpkin carving contest. The annual event began as a fun and educational way to raise awareness about local diving in the area. The competition is held in about 10 feet of water; it's shallow and clear enough for the public to easily view the carving contest from the pier. After the divers complete their masterpiece pumpkins, a bystander then judges the event based on the best carving. Most of the divers are members of FLUPA, however, any certified diver is welcome to join in. The registration fee for divers is $10 and includes, pumpkin, chili, snacks, cider, coffee, and (of course) candy. For more information, contact FLUPA secretary Ellen Mathers at (607) 857-5920 or
secretary@flupa.org
.
#   #   #