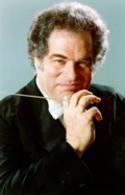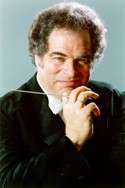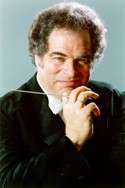 A pair of 26 year-olds fill the Concert Hall at Purchase Performing Arts Center with Mozart, Saint-Saëns, and Tchaikovsky
Purchase, New York
- Maestro Itzhak Perlman will conduct the final program of his inaugural season with the Westchester Philharmonic on
Saturday, May 16, 2009 at 8 pm and Sunday, May 17, 2009 at 3 pm
. Perlman and the orchestra, which is celebrating its 26
th
anniversary season, be joined by 26 year-old American cellist Alisa Weilerstein for the Cello Concerto by Camille Saint-Saëns, widely considered the greatest concerto written for that instrument. The final weekend of the Philharmonic's 2008-09 season opens with the intriguing Mozart Symphony No. 27 and closes with Tchaikovsky's glorious Fifth Symphony, one of the most performed works of all time. In between, audiences will be enraptured by the Saint-Saëns, which was personally requested of Ms. Weilerstein by Maestro Perlman. Alisa Weilerstein has already performed with dozens of major symphony orchestras around the world, enthralling audiences, critics, and fellow musicians with a level of virtuosity that combines rare technical prowess with pure musical passion. Born into a musical family, Ms. Weilerstein's father, Donald Weilerstein, was the founding first violinist of the Cleveland String Quartet, and her mother is the pianist Vivian Hornik Weilerstein. During the 2008-09 season Alisa Weilerstein, who was recently awarded Lincoln Center's Martin E. Segal award, will make her debuts with the Boston Symphony Orchestra led by Hans Graf, and the Chicago Symphony Orchestra led by Mark Elder. Of a recent performance, the Chicago Tribune commented, "Weilerstein showed that she certainly has the technique and potential to emerge as one of the leading cellists of the next generation." She has even been compared to the likes of Yo-Yo Ma. Following the May 17 concert the orchestra will celebrate the close of its 26
th
season and inaugural year for Artistic Director Itzhak Perlman with a spring gala benefit titled
The Art of the Violin
. The event at The Ritz-Carlton in White Plains will be attended by guest of honor Itzhak Perlman and is co-chaired by Mary Ann Liebert of Liebert Publications and Philharmonic Board Member Hannah Shmerler.
High resolution photos and artist biographies are available and may be downloaded from:
www.westchesterphil.org/pressphotos0809.asp
Concert Tickets
All performances will take place in The Concert Hall at The Performing Arts Center Purchase College, 735 Anderson Hill Road, Purchase, New York.
Please note that at this time tickets are only available in the Second Tier.
Tickets in the Second Tier are $25 and $40. Student/child/group discounts are available. To purchase tickets and for additional information call the Westchester Philharmonic Box Office at (914) 682-3707 ext. 10.  Visa, MasterCard, American Express, Discover Card accepted.  Visit the Westchester Philharmonic's website at
http://www.westchesterphil.org/
.
Benefit Tickets
Tickets to
The Art of the Violin
are $250, $500, $1,000 and $2,500 per person. Tables of ten are $5,000.
Season Finale concert tickets sold separately and available in all sections for benefit ticket holders.
The event begins at 5:30 pm at The Ritz-Carlton at Three Renaissance Square in White Plains. For further information and tickets please call the Westchester Philharmonic Box Office at (914) 682-3707 ext. 10.
Open Rehearsal
The orchestra will hold a free open rehearsal prior to the
Season Finale
on Saturday, May 16, 2009 at 10 am. The open rehearsal will be held in The Concert Hall at the Purchase College Performing Arts Center. The rehearsal is free and open to the public and lasts approximately two hours. Please note that the orchestra may not rehearse entire works or entire programs at a given rehearsal. Rehearsals are subject to change.
About Alisa Weilerstein
The 26-year old American cellist Alisa Weilerstein has attracted widespread recognition for playing that combines natural virtuosity and technical assurance with impassioned musicianship. Ms. Weilerstein has performed with the nation's top orchestras, given recitals in music capitals throughout the U.S. and Europe, and regularly participates in prestigious international festivals.
Ms. Weilerstein is already continually engaged by orchestras across the U.S. and has performed as soloist with the Baltimore Symphony, Cincinnati Symphony, Cleveland Orchestra, Dallas Symphony, Detroit Symphony, Minnesota Orchestra, National Symphony Orchestra, New York Philharmonic, Philadelphia Orchestra, Pittsburgh Symphony, San Francisco Symphony, Saint Louis Symphony, Orchestra of St. Luke's, and the Houston Symphony. In Europe she has performed with the Barcelona Symphony, Bournemouth Symphony, Orchestre National de France, Royal Scottish National Orchestra and the Tonhalle Orchestra Zurich among others.
In January 2007 Ms. Weilerstein made her New York Philharmonic subscription debut performing the Elgar Cello Concerto with Zubin Mehta conducting. She gave additional performances with The New York Philharmonic and Mr. Mehta in Philadelphia, and under Lorin Maazel in Tokyo. She made her debut with the Philadelphia Orchestra under Christoph Eschenbach in November 2006. Other highlights of her season include performances with the Cincinnati Symphony, Seattle Symphony, Baltimore Symphony, and the Moscow State Symphony as part of their U.S. tour, and three trio recitals with Maxim Vengerov and Lilya Zilberstein at Carnegie Hall, La Salle Pleyel in Paris, and the Barbican in London. She also gives a U.S. tour with Gil Shaham and Friends that will include a performance at Carnegie's Zankel Hall. This summer she gives the New York premiere of Golijov's cello concerto, Azul, during the opening concerts of the Mostly Mozart festival.
Alisa Weilerstein was named the winner of the 2006 Leonard Bernstein Award, which she received at the Schleswig-Holstein Festival. She was the recipient in 2000 of an Avery Fisher Career Grant and was selected for two prestigious young artists programs in 2000-01, the ECHO (European Concert Hall Organization) "Rising Stars" recital series and the Chamber Music Society of Lincoln Center's Chamber Music Society Two. Ms. Weilerstein also released an acclaimed recording on EMI Classics' "Debut" series in 2000.
Ms. Weilerstein performed her first public concert six months after taking up the cello at age 4. Her Cleveland Orchestra debut was in October 1995, at age 13, playing the Tchaikovsky "Rococo" Variations, and she made her Carnegie Hall debut with the New York Youth Symphony in March 1997. Ms. Weilerstein is a graduate of the Young Artist Program at the Cleveland Institute of Music, where she studied with Richard Weiss. In May 2004, she graduated from Columbia University in New York with a degree in Russian History. For more information on Ms. Weilerstein, please visit http://www.alisaweilerstein.com/
About the Westchester Philharmonic
The Westchester Philharmonic orchestra, which is led by world-renowned Artistic Director Itzhak Perlman, is the only fully-professional symphony orchestra devoted to serving the people of Westchester County. Founded in 1983 by Paul Lustig Dunkel, who was recently named Music Director Emeritus, the Philharmonic fulfills its mission in the concert hall, in the community, and in the classroom. The Philharmonic performs a main stage Concert Series at the Performing Arts Center Purchase College and partners with local agencies to present free and low-cost concerts for all County residents. Its award-winning education program serves over 2,000 elementary school students. The orchestra is comprised of the finest musicians from the greater New York area and has worked with the world's finest soloists, including Midori, Joshua Bell, and the late Isaac Stern. With a focus on presenting the best music of the past and present, the orchestra places particular emphasis on providing young musicians with an opportunity to perform with, or compose for, a professional symphony orchestra early in their careers. The Philharmonic has become a home for living American composers and has proudly commissioned many orchestral works such as Melinda Wagner's
Concerto for
Flute, Strings and Percussion,
which was awarded the Pulitzer Prize. The orchestra is dedicated to inviting and attracting people of diverse backgrounds to its concerts and continues to explore new partnerships with local schools, libraries, and community centers, so that all in the community have the opportunity to experience the joy of a live, classical music concert.
Entergy Nuclear and Westchester Magazine are major sponsors of the Westchester Philharmonic.
The Philharmonic's season is made possible, in part, by the Basic Program Support Grant of ArtsWestchester with funds from Westchester County Government and with public funds from the New York State
Council on the Arts, a state agency.
Contact:  Lenore Eggleston  (914)682-3707, ext. 15