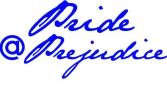 Previews Start Sept. 28; Opening Night, Oct. 2
Albany, N.Y. -
Capital Repertory Theatre opens its fall season with PRIDE@PREJUDICE: a romantic deconstruction by Daniel Elihu Kramer. Preview performances start on September 28, with Opening Night on October 2. The run will continue through October 28. Tickets are on sale now. Based on the popular novel by Jane Austen, Kramer's inventive adaptation features an accomplished cast of five actors that bring life to 20 characters from the book using the actual words of the beloved novelist -- but with bonus material supplied by bloggers, commentators, scholars and even Jane Austen herself.  Kramer keeps all the twists and turns of the original, while creating plenty of fun with actors reaching for their smart phones to enlighten the proceedings with information from Google and Austen's prolific fan base.  Austen's novel Pride and Prejudice, first published in 1813, has sold more than 20 million copies world wide and has been adapted numerous times for television and film. The story chronicles the fates of the five Bennet sisters, whose futures depend upon marrying a man of means with social position. Sparks fly when the intelligent and spirited Elizabeth Bennet meets the single, rich, and proud Mr. Darcy. As the Bennet sisters encounter misadventures with inappropriate suitors, Mr. Darcy reluctantly finds himself falling in love with Elizabeth, who, although perfectly suited to him, remains beneath his class birthright. The novel tells the story of how each of these worthy protagonists overcomes the pride and prejudice of society to find true happiness. Kramer was originally commissioned by the Available Light Theatre to create the adaptation two years ago: "It wasn't my initial intent to add electronics to the script, but there were times during discussions with the company that I would look up to see everyone looking up stuff about the book on their smart phones and laptops," says Kramer. "Pretty much anything you could want to know about Jane Austen or her novels can be found online - Austen's dedicated fans have seen to that!"  While writing in coffee shops n the course of completing the adaptation, Kramer found himself surrounded by people on their phones, laptops, Kindles and other electronic devices - all which served as further inspiration to give a technological twist to the classic romance. Speaking of why Jane Austen became an actual character in the play, Kramer explains, "My own research led me to the letters of Jane Austen, with whom I fell in love. Her voice is so engaging - and the contrast of the realities of her life to the satisfying endings in her novels made it impossible to leave her out of Pride@Prejudice." Capital Rep's Producing Artistic Director Maggie Mancinelli-Cahill relishes this modern addition to the show, which is part of the theatre's Classics on Stage series. "I love to bring literature to life on our stage," she said. "I look for adaptations that bring contemporary elements to classic stories. Our Classics on Stage productions are often among our patrons' favorites. We've literally reached more than 100,000 students in the Capital Region with dramatic adaptations of books that are a part of school reading lists since the program began in 1995." Pride@Prejudice is a co-production with Capital Repertory and Chester Theatre Company in Chester, MA, where the show made its East Coast Premiere in July 2011. Four members of the cast will reprise their acclaimed performances by making their Capital Rep debuts: 
Gisela Chi´pe, who plays Jane Bennet, Lady Catherine, Lydia, Mary, Georgiana and Jane Austen, comes to Capital Rep with a long list of credits that include roles at Asolo Repertory Theatre, Syracuse Stage, Actors Theatre of Louisville and Shakespeare companies across the country. 
Colin Ryan plays Mr. Bennet, Mr. Wickham and five other roles. Heehe received his MFA from The Shakespeare Theatre's Academy for Classical Acting in Washington D.C., and has numerous Shakespearean roles to his credit  in New York as well as in many regional theatres. 
Aubrey Saverino portrays the novel's heroine, Elizabeth Bennet. She brings a wealth of experience from both coasts in plays such as The Next Room, Wit, Wittenberg, The Madness of King George and leading roles in Shakespeare's Twelfth Night, Henry IV and King Lear. 
Michele Tauber, who plays Mrs. Bennet, Charlotte, Miss deBourgh and Mrs. Gardiner, is a veteran of regional theatre throughout the United States, including Barrington Stage's See How They Run this season, and numerous roles in NY at theatres including The Mint Theatre, Phoenix Theatre Ensemble and The Acting Company.
New to the company is Nick Dillenburg, who has the arduous task of playing the infamous romantic lead, Mr. Darcy, as well as the nebbish suitor, Mr. Collins. Mr. Dillenburg's varied theatre credits include Orlando in As You Like It for The Acting Company, Birthday Boy at Berkshire Theatre Festival and Edmond in Long Day's Journey Into Night for New Repertory Theatre, to name only a few.
All the actors are members of Actors Equity Association. Ron Bashford directs the show. He is no stranger to the Capital Rep stage, having directed Skylight and one of Theatres most popular works, Steve Martin's comedy, Picasso At the Lapin Agile. The design team includes Matthew Ryan for sets, Heather Crocker Aulenback for costumes, Lara Dubin for lights and Tom Shread for sound. Previews, Performance Dates, Tickets Previews for Pride@Prejudice start on Sept. 28, with Opening Night on Oct. 2 and performances continuing through Oct. 28 at Capital Repertory Theatre, 111 N. Pearl St, Albany. Performance times are Tues -Thurs, 7:30PM; Fri and Sat. 8PM, Sat matinee at 3PM and Sun matinee at 2PM. There is one Wed. matinee on Oct. 10 at 2PM. Fascinating for ages 12 to 80.  Running time: 2 hr. 20 min., including one intermission. Tickets for Pride@Prejudice range from $20 to $60. Student tickets (with valid ID) are $16 for any performance. For tickets and information, call TICKETS BY PROCTORS at (518) 445-SHOW. Biographies Nick Dillenburg (Actor A) NY: Henry in Henry V (Walkerspace), Hater (Ohio Theatre), Taking Leave (MCC Freshplay) REGIONAL: The Two Gentlemen of Verona, An Ideal Husband (The Shakespeare Theatre), Hamlet (Pioneer Theatre Co.),Third (Portland Stage), Birthday Boy (Berkshire Theatre Festival), The Tempest (Bermuda Festival of the Arts), All's Well That Ends Well (Commonwealth Shakespeare), Long Day's Journey Into Night (New Repertory Theatre), and The Utah Shakespeare Festival.  TV: Law and Order. MFA: University of Connecticut.  Nick can be seen this winter playing Orlando for the Acting Company in As You Like It. Colin Ryan (Actor B) New York: Othello (Iago), Waiting for Godot (Lucky), This Lime Tree Bower (Frank), Bill & Lenny (Shatner), Protest (Stanek), Julius Caesar (Antony), Twelfth Night (Toby),Brecht on Brecht. Regional: Henry V (Henry), A Streetcar Named Desire (Stanley), Beauty & the Beast (Gaston), King John (Bastard), Romeo & Juliet (Mercutio), The Ladies Man (Aubin), The Malcontent (Malevole), How to Pray (Bill), A Laughing Matter (David Garrick), She Stoops to Conquer (Tony Lumpkin), Complete Works ... (Abridged). MFA from The Academy for Classical Acting. Colin lives in Hoboken, NJ with his wife, Elizabeth and a large brown bear. AUBREY SAVERINO (Actress A/ Elizabeth Bennet) Aubrey is thrilled to be making her Capital Repertory debut reprising her role as Elizabeth Bennet in Chester Theatre Company's original production of Pride@Prejudice. REGIONAL: Catherine Givings in In The Next Room or the vibrator play (SDCC Craig Noel Award nom.), Ellen in In the Wake (San Diego Repertory Theatre); Regan in King Lear (SDCC Craig Noel Award nom.), Twelfth Night, The Madness of King George, Coriolanus (The Old Globe); Pride@Prejudice, Wittenberg (Chester Theatre Company), Ink (Penobscot Theatre). LOS ANGELES: Twelfth Night, Henry IV Parts I & II (Independent Shakespeare Company); An Impending Rupture of the Belly (Furious Theatre Company) (LA Weekly Award nom.); Wit (The Production Company) (Ovation Award nom.). BA in Theater from Occidental, MFA from The Old Globe/USD Professional Actor Training Program. 
http://www.aubreysaverino.com/
Gisela Chípe (Actress B) is excited to be working with the Capital Repertory Theatre for the first time!
Off-Broadway:
Emancipation (Classical Theatre of Harlem). 
Regional Theatre
: Hamlet: Prince of Cuba, Yentl (Asolo Repertory Theatre); The Clean House (Syracuse Stage); Dracula (Actors Theatre of Louisville); Midsummer, Bat Boy! The Musical, The Seagull, Comedy of Errors (Great Lakes Theatre & Idaho Shakespeare Festival);
Other Theatre:
Laws of Motion (PS122); A Christmas Carol (Really Inventive Stuff--Radio); Macbeth (Stonington Opera House); 1001, 9 Parts of Desire (Contemporary American Theater Festival), Comedy of Errors, The Crucible (North Carolina Shakespeare Festival), The Underpants (Shadow Lawn Stage), Merchant of Venice (Colorado Shakespeare Festival), Misalliance, Major Barbara, Barrymore Award-winning original movement play Tuesday (PTTP). 
Training
: College of Charleston, B.A., University of Delaware-PTTP, M.F.A. Big thanks to mi familia, to my co-conspirators My Love Joe &
Damian, and my parents Laura & José for encouraging my love of literature--this is for you!
Michele Tauber (Actress C)
is delighted to be returning to pride@prejudice, having performed in it at The Chester Theatre Company last summer. Recent work includes; Miss Skillon in See How They Run for Barrington Stage Company, Muriel in The Fox on the Fairway at Gulfshore Playhouse and Nurse Porter/Vee Tablet in Orpheus Descending for The William's Festival.  NY Theatre works include; The Charity That Began At Home - The Mint, The Heiress - Roundtable Ensemble, A Perfect Analysis Given By A Parrot - Phoenix Theatre Ensemble, two seasons with The Acting Company in The Rivals, Macbeth, Romeo & Juliet, A Comedy of Errors, and O, Pioneers!  Regional Theatre includes; three seasons doing A Christmas Carol - The McCarter Theatre, House of Blue Leaves - Two River Theatre Co., Women of Lockerbie - NJ Rep., The Sound of Music and The Unexpected Guest - Syracuse Stage, The Savannah Disputation and Cinderella - The Olney Theatre, Hay Fever at The REP in residence at the U. Of Delaware, also Arkansas Repertory Theatre, Indiana Repertory Theatre, Pennsylvania, Alabama and Texas Shakespeare Festivals, The Cleveland Playhouse, Forum Theatre, Luna Stage Company, Depot Theatre, 12 Miles West, Dreamcatcher Rep., Summerfun and Shadow Lawn Stage Companies.  TV and Film work includes; Boardwalk Empire, Law & Order, The Street, Food Fright, Kate & Allie and Funny Money.  Michele is a graduate of the PTTP at the University of Delaware.
Ron Bashford (Director)
is delighted to return to Capital Rep., where he has directed David Hare's Skylight and Steven Martin's Picasso at the Lapin Agile. In addition to the Chester Theatre Company production of pride@prejudice last summer, Ron has directed more than 50 professional shows and multimedia projects. His recent work includes 2 Washington Square by Constance Congdon (Amherst College), Much Ado About Nothing (Independent Shakespeare Co., Los Angeles Times Critics Choice), What the Butler Saw and A Number (North Carolina Stage Co.), and Dead Man's Cell Phone (Immediate Theatre Project). Other regional work includes Hamlet and Hedwig and the Angry Inch (Ashville Mountain Express Reader's Choice Award), A Midsummer Night's Dream (NEA Shakespeare-in-American-Communities Tour), As You Like It and The Comedy of Errors (NC Shakespeare Festival), The Secret Garden (Knoxville Area Theater Coalition, Best Director Award), and Macbeth (Syracuse Stage). Ron is a member of the Lincoln Center Theater Directors Lab, and he currently teaches at Amherst College.
Daniel Elihu Kramer (Playwright)
is an award-winning playwright and director. He is Artistic Associate at Chester Theatre Company and a member of the theatre faculty at Smith College. His other produced plays include Love Suicide, Coyote Tales, The Story of Babar and Many Moons. He is currently writing a commissioned adaptation of Jane Eyre, to be produced by Available Light Theatre in Columbus, OH in 2013. Kramer's first feature film, Kitchen Hamlet, won multiple honors as an official selection at film festivals throughout the US. Recent directing work includes The Swan and The Turn of the Screw, both at Chester Theatre Company, The Pillowman at Contemporary American Theatre Company, and A Midsummer Night's Dream at Boston Theatre Works, which won an Elliott Norton award for Outstanding Production. Kramer was a Founding Artistic Director of Salt Lake Shakespeare, and served as assistant to the Artistic Director of Circle Repertory Company in New York. He holds an MFA in directing from Yale School of Drama.
ABOUT CAPITAL REP
Capital Repertory Theatre 111 North Pearl St., Albany, NY 12207 Box Office: 518-445-SHOW (7469) Capital Repertory Theatre is a professional, not-for-profit cultural organization with a mission to create meaningful theatre generated by an authentic link to the community it serves.  Capital Rep is also the only member of the League of Resident Theatres (LORT) within fourteen counties of the Upper Hudson-Mohawk Valley. "In all programs and services, Capital Repertory Theatre reflects its mission, embracing its community as a source of inspiration, creating opportunities for people from every social, ethnic, and economic background and every generation to expand horizons of thought and understanding of the human condition through the power of theatre."

- At a Glance -
Production:  Pride@Prejudice: a romantic deconstruction
Author:  By Daniel Elihu Kramer from the novel by Jane Austen
Directed by:  Ron Bashford (bio attached)
CAST
Nick Dillenburg. Gisela Chipe. Colin Ryan. Aubrey Saverino. Michele Tauber.
PERFORMANCE DATES
Sept. 28 - Oct. 28. Show closes on Oct. 28
Previews: Sept. 28-30 
Press Opening: Oct. 2, 7:30PM. Complimentary dessert/champagne toast post-show
PERFORMANCE TIMES
Tues-Thurs. 7:30PM
Fri/Sat: 8PM
Sat matinee: 3PM
Sun matinee: 2PM
Wed matinee:  October 10, 2PM
SPECIAL EVENTS
Opening Night

7:30PM curtain.
6:30PM - pre-show music in lobby/post-show dessert/champagne toast with artists;

Chef's Table - featuring complimentary hors d'oeuvres for all patrons from both Yono's dp  and McGeary's Irish Pub. Service begins at 6:30PM in the lobby;
Discussion Nights:  Wed, Oct. 10 & Oct. 17, post-show discussion with artists
MOHU week Oct 9 - 13: Free pre-show performances by MOPCo improvisation troupe in the lobby Tues, Thurs 6:45 - 7:15;  Fri.,  Sat. 7:15 - 7:40, Wed., Oct. 10, 5:30 - 7PM - pre-show music and free cookies with Yono's pastry chef, Joan Dembinski. Free and open to the public.
Behind the Scenes with Maggie: Sunday, Oct. 21, 1:10-1:30PM. In the theatre. Pre-show presentation with complimentary continental breakfast (food service begins at 12:45PM).
TICKET PRICES
Range: $20 - $60; Students: $16 all performances (with valid ID).
CONTACT:
Thom O'Connor 518-382-3884 X166
toconnor@proctors.org