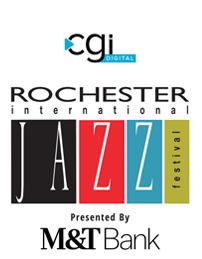 Rochester, New York (June 14, 2023) – The 20th-anniversary Edition of the CGI Rochester International Jazz Festival starts Friday, June 23 and runs through Saturday July 1. The nine-day Festival will present more than 1750 legendary performers, familiar favorites, and rising stars from around the world in 300 shows at 19 venues.
For the safety and security of all the Festival is implementing some new patron safety and security policies.
This information and any updates are posted on RochesterJazz.com and on our free app, which can be downloaded here. We appreciate everyone's cooperation and understanding as we work together to create a safe and enjoyable festival experience for all. 
Safety & Security
All bags purses, backpacks, lawn chairs, etc. will be searched upon entry.
Individuals 17 and under must be accompanied by a parent/guardian or adult 25 years or older. An adult will only be allowed to accompany up to two unrelated youth. A valid photo ID is required. Parents, guardians and adults must accompany minors at all times.
Patrons may bring:
Your Club Pass! (Please write your cell number on your pass.) Club Passes cannot be replaced if lost.
Your tickets, paper, or digital ticket receipts on your phone.
Low-profile lawn chairs for outdoor shows on Parcel 5, East Ave & Chestnut Stage (the stage is on the street), and Jazz Street (Gibbs St.) Stage (the stage is on the street). Some chairs are provided on Jazz Street.
Blankets for outdoor shows on Wegmans Stage @ Parcel 5, which is on a lawn
Strollers
Kindness
The following are not permitted
Weapons of any kind
Illegal substances
Dogs/animals except for Guide and Service Dogs
Any large bags, duffels, luggage
Outside beverages
Outside food
Glass bottles
Coolers
Wagons
Tents, large umbrellas, or shade structures of any kind
Drones
Laser pointers
Fireworks
Grills
Professional camera with a removable lens or recording devices
Unauthorized promotional signs, banners, and advertising
Any item considered not to be safe by Festival management
Any items confiscated will not be held or returned
Health Guidelines
Masks are not required. Their use is at the discretion of patrons. 
Any COVID-19 policies and guidelines that are in effect at the festival will be determined by closely monitoring and abiding by all local health guidelines recommended by the Monroe County Department of Public Health and New York State during the festival as well as the University of Rochester, for the four UR venues we use during the festival - Kilbourn Hall, Hatch Hall, Max of Eastman Place and Room 120 Ray Wright Room for Jazz Workshops. 
Any guidelines and updates will be communicated on RochesterJazz.com, on signage at the festival, on our festival app, and in our email newsletters. 
COVID-19 and the flu are highly contagious diseases that can be extremely dangerous to people of all ages, especially to those who are elderly and/or have compromised immune systems.
If you are ill and have any COVID-19, cold, or flu symptoms, please stay home to get well. 
The Festival is held in multiple public places and indoor venues. It is the responsibility of attendees to assess their risk and determine if it is safe for them to attend the festival. 
Trash & Recycling
We are committed to keeping our festival grounds clean. Please clean up responsibly before leaving. Look for trash bins and can and bottle recycling collection containers near every bar, and use the proper bins for waste. Every can and bottle collected will be returned for the deposit, and 100% of the money collected goes to the Sustainability for Scholarships fund, which creates scholarships for veterans by promoting green initiatives in the community. Thank you for not littering.
ABOUT THE CGI ROCHESTER INTERNATIONAL JAZZ FESTIVAL
The CGI Rochester International Jazz Festival is one of the world's leading jazz festivals. Held annually in Rochester, NY, more than 210,000 music fans attend the nine-day festival, which presents 300 shows at 19 venues with more than 1750 artists from around the world. The Festival was founded in 2002 and is produced by RIJF, LLC, a privately held company owned by John Nugent and Marc Iacona. 2023 marks the festival's 20th Edition. The 2020 and 2021 Festivals could not be held due to the coronavirus pandemic.
###
Media Contacts
(585) 729-7533 (m)
(585) 755-6911 (m)